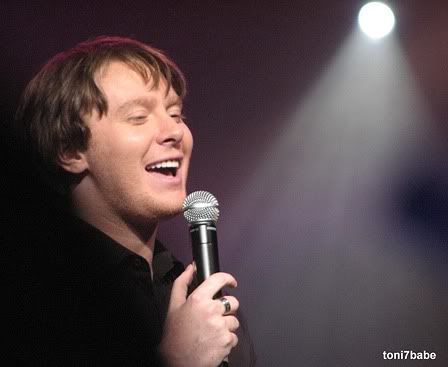 Clay Aiken closes SRHP Tour with "Because You Love Me." Photo by toni7babe.
'Up Close and Personal'
Movie Yields Summer Surprise
Two of my summer passions -- Clay Aiken music and the magic of movies -- inadvertantly collided last month when I viewed the 1996 film Up Close and Personal.

Because the movie was inspired by the story of Jessica Savitch who, in the 1970's, became the first female anchor on American television, my own journalistic adventures became part of the encounter.

Based on the 1988 book by Alanna Nash, the film stars Michelle Pfeiffer as Sally/Tally Atwater; Robert Redford as Warren Justice, her mentor; and Stockard Channing as Marcia McGrath.

Clay enters this discussion as the movie's featured song, "Because You Loved Me" performed by Celine Dion, was later recorded by the North Carolinian for his second mainstream album, A Thousand Different Ways.

The Because You Loved Me video uploaded at YouTube by Clayfulthing features the 8/18/07 final Soft Rock Hard Place Tour performance. Recorded by Spotlightlover in Orlando, FL , the video includes Clay's round of thank you's to the musicians and appreciation for his fans.


Clay Aiken Sings 'Because You Loved Me' at SRHP Finale.
Video by Spotlightlover
While programming this weekend's movies, I noticed that Up Close and Personal is on DIRECTV's docket almost daily through Saturday. If you are interested, check your local schedule.

Photos Highlight Special Moments

The clickables in this photo interlude are snapshots of special moments from the Orlando finale. Included are pictures by Okie4Clay, 1; Invisible926, 2 and 4; the lead photo by Toni7babe, 3; and Brightstar, 5.

The fourth captures the final night "switcheroos" on "A Thousand Days." Sean [McDaniel] played piano, Jesse [Vargas] became the drummer, and Quiana did a fantastic imitation of Clay as he stepped into her backup role. The last picture was taken after Clay sang "Because You Loved Me," his special thank you to the fans.

A cross section of the movies I have enjoyed recently include:


10 Items or Less (Morgan Freeman)
Mrs. Paltry at the Claremont (Joan Plowright)
Antwone Fisher (Derek Luke and Denzel Washington)
October Sky (Jake Gyllenhaal)
A Good Year (Russell Crowe)
DejaVu (Denzel Washington)
Enemy of the State (Will Smith)
The Wedding Dress, a Hallmark orignal favorite starring Tyne Daly, Margaret Colin, and Neil Patrick Harris, will air at 11 a.m. Sunday on Lifetime Movie Network. I am definitely taping this treasure.
When cable pickings seem slim, my friend Terri calls to ask what's showing. No one would ever guess that Tora! Tora! Tora! tops the list for this retired violin teacher. The three-hour movie, which explores the history of the Pearl Harbor attack from both sides, has been scheduled several times this summer, almost none missed by my friend. My recorder will capture the movie next weekend.
Now, it's a given most of you are listening to the music of Clay Aiken. What movies are you watching and which ones do you recommend to others?
In the midst of your moving remembrances of xxx4clay from the previous entry, Susan's son dropped by and posted this comment:


Hey all... This is Susan's youngest son, Scott. I just wanted to thank you all so much for all of the cards, flowers, and phone calls over the past several months. They really helped lift my mom's spirts during a tough time. Thanks again.
Thank you for your kind remarks and movie recommendations. Have a great week, Clay Nation!
Caro
TECHNORATI TAGS:
Clay Aiken
,
Up Close and Personal
,
Jessica Savitch
,
Because You Loved Me
,
A Thousand Different Ways
,
Soft Rock Hard Place Summer 2007 Tour
,
movies
,
DIRECTV
,
Official Fan Club
,
Clay Nation