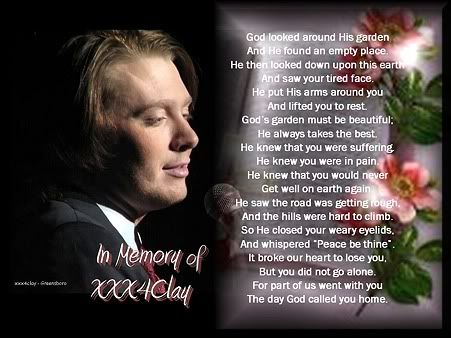 CLAY FRIEND REMEMBERED -- Graphic by Ashes, photo by xxx4clay.
A Legacy of Memories
Clay Nation Honors xxx4clay

The Clay Aiken Nation today misses the joyful, dynamic presence of good friend and fan extraordinaire Susan Guinn/xxx4clay, who lost her battle with cancer late Friday night.
Uniquely witty and creative, she was a gifted writer, videographer, and photographer, freely sharing concert clack and befriending countless fans who crossed her path, both in person and in the Cyber universe.
A quiet, reserved lady who possessed an outrageous sense of humor, Susan enjoyed laughing and making others laugh. Evidence of her escapades, epistles, and penchant for organizing projects live on in Clayversity board archives and in the online wake that took place in the main thread Saturday.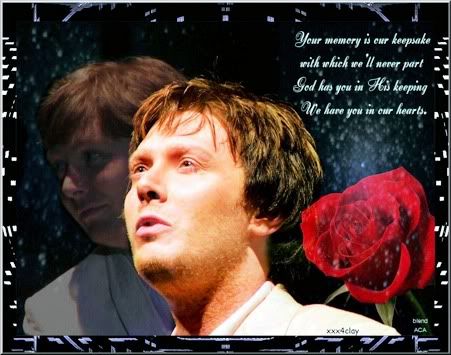 Graphic by AmazingCA, photos by xxx4clay
Besides her family, friends, cats Holmes and Halo, Susan especially loved Clay Aiken and the West Virginia Mountaineers.
Some people come into our lives and quickly go.
Some move our souls to dance.
They awaken us to new understanding
with the passing whisper of their wisdom.
Some people make the sky more beautiful to gaze upon.
They stay in our lives for awhile,
leave footprints on our hearts
and we are never, ever the same. -

Anonymous
Saturday's shared grief in Clay Land gradually evolved into a celebration of the legacy of memories this special friend leaves behind.
What Susan has left us is the gift of love, laughter and joy. She was a Clay fan for the joy of it all, and she never got caught up in the angst. She adored those who made her laugh, and Clay did that often. Her avi was "Clay makes me smile..... always." -- Brightstar



We will miss you, girlfriend. Hope those angel wings fit well because I have a feeling your halo is going to be a little crooked. -- clayzedover (paraphrased)

The night before she went into the hospital for her first surgery, the day after she got home from the Gala, she said, "The Gala is the all-time most special favorite thing I have ever done in my whole life. I am so blessed to have been there." -- gareem
Susan is no doubt distilling her own brand of humor in heaven, listening to her favorite Singer Man, and organizing blue and gold pompoms for a fall pep rally.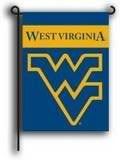 I never missed a football or basketball game cheering for her beloved Mountaineers. In the final months when she was near a laptop, we "watched" games together. If West Virginia was not telecast in my area, I pulled up an ESPN page to follow the game.
We probably exchanged 10 emails per contest -- after good plays, bad calls, victories, and defeats. When the Mountaineers failed to make the NCAA finals, Susan helped cheer the Carolina Tar Heels through to this spring's national basketball championship.
Always the Encourger and Enabler
My friend Aspiegirl met xxx4clay when she posted in her OFC blog a few years ago. Once Susan knew Aspie was a "backsliding" artist, she never ceased encouraging her to draw Clay. One of the remarkable results has been the "All Is Well" cover of Clay.
The West Virginian bid on one of two Aspiegirl prints at the 2008 Bubel/Aiken Foundation Gala, the last event she was able to attend. Aspie heard about this, tried unsuccessfully to learn which print, finally redrew and framed both for Susan.
Aspiegirl's name has become synonymous with outstanding CA montages, which Susan also encouraged. She introduced my friend to the music of Eva Cassidy, specifically requesting I Know You By Heart.

I Know You By Heart - Montage by Aspiegirl
Peace to the Clay Nation. We are so blessed for having known Susan. You are invited to share your special remembrances of xxx4clay in the comments. I imagine she would be honored if we are also laughing and sharing photos, videos, the VOX, banter, her love for Clay Aiken, and concern for others.


I Will Remember You
Montage by molino79
I Will Remember You is a memorial montage by molino79 featuring a collection of Susan's photo and video clack, poem, the lovely Sarah McLachlan song, and special graphic by Ashes that closes the blog. You can download the montage with the Sendspace link and view in a larger player.
Below are clickables of the graphics by Ashes, 1, 4, and AmazingCA, 2, 3.
Undoubtedly, our friend greeted an unsuspecting gate keeper in her own inimitable style ...
Awoohoo!!!
Caro

TECHNORATI TAGS:
Clay Aiken
,
xxx4clay
,
Susan Guinn
,
The Bubel/Aiken Foundation
,
Clayverstiy
,
West Virginia Mountaineers
,
All Is Well
,
montage
,
Official Fan Club
,
Clay Nation