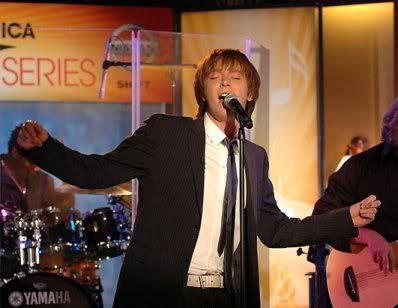 Clay performa for fans and TV audience at ABC's Good Morning America.
All Aboard as Clay Train Rolls On!
ATDW Opens with Media Flurry
The opening week of Clay Aiken's new CD, A Thousand Different Ways, has lived up to its name and exploded onto the scene with almost as many twists and turns as the title implies.

At a time when Clay fans expected to be celebrating such an important week with their favorite singer espousing about the music of his second mainstream album, personal issues have claimed many a headline and sound byte of entertainment media.

Kicking off the sophomore CD's premier week were three days of concerts and interviews with Diane Sawyer on Good Morning America. An overflow throng of fans filled the studio and sidewalks outside, cheering Clay & Co. as they performed WY and ATD on Tuesday, 9/19.

During the interviews of the next two days, Clay made clear what he feels is fair ground for discussion about his private life. Perhaps the line he has drawn will give other entertainers the fortitude to do the same and retain the privacy everyone deserves.
For longtime and new fans alike, two of the many excellent blogs providing in-depth prospective on tabloid speculations and the rumors Clay has previously denied many times are WebWeaver's World (9/24) by Webweaver and Something That Really Happened (9/22) by Roseviolet/Pandarose.
Videos of the GMA performance and interviews are available at ABC News. As Clay sang a line of "Here You Come Again," Sawyer, sitting behind the mixing board of a recording studio, ended their first chat segment with: "I think the kid's got the pipes."
She got that part right!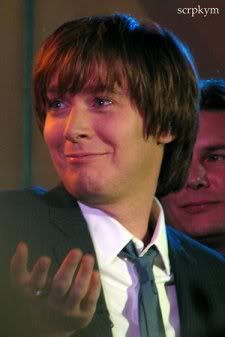 Having Fun with Fans - Photo by Scrypkym
Cousin Emails CD Alert
My mother's cousin, two decades my senior, emailed me after the program: "This morning I watched GMA and saw Clay Aiken on the program -- and I thought of you. He has changed his hair style and the color of his hair. I thought it was cute and youthful when he wore it straight up! It's now down flat and almost in his eyes. Anyway, he has a new album out. Do you have his latest?"
LOL, I wrote her back that I would be picking up the CD the same afternoon and that she could listen to it online. I sent her the three most important sites; and, hopefully, Josie is helping with the buzz just like the many Clay fans who are streaming via their local Clear Channel radio stations, AOL Music, and the Wal-Mart Soundcheck.

Cashier Playing ATDW Nonstop

Later when I purchased my CD at Target, I was almost out the door but turned to ask my twenty-something cashier about sales. After assuring me that ATDW was racing off the shelves, she proclaimed how much she loves the album and that she plays it nonstop. Then she asked if I had heard Clay's first CD.

I grinned and told her I am a CA fan from way back In the process my cashier mentioned how much she likes Clay singing the acoustics, so I gave her the information about Wal-Mart's Soundcheck.

Maybe a return trip is in order so I can tell her about Friday night's special concert when Wal-Marts everywhere will air a 40-minute "Clay Show" beginning at 7 p.m. in each time zone. The show will be seen on all store monitors plus TVs in the home electronics department. The videos will include the intro, songs, and interview currently airing in the online Soundcheck.

Yep, I think I may need another CD -- this weekend!

PHOTO INTERMISSION: The clickable interlude features graphics from screen caps and photos of Clay's performances at GMA and The View. Visual artists include Amazing_CA (1, 4); Ambassador of Love with photo by KarenEh (2) and (4); and A Beautiful Mind (3).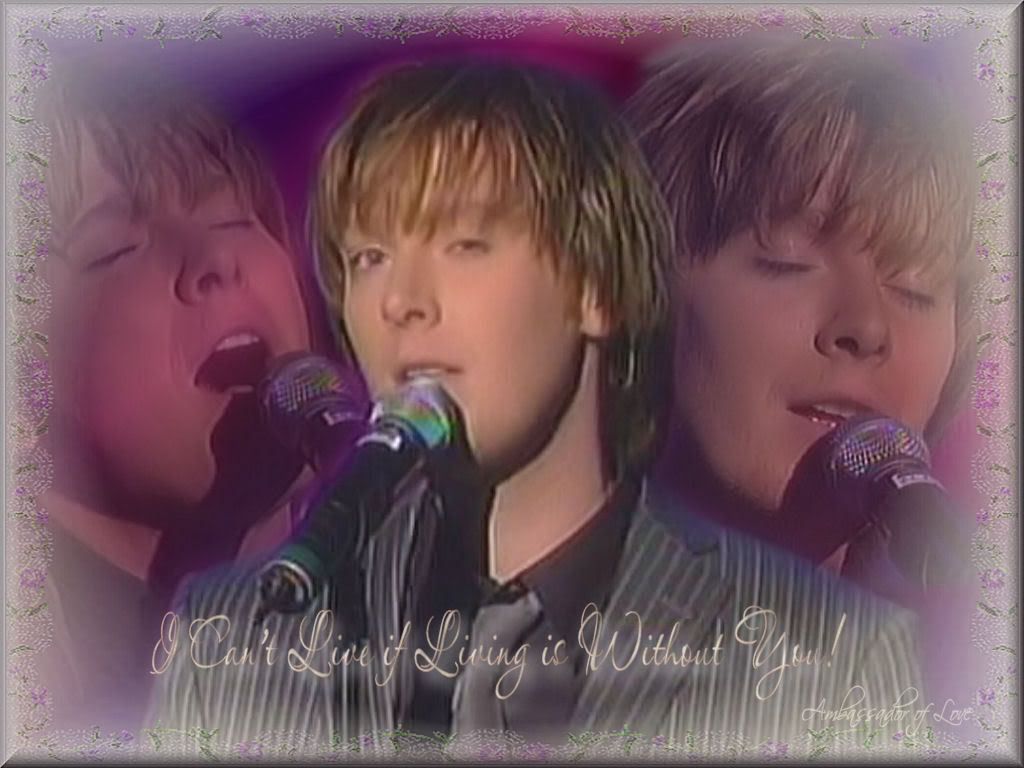 Claymate Hall of Fame
Lara Spencer and Rosie O'Donnell of The Insider and The View, respectively, have practically been voted into the "Claymate Hall of Fame" as they treated Clay with respect and dignity throughout a week of probing interviews. Spencer also was the recipient of a "private concert," which she shared with millions of viewers in the show's New York studios. Clay & Co. performed a show-stopping rendition of Without You for a full studio audience during Friday's airing of "The View."
A variety of topics -- the new CD, fan monikers within the Clay Nation (Claymates, Claynadians, Claysians), the singer's openness in dealing with panic attacks, and his firm stand not to discuss his private life with the press -- were covered in these interviews.
On the Weekend Insider, Spencer cemented her special place as a fan favorite with this reminder: "Clay denied he was gay in the 2003 Rolling Stone cover story. Since then, the press has had a field day, and Clay wants to put an end to it all. "You have to admire his integrity and character, and let's not lose sight about why he's famous. He's an incredible singer!"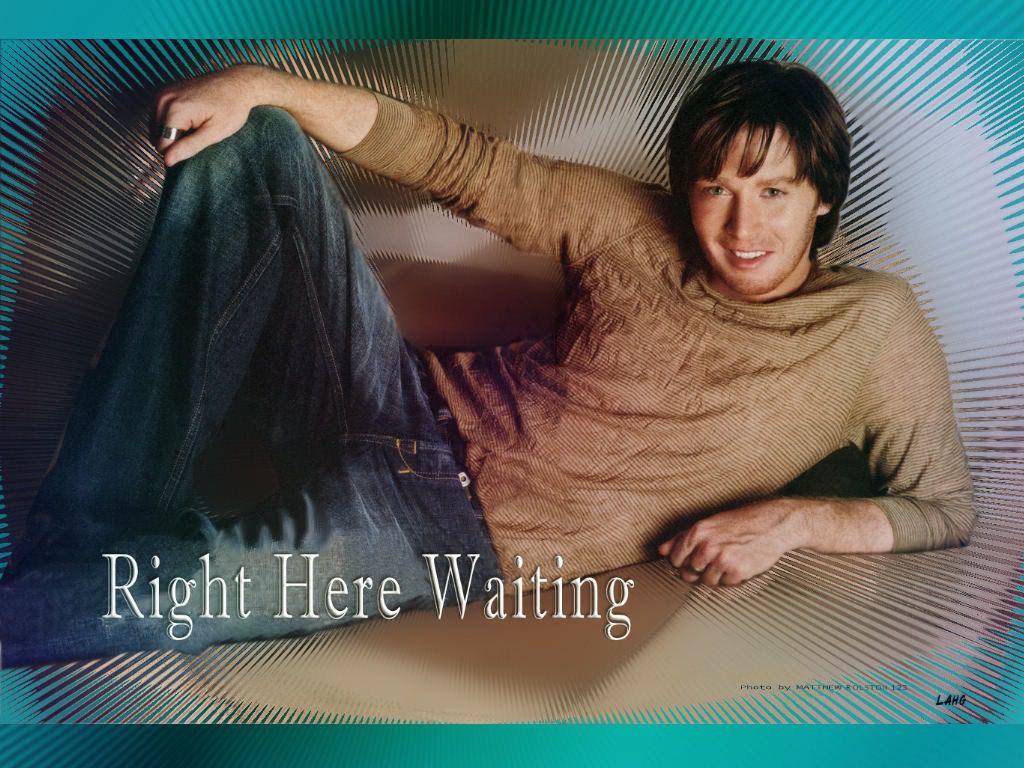 People's Hot Clay Centerfold,
Clickable Graphic by Claystruck
People Magazine Features Clay
On stands now, the Oct. 3 issue of People magazine covers lots of ground and was well-received by most fans -- and not just because of the hot centerfold posted as a graphic above, but because Clay's stand on privacy was treated fairly. As he told People, "It doesn't matter what I say. People are going to believe what they want."
Here are double-clickable scans of the cover and article:


CTLover shared this hilarious anecdote at Clayversity: "My 19-year-old son was out on a date and stopped by Wal-Mart to pick up the groceries I had missed earlier. He called and said, "Now listen -- I have a very important question for you. Do you have the new People with Clay on the cover?" I had to admit that I had one copy and then told him to look inside at the double spread picture and warned him that his girlfriend would drool. He said, "She's already seen it and bought the magazine!"

Clay, Justin in Tight Race
This overview concludes with perhaps the most important aspect of all. Besides moving up to #15 on the Lycos50 top searches for the week ending 9/16, Clay has a legitimate chance to enter the Billboard 200 Chart at #1.
With Hits Daily Double predicting Justin Timberlake's second week sales in the 225 - 235k range and Clay's numbers on track for 200k, fans are determined to make this contest a real horse race. Extra CD shopping for Christmas gifts and/or troop donations is the norm throughout this weekend of sales.
MARK YOUR CALENDAR: September of Clay Continues
Sep 24: GMA Weekend Show (ABC)
Sep 26: LA Virgin Megastore CD Signing
Sep 26: Jimmy Kimmel Live (ABC)
Sep 27: KTLA Morning Show
Sep 27: Entertainment Tonight
Sep 27: Larry King Live (CNN)
Sep 29: Wal-Mart Soundcheck Show
Oct 01: Live @ Yahoo Music

All aboard -- the Clay Train is ready to roll for another week!

Caro
RELATED TAGS: Clay Aiken, A Thousand Different Ways, Without You, A Thousand Days, AOL Music, Wal-Mart Soundcheck, Good Morning America, Diane Sawyer, The View, Rosie O'Donnell, The Insider, Lara Spencer, People, Billboard, Entertainment Tonight, Jimmy Kimmel Live, Larry King Live