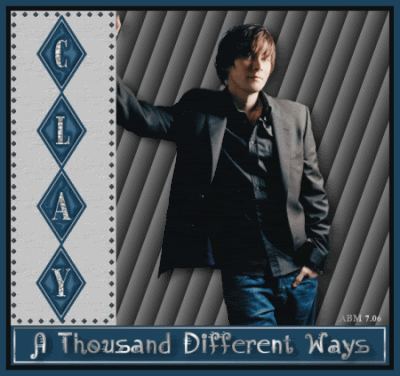 A WEEK OF CLAY -- ABeautifulMind helps fans celebrate the debut of A Thousand Different Ways with this stunning graphic.
Rollercoaster Clay Aiken Week
CD Release Royally Celebrated
Twas the night before CD Launch and ... Sunday night countless Clay Aiken fans stayed up for the magical midnight moment to watch message board countdown clocks cross to zero days and steadily diminishing hours/minutes/seconds until A Thousand Different Ways would officially drop at the same time the following night.
Monday as these online clocks steadily marched towards single digit hours, excitement around Clay Cyberspace mounted. Message board merry-go-rounds began picking up speed with the Billboard story about an iTunes bonus track co-written by Clay, "Lover All Alone," and suddenly switched into roller coaster gear with activation of the online AOL ATDW Listening Party and Wal-Mart Soundcheck.
By Monday evening, the network of 80+ CD Release Parties in the US, Canada, and Singapore leading toward midnight ATDW purchases found the Clay Nation in full party mode and CA Week off and running.
Clay fans do know how to throw a party. A quick overview found Meadville, PA, fans watching CA videos at a movie theater with free popcorn and drinks followed by CD purchases and a pajama party; a cake in Salem, VA, that showed the progression of Clay through the years; Myrtle Beach, SC, fans blowing bubbles with Flat Clay; Columbus, OH, partygoers lining up for their Wal-Mart purchases while watching the new Soundcheck on store monitors, most for the very first time; Kristy Barnes, Faye Parker, and Aunt Francine singing for 500 revelers in Raleigh; and on and on.
The South Central Pennsylvania party was covered by The York Daily Record in Fans of Singer Clay Aiken Celebrate Release.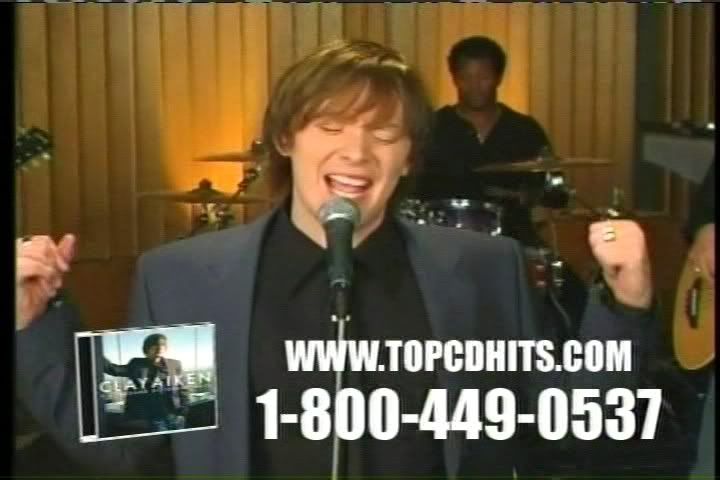 Clickable Cap of ATDW Commercial

Besides print media ads, ATDW commercials have been spotted on a variety of TV channels and shows -- Oprah, Oxygen, Lifetime, Bravo, VH1, ABC, GMA, Food Network, CMT, Hallmark, History, among others.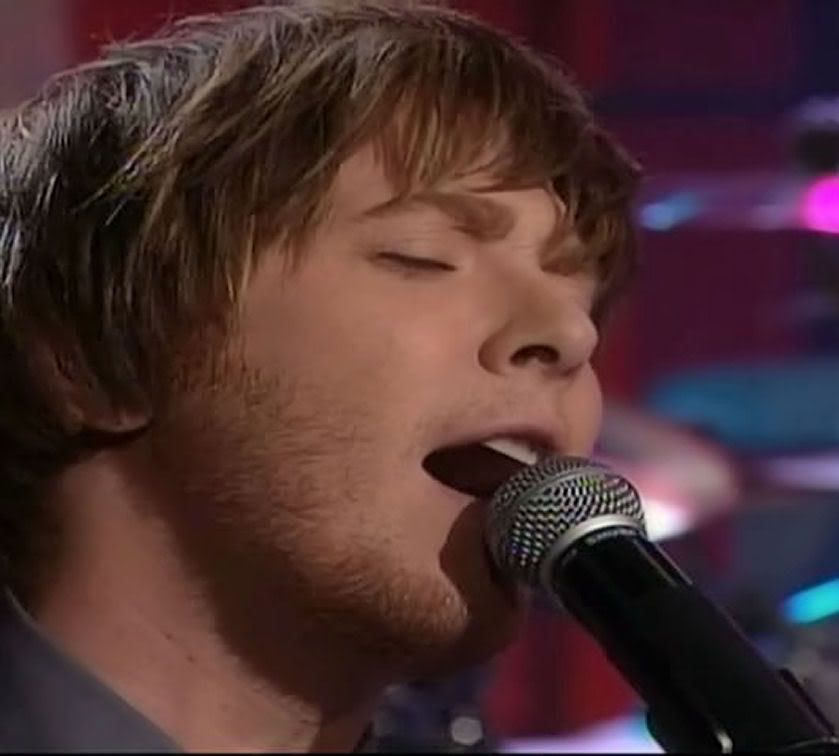 Clickable from Leno Performance
Friday night's Tonight Show performance of "Without You" by Clay & Co. repeats on Good Morning America Tuesday morning with a second selection from ATDW, "A Thousand Ways." [OMG, did he ever rock, too!]
MARK YOUR CALENDAR: September of Clay on TV

Sep 19: Good Morning America (ABC) performance and interview
Sep 19: The Insider
Sep 20: Good Morning America (ABC) Diane Sawyer Interview Part 1
Sep 20: Entertainment Tonight
Sep 21: Good Morning America (ABC) Diane Sawyer Interview Part 2
Sep 21: The Insider, Entertainment Tonight
Sep 22: The View (ABC)
Sep 22: The Insider, Entertainment Tonight
Sep 24: Good Morning America (ABC) Weekend Show - Performance and interview
Sep 26: Jimmy Kimmel Live (ABC)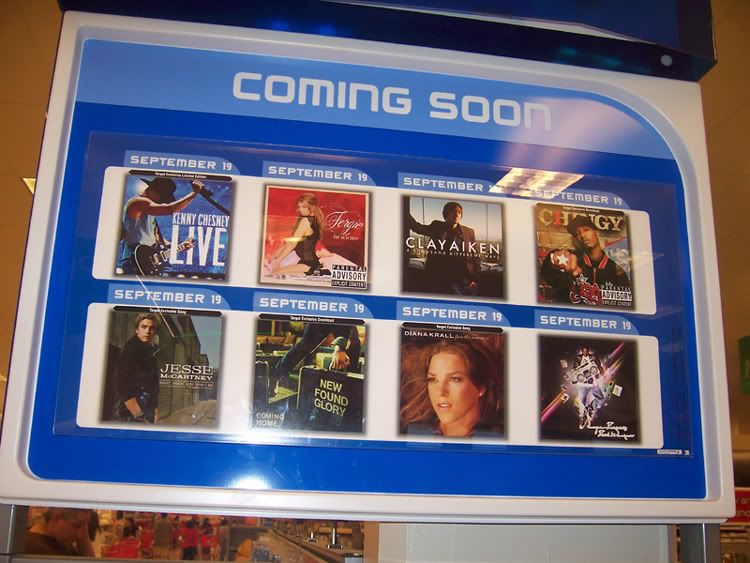 Clickable of Target Promo Display
ClayGalaxy of Clayversity not only snapped a photo of the Target promo display above, but he also dropped by his local Barnes & Noble store and set all the listening kiosks to ATDW. His explanation: "That way others can hear the new CD right away. How nice of me! HEEE
PHOTO INTERMISSION: This clickable interlude features the beautiful graphics of four talented Clay fans, including Amazing_CA (1, 3); Claystruck (2); Clayquebec1 (4); and Ambassador of Love (5).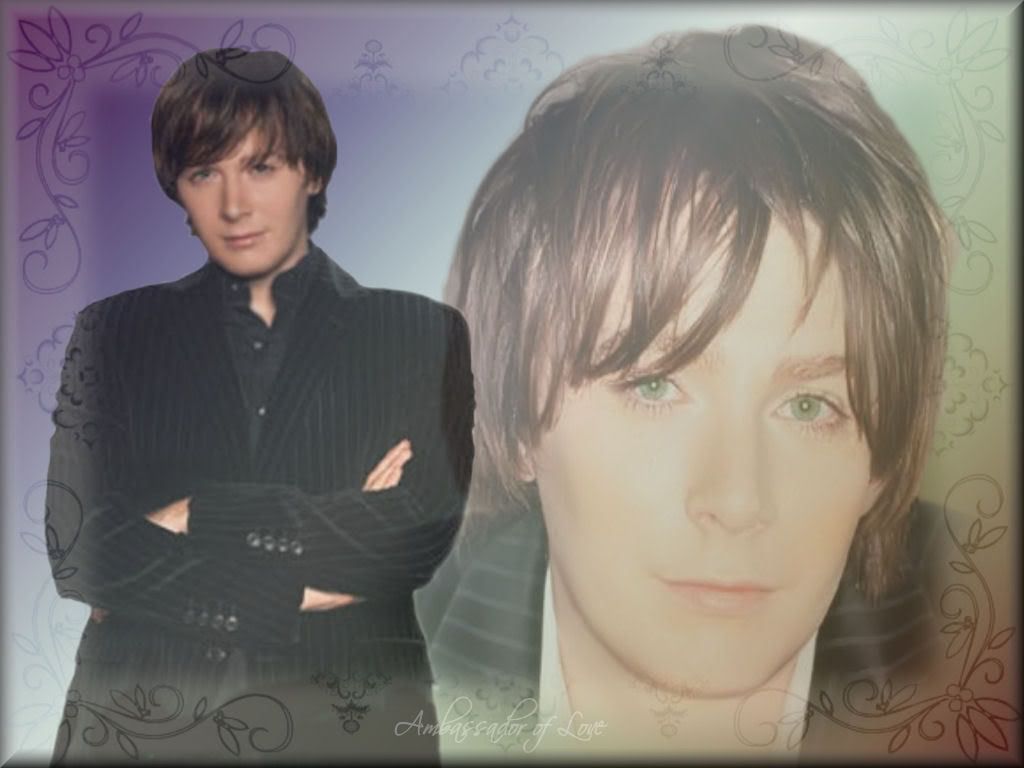 Soundcheck Features Acoustic Clay
Clay's Wal-Mart Soundcheck, which can be viewed online as well as on monitors/giant TV screens throughout the chain's stores, features four songs from the new album -- Sorry Seems To Be the Hardest Word, Everything I Do (I Do It for You), A Thousand Days, Here You Come Again -- plus an interview in which our singer talks about his life, music, charities, and fans.
The text that appears on the Soundcheck page is well worth the read. I especially love the postscript in which the Wal-Mart crew states that CA is "without a doubt one of the nicest artists we've had the pleasure to work with on the show." There are props for his loyal fans, too; so enjoy the script.
ABOUT THE SHOW
THE ARRIVAL: Idol Worship
The Wal-Mart Soundcheck crew made their way back to one of it's favorite locations, Conway Studios in Los Angeles, to meet up with one of America's top young singers - the charismatic Clay Aiken.
New Look, New Songs
We met up with Clay backstage in the green room and discovered a whole new look for the former Idol star. besides the dramatic new appearance, we were briefed on and listened to pieces of the new record. It was a humbling experience to get to hear songs that the legend Clive Davis helped pick out personally for Clay.
THE SET: Electric/Acoustic Combo
The set up for the performance featured the best of both worlds: a touch of acoustic and electric instrumentation, and our star, Mr. Aiken, fronting the band on lead vocals.
Love Songs
The set list, in order, featured "Sorry Seems to Be the hardest Word," Bryan Adams' "Everything I Do (I Do It for You)," "A Thousand Days" and the Dolly Pardon hit, "Here You Come Again" - a good mix of original cuts and classic covers fans are sure to love.


THE INTERVIEW: The Love of Music

Clay's one of the most laid back, gracious guests we've ever had at Soundcheck and his passion for music is clearly evident. "I like being able to say I do what I love, and not many people can say they love what they do for a living these days," he said. "Everything that's happened to me is because I've been open to opportunities as they presented themselves. So I don't really think about where I'll be in five years, I think more in terms of being happy and letting happiness lead my path."

The Love for His Fans

There's a reason this man has so many 'Claymates.' "It's really all about the fans," Aiken says. "I say thank you a lot, and it's really not a big enough word; so let me say again how much I appreciate their support for allowing me to do what I love to do."

The POST-SCRIPT: A Royal Treat

We weren't sure what to expect in our first session with Clay. We had heard that he was a nice guy, but one never knows with fame and success. But we're pleased to say that the Clay Aiken everyone came to love is still the same Clay Aiken of today. He is without a doubt one of the nicest artists we've had the pleasure to work with on the show, and can clearly see why his fans are so loyal.

Enjoy the show, Claymates!
-The Crew at Wal-Mart Soundcheck

A fitting ending to this brief overview of Clay Aiken Week comes from a recent post by Aikim at Clayversity:

This week is going to be a new beginning for Clay and for us; he will be making new fans; young and old. And so as we look forward to what lies ahead, we should also savor what was and how we got here; because as good as it was, it is only going to get better.

SOON is finally HERE! Have an awesome Clay Aiken Week as the journey continues!

Caro
RELATED TAGS: Clay Aiken, A Thousand Different Ways, Without You, A Thousand Days, Lover All Alone, iTunes, Billboard, AOL ATDW Listening Party,Wal-Mart Soundcheck, Tonight Show, Entertainment Tonight, Good Morning America, The View, Jimmy Kimmel Live