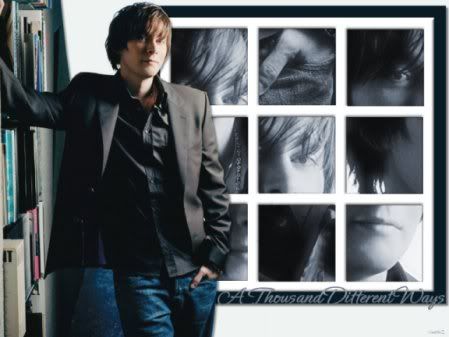 A THOUSAND WAYS -- Through song and deed, Clay Aiken is realizing an often-stated major life goal, to make a difference. Graphic by Cindilu2

Mr. Aiken Goes To Washington

Music, Advocacy Worlds Merge
A pop singer with a brand new CD moving full steam ahead toward a much-anticipated 9/19 drop date has this week received an invitation to serve on the President's Committee for People with Intellectual Disabilities, assuring Clay Aiken the best of both his chosen worlds.

A longtime advocate for children with disabilities, Clay set aside a teaching career in special education when he was awarded an RCA recording contract as runner-up on American Idol 2. Co-founder of the three-year-old Bubel/Aiken Foundation working for the inclusion of children with disabilities, Clay also serves as a UNICEF Ambassador and has continuously expanded his classroom with the platform his celebrity provides.

In the midst of the all-emcompassing media campaign to promote his long-awaited second mainstream album, A Thousand Different Ways, Clay will reportedly be present for the committee's 9/14 swearing in ceremony, but miss the initial meeting on 9/15 due to previous CD-related engagements.

Media Outlets Spread the Story

At last count, 132 media outlets have carried the story about Clay's appointment under a variety of headlines: Idol Singer Clay Aiken May Serve Bush, Mr. Aiken Goes to Washington, NC Singer To Be Appointed to White House Committee, Aiken Named to National Panel on Mental Disabilities, and so on.
Most, however, picked up the AP feed originating in the Raleigh News & Observer, the singer's hometown newspaper which told the world nothing about this man's significant qualifications for the presidential nod. Basically, this is what the press carried as the reason for Clay's appointment:

Aiken is a Raleigh native who rose to fame as a runner-up in the "American Idol" competition. Before his singing career took off, Aiken worked as a counselor at a YMCA.

The final paragraph at many sites, such as the Knoxville News Sentinel, contained a redeeming plug for the new CD: The singer's new album, "A Thousand Different Ways," is due out later this month.

Shoddy Journalism Questioned

When I complained about the shoddy journalism in an email to my first editor from way back yonder with the Wilmington Star-News Newspapers, she replied:

"You can't really blame the N&O when it was an AP oversight. Although, since he's a Raleigh native, someone should have known something about him. But that takes us into the Unknown Territory of the Copy Editor's Domain, what they know and what they don't and what they bother to research for accurate and adequate info. Strange, strange breed."
I shared with my editor-friend a link to the most comprehensive report I have seen about Clay's background: Clay Aiken and Service, a blog by Berkeley at The ConCLAYve: A Meeting of the Minds, that is well worth a bookmark and a read.
PHOTO INTERMISSION: Today's clickable interlude features the creations by four talented graphic artists, including Amazing_CA (1); Claystruck (2); ABeautifulMind (3, 4); and Cindilu2 (5).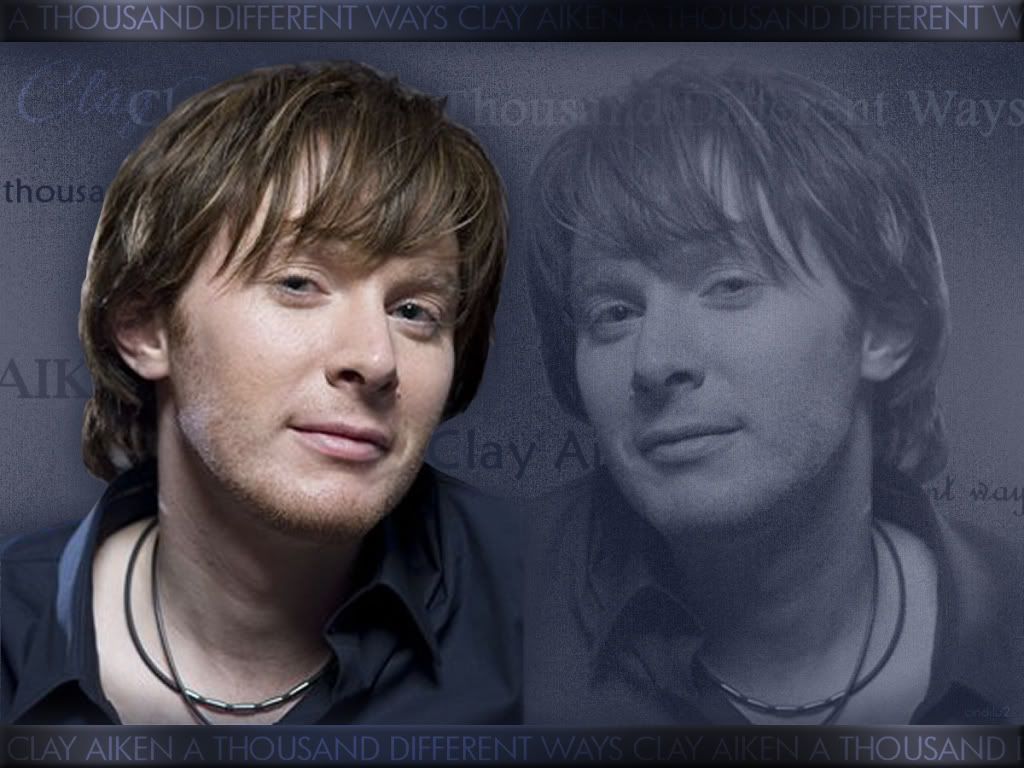 Director's Daughter Impressed
Thursday the N&O regained a bit of my respect with the following Under The Dome column by staff writers J. Andrew Curliss and Barbara Barrett:
Fans in High Places
President Bush apparently is a Clay Aiken fan. Bush this week named Aiken, an "American Idol" runner-up and North Carolina native son, to the President's Committee on People With Intellectual Disabilities.
Word from the White House came with little fanfare, part of a release that included nominees for assistant attorney general and transportation secretary. The release listed Aiken as "Clayton Aiken, of North Carolina," with no further explanation.
Aiken's fan club immediately posted the news to its Web site. Aiken was traveling and could not be reached for comment. But in Washington, the committee's executive director's 16-year-old daughter was thrilled.
"Usually she's not interested in public policy. She wants to come to the meetings. She wants his autograph," said Sally Atwater, chief staffer for the committee. Atwater figures Aiken will lend some youthful perspective to the group. Also, she said, "We hope he'll sing."
Aiken has some work experience he can bring to the president's committee. A special education major at UNC-Charlotte, Aiken worked with autistic children as a counselor in Raleigh. He also runs the Bubel-Aiken Foundation, dedicated to research for children with developmental disabilities.
He will join a committee that advises the president and the Department of Health and Human Services on programs and services for the intellectually disabled.
The group's next meeting is this month, just as Aiken has a new album coming out. He won't be at the meeting, Atwater said. "He's going to be on Jay Leno, I'm told," she said. "So we hope he'll plug the committee."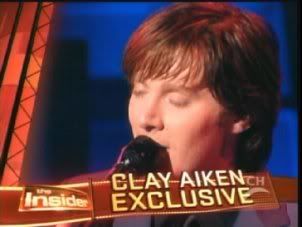 Clay singing 'Without You' on The Insider
Appearances prior to Leno on the 15th include tonight's Insider during which Clay sang "Without You" and his participation as as an adjudicator-performer at the David Foster Star Search Finals and Charity Gala 2006 in Richmond, British Columbia, Saturday and Sunday.
Concert stage or world stage -- Clay Aiken is making a difference. The Clay Nation is enjoying the ride through both worlds of this special singer-teacher-humanitarian!
Caro
RELATED TAGS: Clay Aiken, A Thousand Different Ways, Without You, President's Committee for People with Disabilities, The Bubel Aiken Foundation, UNICEF, News&Observer, The Insider