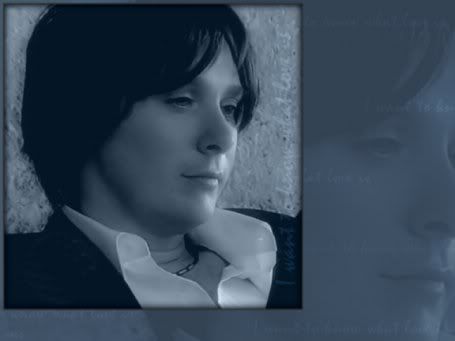 I WANT TO KNOW -- Cindilu2 featured ATDW's duet, "I Want To Know What Love Is," in this beautiful graphic design.

New Fans Board Clay Train


September Magic Finally Here


Throughout the Clay Nation, there's magic in the air -- it is finally September, the month A Thousand Different Ways drops and our singer hits the road for an array of promotional appearances that will keep fans happily expending frequent flyer miles, VCRs sizzling, and new CLACK wending its way through cyberspace.

LINDA_CARRELLI designed a wallpaper featuring her signature Claytoon, ATDW's cover photo and playlist, as well as some important TV dates already on tap for Clay Aiken. Visit her OFC Blog for a trio of desktop sizes.

ATDW Calendar Filling Up

Clay Nation calendars are continually being updated with the singer's appearances and other promo events:

9/5: The Insider
9/9-9/10: David Foster Star Search Finals and Charity Gala 2006. Clay will be a judge and a performer at these events in Richmond, British Columbia.
9/15: The Tonight Show
9/18: CD Release Parties underway somewhere near you!
9/19: ATDW drops at midnight!
9/19: Good Morning America
9/19: AOL Music Feature
9/22: The View (taping on 9/21, tickets already SOLD OUT!)
9/26: Jimmy Kimmel Live!
10/1: Live at Yahoo Music -- Performances and an interview
Coming Soon: ATDW on Wal-Mart's Soundcheck and Spotlight

WY Ringtone Selling CDs
Fans busily sharing "Without You" and the 14 album snippets were this week gifted with another tool by Sony Musicbox -- a WY ringtone for their cell phones. A teacher who posts at Clayversity outlined her strategy like this:

Jade222: I downloaded "Without You" as my ringtone this morning, and I played it all the way to school. Just love hearing Clay come out of my phone.

Having first period off, I walked around school with my cell phone looking for other teachers who were free. I found three. For each one we chatted a bit and then I brought up Clay. First I showed them the wallpaper on my phone - the CD cover - and then let them listen to "Without You."

The ring tone is the best part of the song: "I Can't LIIIIIIIIIIIIIIIVE if living......" All three LOVED WY!!! There faces were all smiles with comments like: "Oh, I know that song!' and "Oh, I love that song!" The fact that they KNEW the song was HUGE! They thought Clay was awesome. Oh, yeah!

Not.Just.Us Stories Shared

If you like Not.Just.Us stories, you are in the right place. Five are from comments shared by readers in a previous entry, and the others originated in posts at Clayversity.

My own addition to the mix occurred Thursday when I asked my high school flute/oboe student what kind of music she and her friends are listening to. With no prompting from me, she replied: "Definitely not the radio. We like music from the 80s." I gave her an assignment to take a listen at the ClayAiken.com web site as soon after Friday night's halftime as possible.

These comments represent readers from such diverse regions as Connecticut, Ohio, Colorado, California, and Washington, DC:

Lisa1068: We have two Vietnamese guys who work here. I was sorting some parts one of them made, and his brother came in to see what the quality problem was. I had Clay's snippets on a loop, and he just sang the words to six of them. He can barely speak English, and he told me they were beautiful old songs. When I told them they were new, he said , "Remakes?" I almost fainted. Then I told him it was Clay; and he said, "Very good!"

My boss, a male whom I Clayverted last year, has also been playing the snippets in his office. He says he's playing them for me because I'm in there a lot, but I know better.

Kimmstarraiken: I work in very close quarters with three other women who have been nothing short of saints regarding my "interest" in all things Clay. I wanted to give them a taste of what they will be listening to for the next few months, so I played Clay's version of WY for them.

I must have been a bit preoccupied because before I realized it, the other five ladies in the office were standing behind us listening also. They all knew better than to ask who was singing, but did ask when the CD was coming out. I knew they'd come around. A voice like Clay's doesn't come around often in one's lifetime.

German Friend Embraces WY

smz80219: I have a dear email buddy in Germany. I sent her MOAM and MCWL, which she liked; but I know she is not really a pop music fan. I sent her the link to Clay's RCA web site so she could hear WY. I was reluctant to do this because she lost her husband suddenly a year ago and she is still quite heartbroken.

She made no comment, so I thought that she didn't like it and did not want to tell me. Finally, yesterday, she emailed and said that she had lost the link and asked if I would I send it again. Relief!!! Of course, I sent it again, and this morning her email was that she LOVESLOVESLOVES this song! WY was one of "their songs," and she has it playing in the background while she is on the computer.

I'm sure that "their" song was the Nilsson version, but she is now listening to Clay sing to her. This evening, I will be sending her the zip file of the snippets. I'm sure she will recognize and love a lot of those songs, too.

Katt45: I played WY for two of my non-Clay friends last week. They both went wild for this new single. My one friend went so far as to tell me to put that song on her son's wedding video that I'm making. When I reminded her that the couple might not care for it, she responded, "I don't care; I LOVE it. Use it on the video." I'm using it!

ccbon3: A couple of days ago I played WY for my 16-year-old, hip-hop, pop music-loving daughter; and I was floored that she really, really liked it. She said that Clay sings a lot better than most people you hear on the radio and had no idea it was a cover. My daughter sent a link to her friend, who is angsting over a break-up; and she loved it, too.

Then it dawned on me: ATDW is a teen dream come true. Teens experiencing first
love, first heartache, dreaming about first love, etc., will eat this up. And the fact that Clay looks like an anime character come to life doesn't hurt either. I think Clay is going to sell a lot of CDs to a lot of people who love good music -- young, old, and somewhere in between!

PHOTO INTERMISSION: This clickable interlude features the creativity of four talented graphic artists: Clayquebec1 (1); Amazing_CA (2 and 5); ABeautifulMind (3); and Claystruck (4).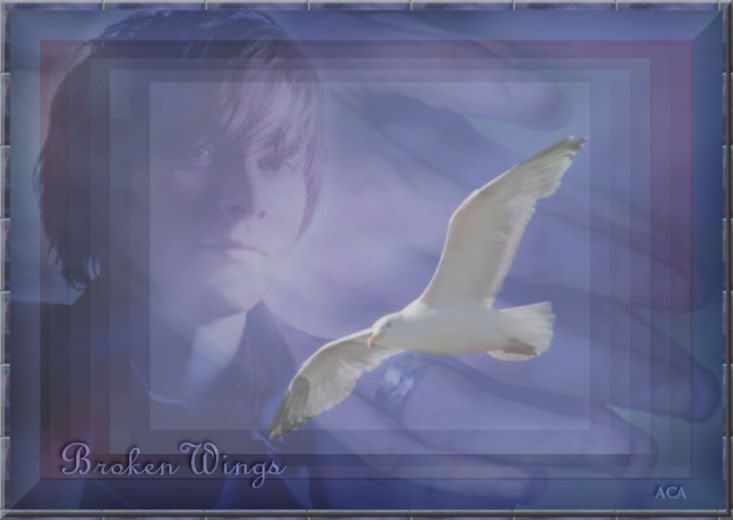 CA Haircut: New or Old?

Mercedes: My future daughter-in-law, Emily, was getting a haircut in SOHO (NYC) today. She said a guy in his late 20s walked in and asked for a Clay Aiken haircut. The hairdresser asked, "New or old look?" He said "NEW." She was not able to stay for the results, but she couldn't wait to call me with the news.

suz4omc: Yesterday during a series of all-day meetings, I was sitting next to one of the nurses. Since I was more of a passive participant than anything else, I was working on the picture for our CD release party poster during the meeting. She leaned over and asked what it was. I explained about the CD and the release parties.

During a break, I got my headphones and let her listen to the snippets. A few songs in, she said "I HAVE to get this album!" She was still listening at this point, but I told her I would get her a copy when it is out. She looked at me and said, "I can't hear you, but that's OK; I want to keep listening to THIS!" After she listened to everything, including "Without You," she told me that she didn't like the originals of most of the songs, but she LOVES what Clay has done to them.

Power of the Aiken

Lolacat: My female boss teases me constantly about Clay. I don't let her get to me and just tell her to leave my Clay alone. Today one of the big corporate bosses, a man in his mid 40s, came for a visit.

He stopped in my office to say hello and noticed my Clay pictures on the wall. He said, "Clay Aiken," and the female boss went "Eww!" He said, "What do you mean? He's awesome!"

Apparently, he's somehow associated with Musikfest and he met Clay. I told him I met him at Musikfest too. She does the "Clay Aiken eww" thing again, and he looked at her and said, "He's one heck of a nice guy, and I'll tell you what -- Clay Aiken rocks!" My boss's mouth fell open, and she shut up. I loved it!

A few days later my boss stopped in and said, " I quess you have a new Clay fan buddy!" I told her not to ever underestimate the power of the Aiken. I wish I had a camera; the look on your face was priceless!

The Vox: New Cardiac Cure

Ananka: A funny story happened during my recent hospital stay. The nurse station was outside my room, and night after night I could hear them chattering away about every subject in the world. One night there was a group of young nurses and aids and they were playing some music and talking about the current scene in the pop world. One of them put on Justin Timberlake's' new offering, "Sexy Back," and was gushing about him and the song, but at the same time complaining about his new look.

Imagine this song playing in the cardiac ward if you will. Within a couple of minutes, the senior "boss" nurse walked in and in no uncertain terms told them to turn off that junk before all the patients went into cardiac arrest.

I had a burned a copy of "Without You" with me, and this seemed the opportune time to try it out on the nurses once the boss left. In my lovely hospital gown, I tiptoed out of my room and told them to give this new song a try. I did not tell them who it was. After making sure the boss was gone, they slipped it in their little CD player and began to listen. Every one of them (about six) was mesmerized; and they continued to play it over and over, each time increasing the volume.

At some point they had turned it up too high and the boss returned and grabbed the CD player. For some reason she could not figure out how to turn it down, so it continued to play. At this point she saw me and literally shoved me back into my room threatening to tie me down if I didn't stop wandering around. She had no idea I was the culprit, guilty on all charges of outright proselytizing. For a minute or so everything was quiet and I could hear the music still playing as she finally figured out how to turn off the CD player.

The nurses and aids told me later that they feared she would report all of them for what had happened. But instead, after telling them in no uncertain terms they were not allowed to play any personal music in the hospital and that this was a warning only, she said to them, "Now whoever that guy is singing in that song could cure some broken hearts with that voice."

A winning prescription as is this humorous scenario envisioned by another CV member:

Txwriter: Picture this. It's Sept. 18 at a Clay Aiken CD Release Party somewhere in the US. A cell phone rings and 60 women reach for their phones 'cause they all have the same WY ringtone!

Have an awesome Labor Day Weekend and a wonderful beginning to this magical month of September!

Caro
You can download a wallpaper version of the opening graphic at Forever Clay.
RELATED TAGS:
Clay Aiken
,
A Thousand Different Ways
,
David Foster Star Seach 2006
,
Tonight Show
,
CD Release Parties
,
Good Morning America
,
AOL Music
,
The View
,
Jimmy Kimmel Live
,
Live at Yahoo Music
,
Wal-Mart's Soundcheck
,
Sony Musicbox
,
Without You
,
ClayAiken.com