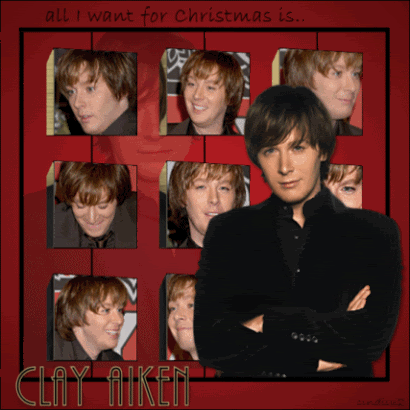 GIFT-WRAPPED -- Clay Aiken singing Christmas music is at the top of many holiday lists. Graphic design by Cindilu2.
Frugal Grandma Goes Wild
Holiday Tour To Open in Kansas
Tom Turkey may claim the spotlight this week, but Clay Aiken fans are already tuning into the next holiday with the singer's 20-date "Christmas in the Heartland Tour" set to open in Wichita, KS, on Nov. 26.
Also heralding the Christmas season will be the Dec. 4 release of the popular EP "All is Well" on iTunes and holiday shopping that can benefit The Bubel/Aiken Foundation fund-raising if completed through GoodShop.
Claystruck has created two beautiful graphics with the Heartland Tour dates and concert locations. Photos are by Farouche and PermaSwooned, respectively.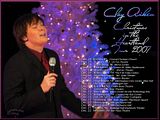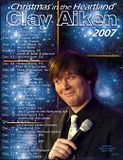 Clickable Heartland Tour Schedules
November "Heartland" concerts include Central Christian Church, Wichita, KS, Nov. 26; US Fox Theatre, St. Louis, MO, Nov. 27; Morris Center, South Bend, IN, Nov. 28; Genesee Theatre, Waukegan, IL, Nov. 29; and James W. Miller Auditorium, Kalamazoo, MI, Nov. 30.
Popular EP To Hit iTunes
Beginning Dec. 4, All Is Well, Clay's 2006 Christmas EP, formerly a Wal-Mart exclusive, will be available on iTunes.
The mini-album contains four beloved songs: "All Is Well," "Christmas Waltz," "Emmanuel," and "My Grown-Up Christmas List."
GoodShop Benefits TBAF
A longtime proponent of online shopping, I am very happy that my holiday gift-giving can benefit TBAF through GoodShop.
It's very convenient, simple, and even an enjoyable way to complete your holiday shopping. Dressed in your comfy clothes of choice with some spiced tea or other refreshments nearby, select a favorite Clay Aiken Christmas playlist and forget cold weather, traffic jams, and crowded malls.
With your gift list in hand, go to GoodShop by GoodSearch and fill in "Bubel Aiken Foundation" when asked "Who do you GoodShop for?"
The store categories featured on this page include "Most Popular," "Books & DVDs," "Clothing & Shoes," "Computers & Electronics," "Gifts & Florwers," and "Pets." However, there are categories for almost everything with currently 406 businesses from A to Z listed under "All Stores."
That's more than enough for my Christmas list. What a wonderful way to expand the joy of giving this season!
Claymates Win Hands Down
Who are the most rabid, most passionate, most loyal fans in Hollywood? Is it the Trekkies? Claymates? Brangelina followers? — Abby, Seattle
In a story at Eonline, the answer to this question was provided by a Lycos representative.
"There's no comparison whatsoever!" exclaims Lycos spokesperson Kathy O'Reilly. "No other male celeb, band or movie star receives the amount of search activity that Clay generates."
PHOTO INTERLUDE: Six visual artists are featured in this clickable interlude. They include MNmeesh, photos by PermaSwooned, 1; Amazing_CA, photos by PermaSwooned, 2 and 4; ABeautifulMind, photo by Scrpkym, 3; Ambassador of Love, photos by PermaSwooned, 5.
Spending Spree Marks Birthday
Grandson Kai celebrated his first two months with a regular routine Saturday, but his grandmother marked the occasion with a week-long spending spree. For heaven's sake, I'm a McDonald, normally frugal to the core!
Three weeks into this little guy's life, I asked photographer friend Sally to help me select a new digital camera for my daughter. That snazzy little Canon with two gigs of memory has already paid great dividends in the quality and quantity of photos the new mother snaps and sends to the Carolina branch of our family.
According to Sally, Jen even has "a photographer's eye." She is a good student and has taken my friend's suggestions to heart, applying a variety of techniques with each new batch of pictures.
Among the sites to which Sally has sent us fledgling photographers are Kodak Tips, Newborn Picture Ideas, and The Purple Stork.
Tips Yield More Pixels
From our advisor and the websites she suggested, we have learned to provide plenty of pixels, use a neutral/plain background and natural light if possible, fill the frame, get down on the infant's level, and check for distractions prior to shooting.
At the rate Kai's camera has been used, the batteries promptly ran out of juice. So that this drought won't happen again, Grandma Caro immediately ordered a charger and rechargeable batteries.
Not connected, but also included on the same purchase, was a stroller, to which my friend and her son -- now "Uncle Frank" in our family -- also contributed.
The stroller will provide mother and son a way to enjoy the outdoors, and photos of Kai checking out the Texas terrain are in the works. Meanwhile, below is a clickable of him trying out his fancy new wheels.

Storage for Kai-Clay Clack
A 500GB LaCie has long been on my personal wish list, and this week I decided to add the external to my set-up, not only to store the mounting collection of CA and Kai "clack," but also to back up my computer files.
Before my credit card was back in its slot, I was at Amazon tracking the stroller-battery charger deliveries and just happened to notice that the Fisher-Price Rainforest Peek-A-Boo Waterfall Soother was on special.
Since Kai doesn't have many toys, I thought this would be an excellent addition for his playpen. The visuals include a swinging monkey and a peek-a-boo frog, plus the mesmerizing waterfall plays classical music, lullabies, or rainforest sounds.
From being an observer as an infant, a toddler eventually learns to turn on the mechanism himself. Not to mention, what a pleasant alternative to the bagpipes and drums he hears when his Grandpa is composing percussion parts on the computer!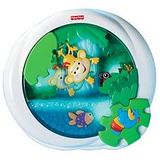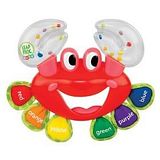 Toys Grandma Just Couldn't Resist
Clicking my way through to the check-out, I noticed the LeapFrog Baby Curious Crab Rattle (such long names for toys!) at $3.99, read a couple of parent reviews, and added the colorful little dude to my cart.
Tactile development aside, this little guy sports a strong selling point as a handy toy to slip into the diaper bag.
Woot Whistles My Tune
My bank account literally breathed a sign of relief when this week's two-day Woot-Off went by and I didn't purchase one item.
However, Saturday's special just happened to be a Miniature Express Train Set with an engine that lights up, two cars, and 12 feet of circular, inter-locking track for only $4.99.

Now I know this is much too early for Kai to enjoy even a miniature train set, but I still hit the I WANT ONE button. Proceeding through the purchasing process, I was asked if I needed one or two more. At Woot, you can order up to three items of one product.
I have a five-year-old nephew who is enthralled with trains and trucks of all kinds, and I decided this would make a good travel toy for him. Another nephew, born a month before Kai, came to mind; so what the heck -- I went for three. After all, the shipping fee is $5 no matter the number you purchase.
Needless to say, my credit card -- which has much more will power than this new grandmother -- is now in hiding.
Below is a clickable of Cindilu2's opening graphic: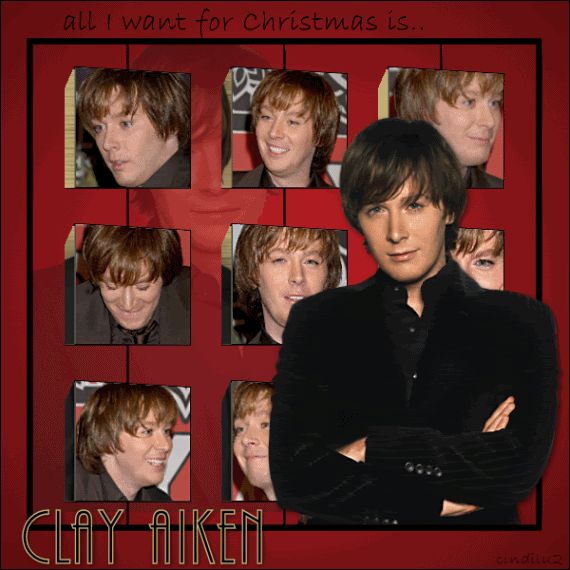 Have a wonderful new week, Clay Nation!
Caro

RELATED TAGS: Clay Aiken, Christmas in the Heartland Tour, All Is Well, iTunes, GoodShop by GoodSearch, The Bubel/Aiken Foundation, Eonline, Lycos, Photography Tips, Woot!, Claymates, Official Fan Club, Clay Nation