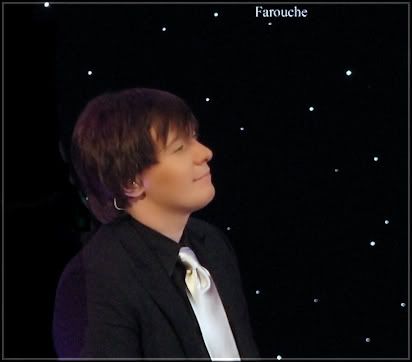 MEMORABLE PERFORMANCE -- Clay Aiken watches skaters during at Tuesday night's taping of the Holiday Celebration on Ice. Photo by Farouche, enhanced by Sally
Live and Via 'Skatecert'
Aiken Fans Enjoy Vegas Taping
As expected, the Capital One Holiday Celebration on Ice taping in Las Vegas was magical from start to finish.
Like many Clay Aiken fans around the globe, I followed Tuesday night's taping via a "skatecert" in front of my laptop at home. The performance audio was amazingly clear; and recaps, photos, and videos were uploaded promptly into the wee hours of the morning.
The singer's incredible vocals with lovely nuances, color, creative change-ups, and unexpected falsetto greeted fans in the Orleans arena, as well as those listening at home. A quick Google check revealed that my seat for the skating special was exactly 1,942 miles away from the venue.
In this Digital Age, cell phone photos promptly beamed the beautiful holiday setting to those at home.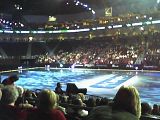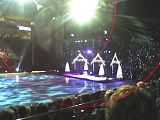 Festive Setting in Orleans Arena
Clay Croons Holiday Tunes
While some skaters performed to taped music, eight numbers featured the golden voice of Clay Aiken. The set list includes the following holiday songs:
Christmas Waltz - Entire Cast
Don't Save It All for Christmas Day - Shae-Lynn Bourne, world ice dancing champion
All Is Well - Todd Eldredge, six-time US champion and world champion
Christmas Song - Sasha Cohen, 2006 US national champion and Olympic silver medalist
Sleigh Ride - Philippe Candeloro, two-time Olympic medalist
Merry Christmas with Love - Jenni Mino and Todd Sands, three-time US pairs champions
Winter Wonderland - Sasha Cohen
What Are You Doing New Year's Eve? - Entire Cast

Other skaters included world champion Yuka Sato; Caryn Kadavy, world bronze medalist; eight-time British champion Steven Cousins; world medalist andLas Vegas resident Surya Bonaly; and reigning world ice dancing champions Marie-France Dubreuil and Patrice Lauzon.
PHOTO RECAP -- In these clickables, Farouche captured highlights of Clay's performance throughout the program.
Performers Show Appreciation
Throughout the show, a special rapport exemplified by generous acknowledgements -- handshakes for the guys, kisses and hugs for the gals -- was evident between Clay and the skaters. The entire cast gave accompanist Jesse Vargas well-deserved props.
As Clay finished singing WAYDNYE, Sasha approached the stage area with a pair of skates for him. After donning the skates, Clay joined the cast and, with Sasha and Surya on each arm, circled the arena with the others, ending with closing bows.

Dreamlarge is featuring a short excerpt from the skate-around video in her Photobucket: Skate. The much-discussed "look" came as Sasha brought Clay his skates.
Below are Sendspace downloads of videos by Spotlightlover that, unlike the skating special, focus on the singer:
What Are You Doing New Year's Eve?
SCENES FROM VEGAS: Clickables by Lindylo provide performance shots of Clay and Jesse, the singer's trademark striped socks, the closing skate around, and the group's applause for the evening's accompanist.

Fans Praise Singer's Performance
Despite the late hour, message board ovations from excited Clay's fans were immediate from those at the Orleans, as well as the many participating from afar.
Way2clay, who attended the Vegas taping, wrote: "Clay was on the money; and he even skated with the stars at the end. Oh, what a night!"
Canuck2010, also at the Orleans: "I'm sure the skaters did well and I'm looking forward to seeing their performances on Christmas Day because, I'm sorry, but I had eyes for one person only and that guy singing was out of this world."
Yaknelle, listening on a "skatecert," summed up the feelings of many in her observation: "Clay just landed a triple axle!"
The two-hour NBC special will be telecast on Christmas Day, "only" 47 days from now. Once again, fans are very grateful to this roster's dedicated and talented Clack gatherers.
Below is a clickable of Farouche's opening photograph: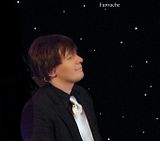 Have a wonderful week, Clay Nation!
Caro
P.S. Kai's other grandmother, Sally, created a four-photo slide show entitled "Softies." You can link to the strip by clicking on the "cutie pie" below.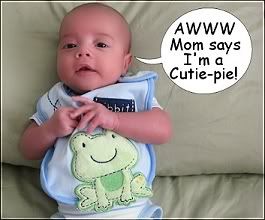 Click picture to see Softies Slide Show
RELATED TAGS: Clay Aiken, Capital One Holiday Celebration on Ice, Orleans Arena, Sasha Cohen, Todd Eldredge, Surya Bonaly, Jesse Vargas, What Are You Doing New Year's Eve?, All Is Well, Official Fan Club, Clay Nation