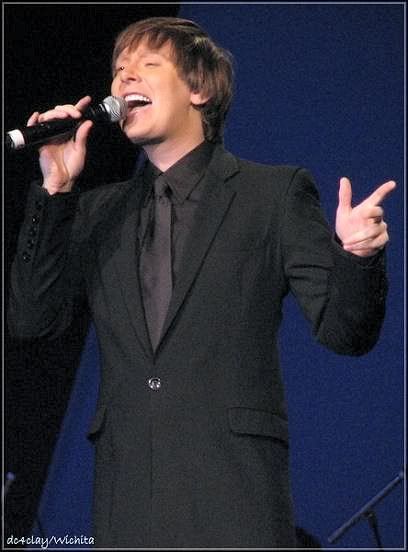 OPENING NIGHT -- Clay Aiken performs during the Wichita, KS, opener of his traditional holiday tour. Photo by dc4clay.
Christmas in Wichita, St. Louis
Holiday Tour Opens in Heartland
From the opening downbeat of Clay Aiken's Heartland Tour in Wichita, KS, Monday night, those in the audience and fans listening via cellstream around the globe knew this season's traditional holiday concerts would be something special. Christmastime has finally arrived!!
Billed as a giant Christmas card, the concert was that and more as vocalists Clay, Quiana Parler, Angela Fisher and instrumentalists led by conductor-arranger Jesse Vargas took the audience on a journey through holiday fare both standard and new.
The always glorious voice, spectacular arrangements, and moving holiday memories showcased the Christmas spirit in a uniquely elegant setting.
Here are a few excerpts from fan recaps appearing on message boards late Monday night and early Tuesday morning:
TEXWRITER: Clay's voice was very nuanced, and he was hitting notes I'd never heard before. He changed up many of the songs we're familiar with and did an awesome job on the new ones.
The standing ovation before the encore was tremendous. Best I've seen in my 25 concerts. I was so glad he came back out, because people really wanted to hear him again.
JANFAN821: The concert was fantastic. I think this is the most professional production that Clay has done to this date. To me, it seemed like a TV special. The musical arrangements were brilliant. The medleys fit so well together.The stories added to the concert experience.
CLAYPHOTOGAL: I have just finished listening to a full recording of the Wichita concert, and I am overwhelmed with the beauty of it all. The singing was superb, and the stories affected me deeply. I hope that everyone gets a chance to at least listen to this entire concert and that the Christmas love reaches them whatever their religious leanings may be.
OKIE4CLAY: Three of us from Oklahoma sitting here reading the recaps. We totally agree that this was not a concert --- it was a beautiful, well-planned, performance by Clay and Co.
The stories were a plus and truly added to everyone's enjoyment. If you are going to the show, dress up -- this show deserves it. Nothing but high class! -- OKCclayfan, Nan4Clay, Okie4Clay
MYMOAM2: Did you notice that the set list for this show is a story, too? The spine of it is the Biblical Christmas story. "O Come, O Come, Emmanuel"is the beginning where Israel is waiting for a king. Then God gives a baby in the manger ["Silent Night, Mary, Did You Know?"].
Then the baby is the King, and we welcome Him to our world. It was a "Holy Night," and the world rejoiced ["Hark the Herald Angels Sing, O Come, All Ye Faithful"].
I see the "secular" songs as just how this Biblical story affects us in our daily world, in terms of what our response should be -- "Don't Save It All for Christmas Day" and "My Grown Up Christmas List."
LEROY1704: I think Clay's Christmas concerts are a gift he freely shares with his audiences, whether they consist of NJU's or his loyal fans. Many times the gifts we give reflect more of whom we are than what the giver wants or expects. I'm glad Clay chose to give a gift close to his heart and one which reflects an important aspect of who he is.
CITH Set List
1. Emmanuel
2. Medley: Away In The Manger / O Little Town of Bethlehem /Silent Night
3. Mary, Did You Know?
4. Banter
5. Merry Christmas With Love
6. Fan Story 1
7. Medley: The Most Wonderful Time of the Year / Sleigh Bells / Jingle Bells / Winter Wonderland
8. Christmas Waltz
9. Fan Story 2
10. Angela: Who Would Imagine a King?
11. Welcome to Our World

Intermission

12. O Holy Night
13. Hark The Herald Angels Sing / O Come All Ye Faithful
14. Fan Story 3
15. Medley: I'll Be Home For Christmas / The Christmas Song / Have Yourself A Merry Little Christmas
16. Fan Story 4
17. Quiana: Where Are You Christmas?
18. My Grown Up Christmas List
19. Don't Save It All For Christmas Day
20. Encore: All Is Well

WICHITA PHOTO INTERLUDE
: Clickables by photographers

SmartyPantsSuz

(1 and 5) and

dc4clay

(2, 3, and 4) provide visuals from the Heartland Tour's opening concert in Wichita.

Heartland Concert a Hit in St. Louis
Second stop on the midwestern trail of the Heartland Tour was the Fox Theatre in St. Louis, MO., Tuesday night. From all reports, the performance was more relaxed, yet still professionally done.
CLAYTONITIS shared a synopsis of the St. Louis concert at Clayversity. Here are the highlights:
Clay and the gang just knocked it out of the park at the Fox. Very professional caliber concert across the board. Fantastic musical arrangements. The stories worked very well. Laughter and sniffles were heard around us during appropriate parts.
My husband, who is barely a casual fan, paid Clay the highest compliment when he said it was over too soon. Quiana's ["Where Are You, Christmas?"] song made him swoon; she got a WOW out loud from him!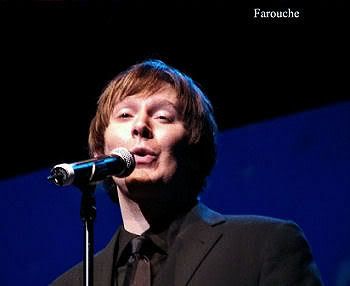 Photo links to Farouche's DSIAFCD video on YouTube.
A busy gal, Farouche not only substituted as a story reader but also posted memorable photos, as well as the finale video, "Don't Save It All for Christmas Day."
Click on the photo to view the performance at YouTube, or download it with this Sendspace link: Don't Save It All for Christmas Day.
ST. LOUIS PHOTO INTERLUDE: Clickables by photographers SmartyPantsSuz (1, 2, 4, 5) and Farouche (3) recall Tuesday night's Heartland Tour concert at the Fox Theatre.

Concert Well-Received by NJU Fans
Traditionally, reactions to any tour's opening night are an important part of CA fandom lore. After recapping the concert, Texwriter was asked by Clayversity members how she thought casual or Not.Just.Us fans received the 2007 program, specifically the four Christmas memories shared.
In her reply, she quoted her husband, who attended the concert but was anxious to get back to Monday night football:
He noted that the audience reaction was very enthusiastic after the stories. He was very moved by all of them, especially the woman who lost her son. I would think his reaction is more typical of the non-Internet fan.
We were both very impressed with how composed the readers were and how well they interpreted their individual stories. They were all unique, but very well suited to the songs they introduced. I'm just as much a fan of Clay's mind as I am his voice. He is an endlessly fascinating man.
Sharing the Season a Holiday Tradition
Typically, fans willing to stay up an extra hour or two on concert nights are treated to audio and visual clack. On this opening night, Clay shared his thoughts about the production via his fan club blog. This is an excerpt:
Christmas has always been to me a time to celebrate the birth of Christ and cherish the moments with friends and loved ones. The stories that were told tonight reminded us of the fun that can come with the holiday, the power and importance of family and those we care about, and the spirit and strength that comes from believing in the true meaning of the season.
I'm really excited about the next several weeks. Seeing you all and hearing from you all is always a thrill for me this time of year. As we listen to some of the most memorable and powerful memories of some of your own holiday traditions, I can't help but realize and be grateful for the fact that sharing the season with you each year has become my holiday tradition.
Tour Continues Through Midwest
Criss-crossing the mid-western and northeastern parts of the United States, the 20-concert Christmas tour rolls into Indiana, Illinois, and Michigan for the remainder of the week:
11-28-07 South Bend, IN Morris Performing Arts Center, 7:30 p.m., EST
11-29-07 Waukegan, IL Genesee Theatre, 7:30 p.m. CST
11-30-07 Kalamazoo, MI James W. Miller Auditorium, 8 p.m., EST
For those attending the live concerts, as well as the many experiencing Clay Aiken's holiday tradition via clack, Christmastime is finally here.
Have a wonderful week, Clay Nation!
Caro

RELATED TAGS:
Clay Aiken
,
Christmas in the Heartland Tour
,
Jesse Vargas
,
Quiana Parler
,
Angela Fisher
,
Official Fan Club
,
Clay Nation