HAPPY HOLIDAYS - Graphic by AmazingCA with photo by toni7babe.
Clay Sings Songs of Season

Montages Echo Holiday Cheer

Whether you are busy wrapping gifts or baking goodies for holiday festivities, there is no better accompaniment than Clay Aiken singing songs of the season.

With that in mind, the Carolina blog will intersperse memorable CA performances and direct you to YouTube where there are countless more. Search for just about any Christmas song AND Clay Aiken -- and that baking schedule will have to be adjusted.

In 2008,

SueReu

created a montage that spotlights a fan favorite -- "Don't Save It All for Christmas Day -- from several holiday tour/TV performances.



Four Years of 'Don't Save It All for Christmas Day'
View montage by Sue Reu full screen at YouTube.

'Beautiful Star' Special Gift for Papa



During the Raleigh concert of the 2005 Joyful Noise Tour, Clay surprised his beloved grandfather and the audience with a special gift when he sang the bluegrass carol, "Beautiful Star of Bethlehem." Papa Aiken, unofficially adopted by the Clay Nation at that concert, passed away in 2009.



Hosaa

's montage begins with the singer speaking about his grandfather, who died in 2009. The passage below is from the audio version of Clay's 2004 bestseller

Learning to Sing: Hearing the Music of Your Life

.

My papa has Alzheimer's now. When we see each other, his eye widen with recognition, but he has trouble saying the words. We hug instead, and he doesn't let go for a long time.





Granny says he can't remember much about his past and has difficulty processing the present. But he does ask about me. And if I happen to be on TV at night, he'll sit up and watch, no matter how late.





Recently Granny told me that Papa doesn't listen to the Grand Ole Opry at bedtime anymore. He listens to my CD's. Every night she asks if he might like to hear something different, but he refuses. Instead, he puts in my music and pushes "play."





It's as if I am still there, like I was as a child, lying beside him and singing him to sleep as the darkness falls.

- Clay Aiken in 'LTS'




Clay Aiken: Papa's 'Beautiful Star'
View montage by hosaa full screen at YouTube.

The final video features Clay singing the jubilant "Joy to the World" and "We Wish You a Merry Christmas" in the 2003 Walt Disney World Christmas Day Parade. Enjoy!



Joy to the World/We Wish You a Merry Christmas
Clay performs in 2003 Walt Disney Christmas Day Parade.
View video full screen at YouTube.

Holiday Vote Blast Set for Thursday



In the midst of the holiday season whirlwind, National Inclusion Project supporters continue their mission to make December the month the foundation secures the $50,000 Pepsi Refresh grant.

The NIP is one of eight children's charities calling for a massive Holiday Vote Blast to bring in 100,000 votes on the next two Thursdays -- Dec. 23 and Dec. 30. Make plans now to engage many more voters for the all-day vote blast.

No doubt you have seen art for the occasion at Facebook and other sites. Click on the image below to expand, and add it to various websites throughout Cyberspace.

NIP Supporters Find New Voters



Ingenious ideas for enlisting new voters are shared on Clay Aiken message boards daily.

Queenmama247

, who keeps several high profile sites in her community (library, bank, beauty shop) well-stocked with fliers, seems to be one great idea after another. Her latest post may spark some for others:
I stopped by the home and workshop for the disabled and dropped off about 200 fliers. That night were having their Christmas party, and 300 people were expected. The director of activities is really impressed with the NIP.



The only time I am a pain is when I see someone with a cell phone. I just ask people if can use their phone for a second and then text in a vote. My sister-in-law is coming over today, I told her to bring both of her cell phones.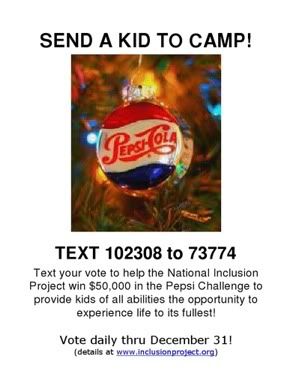 WFI Introduces Others to Inclusion



As the Pepsi Refresh campaign has done, Wrapping for Inclusion stations throughout the country are introducing the foundation, its mission and programs, to countless citizens this holiday season.

In addition to wrapping 50 Barbie dolls all in pink, volunteers have become ambassadors for inclusion, passing out NIP fliers and Pepsi voting cards to those who stop by. For PDF links to download fliers like the one above, see the 12/6 Carolina entry: Clay Aiken Fans Vote, Wrap for Inclusion.

Below is a WFI report from Winston-Salem, NC, wrapper

FearofH2O

:
Although we are raising serious money, we are also getting many people to text and/or vote.

We have had many high school student volunteers vote, and many of the people we wrap for take home the printed instructions for themselves or their kids to vote. They seem really interested in helping.
Reciprocal Votes Boost Support

Reciprocating votes with partnering charities from North and South Carolina to Montana and Wyoming, the Inclusion Project has maintained a top 10 position throughout December's drive for a Pepsi Refresh grant.

Number 2 would be an appropriate finish for a charity co-founded by Clay Aiken, but NIP followers will be pleased with a funded conclusion -- 1, 10, or anywhere in between.

Most recent charity partners are linked in the brand new second widget in the Carolina blog's sidebar and are a perfect place to send holiday visitors with mobile phones.

Created by

Scarlett

, both widgets -- NIP Voting Links and More NIP Voting Links -- contain the Internet/mobile ballot info for current alliances and partners of the foundation.

Below are clickable holiday graphics from

AmazingCA

, 1, 2, 3, 5 (photos by

PermaSwooned

, 1, and

toni7babe

, 3) and

cindilu2

, 4, screen cap from video by

jojoct

.




Holiday signature by Linda