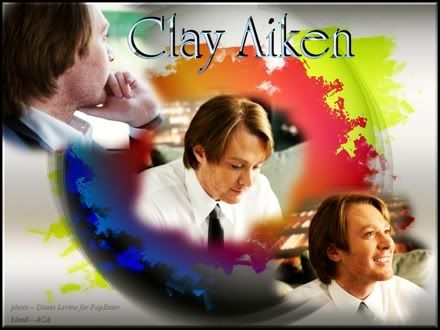 BECAUSE WE KNEW YOU
-
Clay Aiken's 2010 Decca release, Tried & True, was promoted in Popeater with these Diana Levine photos. Click to enlarge graphic by AmazingCA to wallpaper size.
Performer, Advocate, Humanitarian


Montages Celebrate Year of Aiken

A year-in-review blog usually charts in late December, but the brand new four-part

Clay Aiken Memories of 2010

montage series by

LovesClaysVoice

tossed the normalcy aside.

With the altered timetable, the singer's fans are celebrating an overview that incorporates the new

Tried & True

album with Decca Records, promo appearances, the PBS Special, a signature "Unchained Melody," the summer's Timeless Tour, and, always, the endeavors to make a difference.
I've heard it said that people come into our lives for a reason




Bringing something we must learn




And we are led to those who help us most to grow;




If we let them - and we help them in return.




Well, I don't know if I believe that's true,




But I know I'm who I am today because I knew you ...
The first montage incorporates the new Decca release, the accompanying promo appearances, the taping of the PBS special and the Bringing Broadway Home benefit performance in Clay's hometown of Raleigh.

Lea Salonga and Jennifer Paz provide the background music for this video with the song "For Good" from

Wicked

.

Clay Aiken - Memories of 2010, Part 1
View full screen at YouTube. Download with this Sendspace.
The second montage highlights the harmonies, chemistry, and laughs from the July-August Timeless Tour with good friend American Idol 2 Ruben Studdard. "The Time of My Life," was a fitting ending and description of this tour's performances.


The Timeless Duo - Memories of 2010, Part 2
View full screen at YouTube. Download with this Sendspace.

The third video spotlights vocal numbers "Mack the Knife," "Who's Sorry Now," "Breaking Up Is Hard To Do," the "Crying" duet with Casey Thompson, and "Unchained Melody" along with classic Clay Aiken banter from October's Park West Benefit Concert in Chicago.

Park West Concert - Memories of 2010, Part 3
View full screen at YouTube. Download with this Sendspace.

Featuring the dedication to humanitarian work that has always defined the entertainer, the final video rewinds the National Inclusion Project's 2010 Champions of Change Gala with portions Clay's speech, live and Dutch auctions, and the treasured finale, "Both Sides Now," performed as a duet with Debra Leisey signing the lyrics.

Making a Difference - Memories of 2010, Part 4
View full screen at YouTube. Download with this Sendspace.

The collection of montages include videos by the following CA fans: Babbyd, Scarlett, gerwhisp, gdg, HippoGA, toni7babe, Claylove, LauraQ, MBlovesClay, dlh7777, and robyn42.

Here's to many more memorable performances, the delightful impromptu comedic timing, and the huge heart of Clay Aiken!
If you need information about the Pepsi Refresh Campaign (updated widgets, printable fliers, etc.) and other December fundraisers for the Inclusion Project, scroll to the previous entry: Clay Aiken Fans Vote, Wrap for Inclusion.
Have a wonderful weekend, Clay Nation!

Holiday signature by Linda
In past years, I have written about the birthday our family celebrates on Dec. 11. Happy Birthday to a very special daughter!
12/11/06

:

Musical Weekend Alters Birthday



12/11/07

: The Year Christmas Came Early