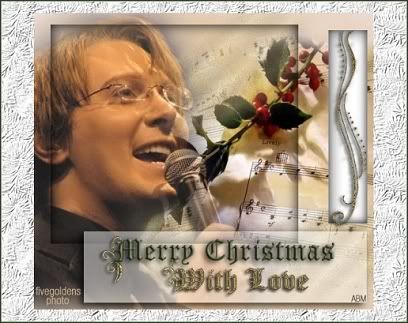 MUSICAL GREETING -- A Beautiful Mind created the MCWL holiday graphic with a Clay Aiken photo taken by fivegoldens during a Joyful Noise concert.
Merry Christmas With Love
Student Recitals Herald Holidays
For weeks, I have thought my neighborhood's massive utility project would hamper the annual holiday performance classes of my music students. In the end, Mother Nature played an even larger role with Thursday's freezing wintry mix icing the streets and postponing the violin ensemble's Christmas play-in until January.

Headquarters for the construction project, my side street is lined with a parade of vehicles that my three-year-old grandson Kai would define as absolute bliss -- dump trucks, front loaders, bulldozers plus mounds of dirt and gravel. A Porta-John sentinel guards my corner, and crews work until after dark nightly.

For this reason, the traditional piano gathering was relocated to Wesleyan Christian Academy on Wednesday, and our class presented an enjoyable mix of seasonal songs and other genres -- "Quiet River" (Miranda), "A Whole New World" (Payton), and a jazzy version of "Erie Canal" (Caleb). "Three Tunes for Away in a Manger" (Joseph) intertwines various versions of this carol in a lovely duet.



Holiday Songs Reflect Season



Mitch brought along his mother as his duet partner. Chase, Brenda, and Jeremy filled the choral room with traditional holiday fare: "Adeste Fidelis," "Good King Wenceslas," "Rudolph the Red-Nosed Reindeer," "We Wish You a Merry Christmas," "Angels We Have Heard on High," and, echoing the weather forecast, "Frosty the Snowman."

This teacher is always pleased when musicality shines through. Despite some nerves, dynamic differences, shadings, and echoes were present.

High fives to these students for the gifts they shared with their families, friends, and each other! The recap for violinists Anna, Erica, Ora, Tatum, and Jay will occur sometime after New Year's.





Students Employ Intense Lobbying



The contents of the annual gift bags from the teacher have attained levels of monumental importance, as the final week of lessons was filled with a well-orchestrated litany of hints for favorite goodies.

Little did the young musicians know the treasured pop corn, hot chocolate (with marshmallows!), candy canes, etc., were purchased two weeks ago.

The colorful bags which normally decorate my grand piano this season enticingly lined risers in the WCA choral room. Hopefully, their contents and the music learned for the Christmas season will be re-opened often in the coming days.

Holiday performance classes have become a special "Merry Christmas With Love" greeting card, celebrating the season and honoring the parents who make music lessons possible throughout the year.



Merry Christmas With Love - Montage by iloveclay101

MCWL Title Track Fan Favorite





Featuring videos by

Hippoga

,

SecretlyLovesClay

, and

Scarlett

from the 2004-06 Joyful Noise tours and televison appearances, the

Merry Christmas with Love

montage by

iloveclay101

can also be viewed at YouTube.

"Merry Christmas With Love" is the title track of Clay's popular 2004 holiday album. Written by Greg Wayne Davis and Bill Smiley, the song was first recorded by Sandi Patti for a 1983 Christmas album.





MCWL

was released by RCA Records on Nov. 16, 2004. The album was re-released on Aug. 18, 2009 on the Sony label and is available through

Amazon

and other online sites.





The platinum

CD was recognized by Billboard as the Best Selling Christmas Album of 2004 and the Best Selling Christian Album of 2005.

Merry Christmas With Love

She leaned with her head on the window
Watching evergreen bend in the snow
Remembering Christmas the way it had been
So many seasons ago.

When children would reach for their stockings
And open the presents they found
The lights on the tree would shine bright in their eyes
Reflecting the love all around.

This year there's no one to open the gifts
No reason for trimming the tree
And just as a tear made it's way to the floor
She heard voices outside start to sing.

Merry Christmas to all who may dwell here
Merry Christmas if even just one
May the joy of the season surround you
Merry Christmas with love.

Carolers sang as she opened the door
Faces of friends in the crowd
And all of the shadows of lonely reminders
Driven away by the sound.

Now the heart that for years had been silent
Was suddenly filled with a song
As she clung to their hands like a child in the night
She found her self singing along.

Merry Christmas to all who may dwell here
Merry Christmas if even just one
May the joy of the season surround you
Merry Christmas.

Merry Christmas to all who may dwell here
Merry Christmas if even just one
May the joy of the season surround you
Merry Christmas with love!


Below are clickables recalling the Joyful Noise/holiday tours. Included are

AmazingCA

's graphic

, photos by

Riversend

, 1; concert photo by

fivegoldens

, 2; lead graphic by ABeautifulMind, 3; graphic by cindilu2, photos by

toni7babe

, 4; and

ACA

's graphic, photos by

ClayIzzaQT

, 5.
Mother Nature Ushers in Cantata
Last weekend (Saturday morning rehearsal and two Sunday services) I played oboe in the annual Christmas Cantata at Jamestown United Methodist Church. As always, it was a family affair with my sister and niece on flute and my brother-in-law conducting 72 choristers and the 40-piece orchestra.
Centerpiece of this season's program were four suites from "The Many Moods of Christmas," arranged by Robert Shaw and Robert Russell Bennett. Among the carols still spinning in my memory bank
are "Angels We Have Heard on High," "Fum Fum Fum," "March of the Kings," "Bring a Torch Jeanette Isabella," and "I Saw Three Ships."
As if programmed into the second weekend of December, Mother Nature hit cantata day for the second consecutive season with a cold, rainy forecast. Despite the weather obstacles, the dampened musicians presented a program of glorious, uplifting music. The huge sanctuary was packed for both services with extra chairs added in the vestibule.

If you need information about the Pepsi Refresh Campaign (updated widgets, printable fliers, etc.) and other December fundraisers for the National Inclusion Project, scroll or link to the 12/6 entry, Clay Aiken Fans Vote, Wrap for Inclusion.

Wishing you and yours a very happy and musical holiday season!
Holiday signature by Linda