SEASONAL BLEND -- Amazing_CA's graphic of Clay Aiken's appearance on Jimmy Kimmel Live seems the perfect way to begin a Halloween blog.
Merry Thanksgivoween!
Holiday Commemorations Merge
Due to their proximity on the calendar and the influence of commercial activity, Halloween, Thanksgiving, and Christmas celebrations have so effectively merged that the appropriate greeting for the season could very well be "Merry Thanksgivoween," as depicted in this clickable classic cartoon by Mike Thompson of the Detroit Free Press.


Halloween receives due respect in this blog's second act, while the opening curtain mirrors Clay cyber news from the merry convergence of fourth quarter holiday happenings.
With ghosts and goblins possessing Internet and real life terrains, Clay Aiken fans are already envisioning key events of the Christmas season -- an 18-city tour of CA performances with symphony orchestras [schedule at clayaiken.com], a limited edition EP -- All Is Well - Songs for Christmas -- to be released exclusively through WalMart, and a lineup of appearances running the gamut from talk shows to a soap opera promoting Clay's new mainstream CD, A Thousand Different Ways.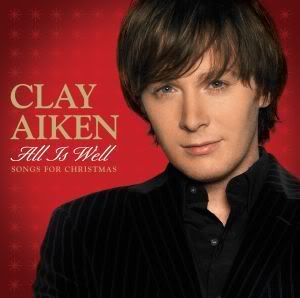 'All Is Well - Songs of Christmas' Cover
The minute the Official Fan Club posted info about the limited edition EP, All Is Well - Songs for Christmas, the CA community began some serious Christmas shopping with pre-orders via WalMart.
As every card-carrying Claymate knows, the track listing for this perfect holiday gift or stocking stuffer includes All Is Well, Christmas Waltz, O Come O Come Emmanuel, and My Grown Up Christmas List.
Music students and family are at the top of my pre-order list for this exclusive gem.

DOOL Promo Proves Phenomenal
The publicity garnered by the announcement of Clay's upcoming 12/22 appearance on "Days of Our Lives" in media outlets online, in print, and via the airwaves has been nothing short of phenomenal. A Google search Saturday afternoon yielded a total of 307k outlets with the news.
This AP article made the rounds in the press, as well as DOOL chat rooms:
NEW YORK (AP) - Clay Aiken is about to enter a world of back-stabbing, scandal and diva fits - and no, it's not backstage at "American Idol." He's taping an appearance on NBC's "Days of our Lives."
The 27-year-old Aiken will perform two songs, one from his new album "A Thousand Different Ways," and "O Holy Night" from his 2004 CD "Merry Christmas with Love," the soap opera's spokeswoman, Kellie Kulikowsky, told The Associated Press.
He'll take the stage for a private concert for Steve (Stephen Nichols) and Kayla (Mary Beth Evans) at the club Dune in the town of Salem. The episode is scheduled to air Dec. 22.


The greatly-anticipated airing of Clay's appearance on the Tyra Banks Show is being touted on the host's website, as well as in promos on current segments. To watch the preview, click on "Don't Miss November" at the above link.
New Applause for ATDW
Common Sense Media has posted an excellent review of ATDW, giving Clay's CD a 9+/10 rating.
On A THOUSAND DIFFERENT WAYS, Clay Aiken delivers covers of 14 romantic, sentimental, and mostly well-known love ballads. A CD like this requires a certain mood, as well as an absolute suspension of coolness. But Aiken does a beautiful job reinventing the love-ballad wheel ...
For those who aren't afraid of sentiment, these are smooth, lovely offerings, sung with passion and integrity and produced with loving care. Leave your hip-hop attitude at the door, and enjoy the sentimental stylings of a talented musical interpreter ...
Thursday a 24-year-old male banker from Jakarta, East Jakarta, Indonesia, penned his take on ATDW in an online journal, The Story Goes. Non-Blogspot members can leave comments as "Anonymous."
If you look at this title, you probably know it from Clay Aiken's new album. Yup, I just bought it and fell in love with it, forgive me if this album makes me nostalgic about those years when the songs were good and the voices of the singers were amazing ...
Texas Wind Wipes Out JKL
My mother-in-law, my newest Clayvert, and I watched our singer's TV Guide Channel Close-Up interview together, even though a Mapquest search shows we live exactly 1467.16 miles from each other. Her assessment: "Clay Rules!"
We tried sharing the re-airing of Jimmy Kimmel Live Friday night, but wouldn't you know -- West Texas experienced high winds, and the Midland-Odessa ABC station was literally blown off the air! I will be making MIL a DVD of that show because JK and Clay are just too good to let a Texas dust storm run interference.
We are both looking forward to a very interesting fall lineup of CA appearances and happenings:
MARK YOUR CALENDAR!

10/28: TV Guide Channel Close-Up
11/2: The Megan Mullally Show (Taping 11/1)
11/17: Regis&Kelly Show
11/21: American Music Awards: Presenter
11/28: Release of All Is Well - Songs for Christmas
TBA: Tyra Banks Show
TBA: Dr. Phil Show
12/22: Days of Our Lives (Performance: EIH and OHN)
12/1 - 12/23: Christmas Symphony Tour
PHOTO INTERMISSION: Graphic artists have wasted no time creating variations of the beautiful photos released in conjunction with Clay's Christmas tour. This clickable interlude features the talents of four fans, including Cindilu2 (1); Clayquebec1 (2); ABeautifulMind (3); and Ambassador of Love (4, 5).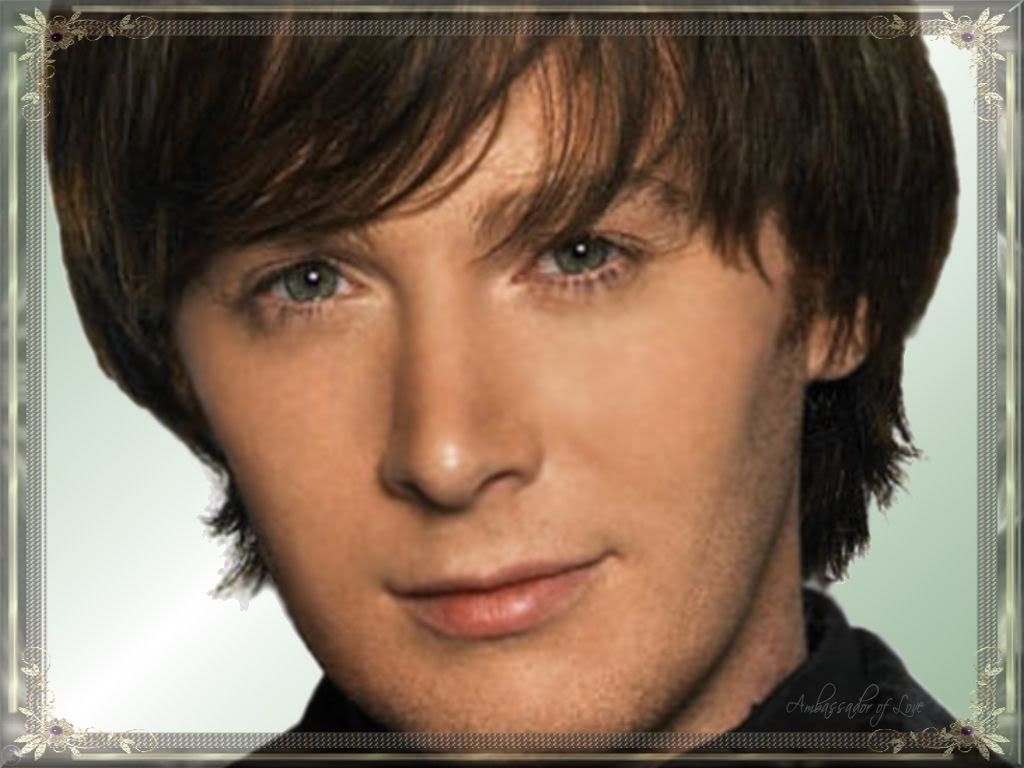 Halloween Happily Haunts Blogs
A brief tour of OFC blogs and Clay Aiken message boards quickly reveals that fan fetes of all things Halloween are out in full force.
So is our annual revelry and affection for spooky pumpkins, goblins, and haunted houses grounded in ancient pagan ritual, demonic worship, or -- of all places -- the church?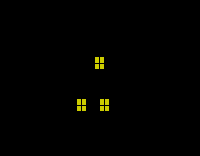 The word Halloween actually originated in the Catholic Church. It comes from a contracted corruption of All Hollows Eve (or "All Saints Day"), is a Catholic day of observance in honor of saints. In 5th century BC Celtic Ireland, the holiday marking the official end of summer, October 31, was called Samhain (sow-en), heralding the Celtic new year.
The Romans adopted Celtic practices as their own. In the first century AD, Samhain was assimilated into celebrations of other Roman traditions, among them their day honoring Pomona, Roman goddess of fruit and trees. The symbol of Pomona is the apple, which may be the precursor for the modern day Halloween tradition, bobbing for apples.
Trick-Or-Treating From Souling
The custom of trick-or-treating is thought to have originated with a ninth-century European custom called souling. On Nov. 2, All Souls Day, early Christians walked from village to village begging for soul cakes. The more soul cakes the beggars received, the more prayers they would promise to say on behalf of the donors' dead relatives.
From Irish folklore comes our Jack-o-lantern custom. Jack, an evil, fun-loving man, made a deal with Satan that backfired; and when he died, he was denied access to both Heaven and Hell. To light his way through the frigid darkness, Jack was given a single ember, which was placed inside a hollowed-out turnip.


In the 1840s Irish immigrants brought their turnip Jack's lanterns to America, but found pumpkins far more plentiful.
Though some cults have adopted Halloween as their favorite holiday, it is important to remember the tradition did not come from evil practices. Today many churches sponsor Halloween parties, traditional pumpkin patches, as well as pumpkin-carving events and "haunted houses."
Halloween is as evil or as festive as we choose to make it.

Tar Heel Ghost Stories
As a North Carolinian, I would be remiss if I didn't mention the plethora of famous Tar Heel ghost stories. Just the titles are scary: Blackbeard's Queen Anne Revenge, A Colonial Apparition; Buried Alive; The Scull Hangs High; Bells, Books, and Rafters; The Headless Haunt; The Peg-Legged Ghost; The Greensboro Hitchhiker, The Devil's Tramping Ground.
For a Wilmingtonian, The Maco Light easily tops the list of popular ghost tales. Visiting the Maco Light was the theme of many an autumn hayride of my youth. Maco is located in Brunswick County, 12 miles northwest of Wilmington and in the past was a stop along the Atlantic Coast Line Railroad.


Briefly, in 1867 conductor Joe Baldwin was riding the last car of his train when it somehow became uncoupled from the engine. As he watched another train fast approaching his slowing car, Joe wildly waved his lantern back and forth in warning; but his efforts were in vain. The oncoming train barreled into the car, and Joe was decapitated in the accident.
Just seconds before the crash, Joe's lantern was hurled away by a mighty, unseen force, landing in an upright position. Shortly after the horrible accident, the Maco Light began appearing along the tracks. To this day, Joe's ghost appears swinging his lantern and searching for his head.
For some spooky reading, check out Tar Heel Ghosts or The Devil's Tramping Ground and Other North Carolina Mystery Stories, both by John Harden.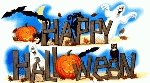 Caro
RELATED TAGS: Clay Aiken, A Thousand Different Ways, Christmas Tour, clayaiken.com, All Is Well Christmas EP, All Is Well, Christmas Waltz, O Come O Come Emmanuel, My Grown Up Christmas List, WalMart.com, Official Fan Club, Days of Our Lives, Everything I Have, O Holy Night, Tyra Banks Show, Megan Mullally Show, Jimmy Kimmel Live, TV Guide Channel Close-Up, Halloween, Maco Light