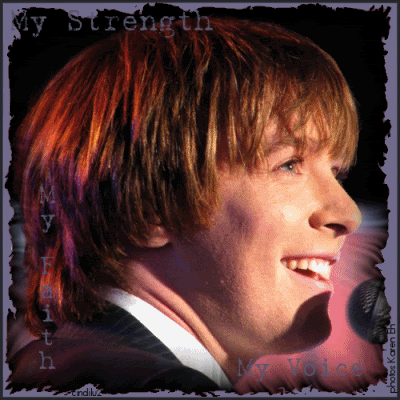 BECAUSE -- Strength, faith, and voice play key roles in Cindilu2's beautiful animated graphic with photos by Karen Eh.

Creating Legs for ATDW
Three-Week Sales Tally 324,983
With very little radio play, senseless and strident reviews by a multitude of critics, and a myriad of stocking problems in popular stores, it is nothing short of a miracle that SoundScan numbers today reveal Clay Aiken's exquisitely crafted sophomore CD, A Thousand Different Ways, sold 39,217 copies in its third week out, bringing the total to 324,983.

In story after story, fans have proven the main ingredient required for publicizing this beautiful album of 10 classic love songs and four original tracks is simply that people hear it. The album sells itself. Borrowing a reader's phrase, "ATDW is a treasure to be shared, not hidden."
New dates released by RCA Records today [see MARK YOUR CALENDAR below] suggest that Team Clay's goal for the CD has been leg-oriented all along. December sales will be aided by the obvious pairing of ATDW and Clay's very popular Merry Christmas with Love in conjunction with his packed lineup of holiday concerts with eastern US orchestras.

Dental Hygienist Generates Buzz

But what about now? In their own way -- whether it's playing the CD for others, emailing appearance dates, sharing links, or whatnot -- fans are also out there spreading the word.

One of my favorite stories from this week was shared by libra1014 at Clayversity on Monday. What amazing "buzz" this one fan is generating in her job as a dental hygienist!

In the office where I work on Mondays, I have my own CD player in my room; and I play ATDW all day long. What's great about this is that most patients are in the chair for 45 minutes, so they hear a lot of the album.

Today I sat a patient down, and "Here You Come Again" was playing. I have added "Lover All Alone" and "If You Don't Know Me By Now" to the 14 cuts.

As I finished up, the patient said, "Wow, what a great radio station! I can never find anything that good. What is it?" I told her this was Clay Aiken's new CD. She said, "Clay Aiken? That explains why it is so good. I will have to look for the album." We had to wait for the dentist to come in, and I filled her in on UNICEF, the presidential appointment, TBAF, etc., plus the upcoming concert in nearby Englewood. I'm doing my own PR. She said she had no idea about his involvement with UNICEF, etc.

ATDW sounds so much better than the usual radio stuff that it's very hard not to notice it. I think for it to be truly appreciated, it needs to be listened to as a whole. Patients seem to notice it more after several songs have played.
Locating Our Own 'Dental Chair'
Not everyone has a dental chair with a "captive audience" for 45 minutes, but I wouldn't doubt that libra1014's story inspires fans to explore resources and find an equivalent to her dental chair.
The varied shadings and beautiful nuances of Clay's vocals, the creative arrangements, and our singer's superb interpretations of ATDW songs need to be heard by others. I'm already plotting my next approach with some high school music students. What's your plan?
One of the most popular graphics on CA message boards this past week has been Claystruck's conversion of RCA's new logo into an all-Aiken affair. Perfect, Claystruck!


Corrupted File Claims Hours

This blog entry experienced a four-hour delay due to a second AOL corrupted file assault in under three weeks. I was not as fortunate this morning with my designated technician as I was on 9/25, and recovering my blog notes, codes, photographer/graphic artist permission list, student info, etc., in "Mail Waiting To Be Sent" took four hours, which seemed more like forever.

Three strikes, though, are not for me; so I will be moving this important information to Word or One Note shortly. Looking on the bright side of my four-hour outage, the message finally got through my hard head. I don't plan to miss another minute of this ride on the Clay Train due to something I can correct!
Reviewer Actually Listens to ATDW

Tammy La Gorce's assessment on the Target site not only coined a phrase -- "mop-topped man of steel" -- but her review was obviously written after she listened to ATDW, a novel approach, fans have learned. Here is La gorce's take from the Target site:

A Thousand Different Ways, the follow-up to Clay Aiken's chart-burning debut Measure of a Man, trots out the kind of material a fleet-voiced former American Idol contestant can't help having a field day with: Aiken's version of Richard Marx's "Right Here Waiting" is bathed in a smoothness that renders it arguably better than the original; his step into Celine Dion's shoes for "Because You Love Me" sees nary a stumble (no easy feat, considering it's a vocal obstacle course of a song); and his cover of Paul Young's '80's classic "Every Time You Go Away" comes across as a clean-sounding, much-needed update.

More proof that Aiken ain't fakin' when it comes to being a stylish interpreter comes courtesy of his convincing carry-off of Dolly Parton's sweet "Here You Come Again," but where he'll earn the most merit points for this disc is with the four originals -- "A Thousand Days" especially. Aiken has the kind of voice that makes listeners want to scoot close to the speaker. He may be a softy, but when it comes to trapping raw emotion in song, he's become a mop-topped man of steel. -- Tammy La Gorce

CA fans can share their opinion of ATDW via Target Guest Reviews where, currently, there are only three. Surely the Clay Nation can do better than that!
PHOTO INTERMISSION: This clickable interlude features the talents of graphic artists ABeautifulMind, 1 and 5 (with photo credit to KarenEh); Amazing_CA, 2; Claystruck, 3; and Clayquebec1, 4.


Borders Posts Exclusive Q&A Session

Tuesday an exclusive interview with Clay appeared on the Borders web site. These are just the opening two Q&A. Let's give this site some hits and read the remainder of the interview there.

BORDERS: Reinterpreting classic songs of yesteryear is always an interesting adventure. Did you find yourself infusing the song with your own personality to give it a fresh take, taking on the character of that song from its classic sense, or doing a combination of both in the final product?
CLAY: I think that reinterpretation was a really big goal of this project. It was kind of tough for me to assume that I could really do some of these songs that are so recognizable in a way that would hold up to the original. So, we made a strong effort to try to bring a new fresh take to each song. Like, trying a Celtic turn on "Everything I Do" or bringing the ethereal vibe to "Broken Wings."
BORDERS: You mention "Here You Come Again" as a favorite of yours from the new album, originally done by Dolly Parton. Is this your only exploration of pop-country, and how did it feel to give yourself a little country in your music with your roots in the South?
CLAY: I grew up on country. My mom has always listened to it. I never have found myself gravitating toward one song or the other because of the genre though. I really have always liked this song because of the melody and the great lyric. That's how I tend to pick songs.
Our version of this song is quite different from Dolly's version. Hers being so peppy and upbeat; ours being so laid back and chill. I think that is really more of the reason that I love this song so much on ATDW. Because it is a great example of us taking a song that is so recognizable one way and breathing a whole fresh new life into it.
Surprise Sales in South Korea
ATDW is making its mark in South Korea where, according to Bloomingclay of the Clayboard, the CD, without any promotion by Sony/BMG, has been in the Top 10 best-selling pop albums for the past two weeks.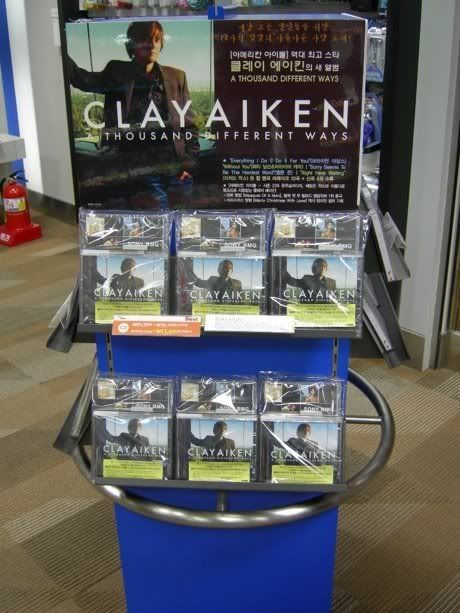 Clickable Display in South Korea
Bloomingclay translated the display above for fans: "14 beautiful colors of love songs for all the lovers in the world" ... "The best star from American Idol, Clay Aiken's new album."

In her post she added, "There is still no promotion here; but considering that we had a hard time even finding one or two copies of Measure of a Man before, this is a big surprise!"
ATDW streams from the Korean Fan Club web site, and you will recognize most of the photos. Whoever is planning Clay's international tour should certainly put South Korea on the agenda!
MARK YOUR CALENDAR!
Let's spread the word about these appearances:

10/27: Clay Aiken - Jimmy Kimmel Live (ABC rerun)
TBA: Tyra Banks Show (Taping 10/13)
TBA: Days of Our Lives
TBA: Dr. Phil Show
TBA: The Megan Mullally Show (Taping 11/1)
11/17: Regis & Kelly Show: Co-host with Kelly and Performer
11/21: American Music Awards: Presenter
I'm off to preserve some important files. Have an awesome week, Clay Nation. Think LEGS!!!
Caro
RELATED TAGS: Clay Aiken, A Thousand Different Ways, Target, Borders, Jimmy Kimmel Live, Tyra Banks Show, Dr. Phil Show, The Megan Mullally Show, Regis & Kelly Show, American Music Awards