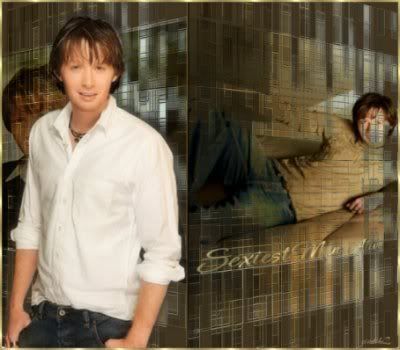 DELECTABLE -- Cindilu2's beautiful graphic of Clay Aiken has little to do with cooking, but her design is certainly tantalizing.

With Clay Aiken Interlude
Season's Soup Favorites Shared
I have always told my friend Terri -- a staunch non-computer user and proud of it -- that Clay Aiken message boards cover the latest news as well or better than most networks. Natural disasters, weather, sports, who sang what when at the World Series, you name it -- the linear thread I read is often interspersed with the latest major happenings around the globe, local weather forecasts, and sports cheers and results.
With trees sporting autumnal, multi-colored splendor and message boards announcing that temps are dipping lower by the day (30 degrees in St. Louis and North Dakota, a brisk 27 in Chicago, 37 but rising in Florida, 42 in New York City, 37 in North Carolina), dinner menus are starting to reflect such cool weather favorites as soups, stews, and chili recipes.
Supper Over Key Signatures
A few years ago when my week included 55 private students and a growing family, my slow cooker was probably the most used appliance in the kitchen, making it possible for me to fulfill dinner preparation and an afternoon of music lessons at the same time. Enticing aromas from the trusty crock pot wending their way into the studio almost always had the later students thinking more about supper than key signatures.
No doubt this blog topic was inspired last week when I shared my Mexican Cornbread recipe with the mother of two young piano and violin students. I look forward to hearing their reaction to the dish printed below.
Kicking off this fall menu overview is Cabbage Bean Soup, family favorite from the beginning. The "framework" for this recipe can be found in the Harpeth Valley Elementary School Cookbook, purchased during a PTA fund-raiser years ago. Typically, I experimented with the original from the get-go. Since our family enjoyed hot, spicy flavors, I doubt I have ever prepared this soup the same way twice.
There are several variations available for Cabbage Bean Soup on the Internet. For example, the recipe can be prepared in a slow cooker (4 hours on high or 6-8 hours on low). An array of substitutions can be applied, and some of my alterations are are provided within the ingredient list.
CABBAGE BEAN SOUP

1 T. vegetable oil
1/2 to 1 pound low-fat ground turkey, beef, or meatless ground burger.
[My favorite combo is part grouund turkey and part turkey sausage, chopped. Just a little sausage adds a lot of flavor.]
1 large onion, chopped
1 small head cabbage, chopped
1 can (16 oz) can stewed tomatoes (Mexican, Italian, Cajun)
[Optional addition: 1 can tomatoes with green chiles]
2 (16 oz) cans red kidney beans [mix or substitute pinto, navy, black beans]
2 cups (or cans) water
1 can (16 oz) can tomato sauce (chunky, garlic, plain)
1-2 beef/chicken-flavored bouillon cubes or Better Than Bouillon equivalent
[Option: the original recipe called for 2 cans beef or chicken broth; if I use bouillon, I make up for the liquid with water.]
1 1/2 teaspoons ground cumin
Spices to taste: garlic, Italian seasonings, red pepper flakes, cilantro, etc.

Brown ground turkey or beef with onion in a skillet, using 1 T. vegetable oil. Cook until meat is well browned and crumbled. Drain fat; transfer meat and onion to a large pot along with all other ingredients except the cabbage. Cook for an hour and a half. Add the cabbage at the halfway point. Serve with cornbread or crackers.

Makes 10 servings, which -- for me -- means lots of leftovers that can be frozen and reheated in the microwave for lunches and/or dinners.
MEXICAN CORNBREAD WITH GROUND MEAT
I was given this recipe by a dear friend in Odessa, TX, years ago. The 3x5 recipe card is now splotched from time and spilled ingredients, as I prepared this dinner often after being transplanted to Texas. The main dish consists of cornbread with a center of ground meat, onions, green chiles, and shredded cheese. A side salad with the cornbread dish has been a popular combo in our home.
At first, I prepared Mexican Cornbread as printed below. However, with time constraints as a teacher and mother, in later years I substituted with instant cornbread mixes. Prepare according to the mix recipe, adding the cream corn of the scratch version.
CORNBREAD

1 C. yellow corn meal
2 eggs, beaten
1 C. sweet milk
1/4 C. yellow cream corn
1/2 tsp. soda
3/4 tsp. salt
1/3 C. vegetable oil

Mix all of the above well, and set aside; or do the same with the cornbread mix and cream corn.

FILLING

2 T. vegetable oil
1/2 to 1 lb. ground meat (turkey, beef, meatless burger)
1 large onion, chopped
1 small can chopped green chile peppers
Grated 2% cheese

Saute 1/2 to 1 lb. ground meat and one large chopped onion with one T. vegetable oil. Drain on paper towel. Mix with one small can copped green chile peppers.

Grease the bottom and sides of a large iron skillet with remaining tablespoon of vegetable oil. Sprinkle with corn meal, and brown briefly to help form a crust. Pour half the batter into the pan. Sprinkle grated cheese evenly over the batter. Add a layer of the meat, onion, and peppers. Pour remaining batter on top.

Bake 45-50 minutes at 350 degrees.

What does all this have to do with Clay Aiken? Nothing -- unless he wants to try an alternative to his favored tacos sometime!
PHOTO INTERMISSION -- This clickable interlude features the talents of photographer KarenEh (2) and graphic artists Amazing_CA (1, 2); Ambassador of Love (3); ABeautifulMind (4); and Claystruck (5).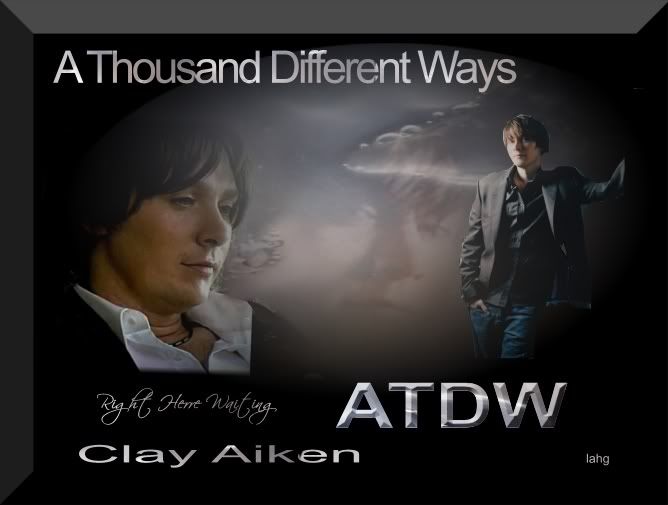 November Appearances On Tap

Clay's TV appearances are entertaining and help introduce his music to others. Fans are looking forward to a variety of November promo dates, as well as a packed schedule of Christmas concerts with symphony orchestras throughout the eastern US.

Slated for this weekend are the Friday (10/27) replay of our singer's September appearance on Jimmy Kimmel Live and Saturday's TV Guide Channel Close Up feature, "Clay Aiken -- A look at the life and career of this popular singer." Check local TV listings for these shows.

My mother-in-law, who missed the original airing of JKL -- but has heard all about it! -- is counting down the days until Friday. I really believe she is ready for her authentic Claymate card.
Excellent Promo for ATDW
One of the best promos around for Clay's latest CD, A Thousand Different Ways, can be viewed on The Hollywood Beat at Rock.com. While Clay sings "Without You," the announcer provides biographical info, including his CD discography, best-selling biography, and his work with UNICEF.I am planning to share this link with friends and relatives. All CA fans will enjoy this well-done piece on the "skinny guy with the great pipes from North Carolina ... a young man who clearly loves what he does."
'Clay Aiken: Music of the Heart'
One of the most thoughtful reviews I have read on ATDW is located at Beavers on Idol -- "Clay Aiken: Music of the Heart" by Cindy Wagner.
The OFC's own Hosaa incorporates her interpretations of the album's playlist, as well as her theories about the remarkable making and revolutionary marketing of this CD.
EID on Hong Kong Radio
According to Mediaguide, which monitors the panels of stations that report to Yes.com, two Hong Kong radio stations are playing "Everything I Do."
This is an on site clip from Hong Kong's Radio Channel 88.1.
Set List for Christmas in Connecticut
Multi-platinum recording artist Clay Aiken kicks off the Hartford Symphony Orchestra's new "Symphony at the Center" series with Music Director Edward Cumming and the Hartford Symphony.
Tuesday a news release and set list for "Clay Aiken: Christmas with the Hartford Symphony Orchestra" was released for the 12/12 concert in Connecticut. For a sneak preview, see the Hartford website.

Cooking for Just One
Though less time-consuming, preparing meals for just one can sometimes be a challenge. Always seeking ways to simplify, I created a winter soup recipe with that in mind. This oft-used "soup for one" plan was shared in an earlier blog at the OFC.
My by-words in cooking now are "simple" and "substitution," so feel free to create your own variations. Just be sure to share your findings, LOL! These ingredients can be multiplied to yield servings for any number of people. Preparation time for just me is under 10 minutes. SIMPLE SOUP for ONECook the following -- approximately 1/4 cup for the vegetables -- in a microwave-proof bowl for 2-3 minutes:
SIMPLE SOUP for ONE
Cook the following -- approximately 1/4 cup for the vegetables -- in a microwave-proof bowl for 2-3 minutes:
Onion
Bell pepper
Frozen corn
Frozen lima beans
Three-inch link of turkey sausage, chopped*

* Variations here can be one inch of the turkey sausage and a portion of shredded chicken, just chicken, ground turkey/beef/meatless burger, etc.

Add these ingredients, and microwave all for another two minutes:

3 T. canned black beans (or another variety)
Half a can of Mexican-flavored stewed tomatoes (alternates include stewed tomatoes, Italian-flavored stewed tomatoes, etc.)
Water or small amount of tomato juice
Spices to taste -- I use cumin, red pepper flakes, and Mrs. Dash Italian seasonings
2-3 T. shredded 2% cheese on top

Result: Delicious one-dish meal fast!
BAKED POTATO PLATE
One large baking potato
Onion
Bell pepper
Frozen or fresh broccoli
One serving of turkey sausage, crabmeat substitute, or meatless burger crumbles
Canned black beans
Heart-healthy margarine
Seasonings to taste: Mrs. Dash (Italian Medley, Southwest, Lemon Pepper), cayenne, etc.
Shredded 2% cheese (Mine is Mexican-flavored)
Wash, punch holes in the skin, and microwave the potato on a plate until done, about 6-7 minutes. Cut in half, and refrigerate one portion for another meal. In a bowl, microwave onion, bell pepper, frozen broccoli, and meat.
Drizzle 2 T. black beans (with juice) over the potato half. Dot with margarine. Spread the vegetables and meat over this, and top with shredded cheese.
Run the "loaded" potato back through the microwave for 1-2 minutes. If desired, add a dollop of fat-free sour cream.
Result: Another delicious, healthy meal-in-one-dish for one! Now that you know what's for dinner at my house, how about sharing your favorite cool weather recipe?
Have a great week, Clay Nation!
Caro
RELATED TAGS: Clay Aiken, A Thousand Different Ways, Cabbage Bean Soup, Mexican Cornbread, Jimmy Kimmel Live, TV Guide Channel Close Up, The Hollywood Beat, Beavers On Idol, Everything I Have, Hong Kong Radio, Clay Aiken Christmas, Hartford Symphony Orchestra, Cooking For Just One