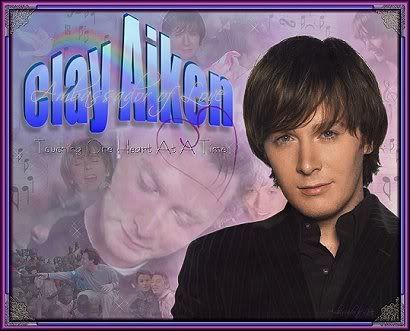 Ambassador of Love appropriately titled her beautiful entry in the Official Fan Club's Wallpaper Contest "Clay Aiken, Touching One Heart at a Time."

Valentine's Day Fest 2007

Aiken-Kimmel Reunion Planned
The 2007 edition of the Valentine's Day Aiken-Kimmel Fest promptly roared into high gear when news of Clay's upcoming 2/14 appearance on Jimmy Kimmel Live hit the message boards late Friday afternoon. Fans from every nook and cranny immediately applied for JKL tickets and began checking flight schedules, hotel accommodations, and the like.

In keeping with Clay's past appearances on JKL, more than three weeks' worth of discussions leading into, during, and following the show were in full swing within the hour. Of utmost importance, debates RE Valentine's Day gifts for the North Carolina singer were immediately instigated and the information superhighway frequently employed as clickable images of various suggestions filled the threads.

With over three weeks to go, there is no telling what conclusions the CA fandom will eventually reach; but the possibilities from just one day's debate are nothing short of amazing. Some ideas bantered around, all of which have a "Clay-Claymate" connection, are favored foods, boxer shorts and cufflinks of interesting varieties, a new "unrecognizable" bucket hat, striped anything (even dog collars and leads), donations to UNICEF and The Bubel/Aiken Foundation, to name a few.

As evidenced by these two clickable screen caps, Claymates gladly took charge of the stage decor for Valentine's Day 2005 with balloons, flowers, stuffed animals, and enough pizza for the crew and half the audience. In three weeks, a similar procedure promises to repeat.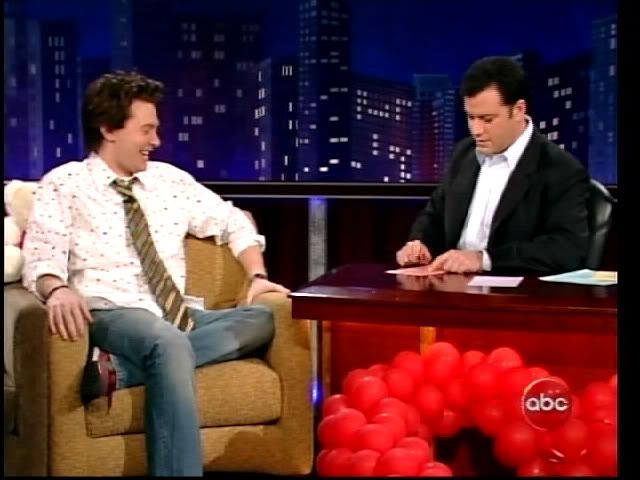 Last time the Aiken-Kimmel chemistry was unleashed was 9/26/06 for Clay's A Thousand Different Ways promo and Outdoor Mini Concert.
It's for sure Jimmy Kimmel really knows how to throw a party for the Clay Nation. Feb. 14, 2007, is bound to be another Aiken-Kimmel reunion to remember.

Faye Parker Plays Role in Makeover
Ty Pennington and the "Extreme Makeover: Home Edition" team of ABC's hit reality show airing Sunday night will demonstrate how they rebuilt and made safe the home of a Raleigh, NC, family who help hundreds of people in their community despite their own health problems.
Linda Riggins works for Building Together Ministries, housed in a structure across the street, where she has helped disadvantaged families in the neighborhood for years. That building also was renovated as part of the show. William Riggins, who is blind, works as an assembler at Lions Club Industries, a national group that provides career services and training for the blind.
The couple has three young children -- William Jr., 6; Christa Marie, 4; and Earlene, 3. The family was sent to Disney World while their new home was built.
According to An Extreme Peek, a story in the News&Observer, Faye Parker played a role in this weekend's makeover edition by helping the design team with the interior decoration for several rooms in the Raleigh home:
Clay: 'Go For It, Mom'
Some walls in the large master bedroom are papered with a black paisley design. The draperies are white satin with a 21-inch black border around the bottom, said Faye Parker, who helped with the home's window dressings. (Yes, Clay Aiken fans, Parker is the "American Idol" runner-up's mom, and no, Parker says, he will not be featured on the show. "He was excited I was doing it," she said. "He said, 'Go for it, Mom.' ")
White silk drapes with inverted pleats cover the windows in the living and dining rooms, she said.
And, in William Jr.'s room, Parker worked on the duvet cover, designed to look like a football field. It covers a bed made of Lego. Most of her work followed the recommendations of the show's designers. But they did like one of her suggestions: football pillows for the room, she said.
PHOTO INTERMISSION

: This clickable interlude features several talented graphic artists and photographers. They are

MNmeesh

graphic with photos by

PermaSwooned

and

Scrpkym

, (1);

Amazing_CA

, photo by

KarenEh

, (2) and (4);

Claysmelody/Ashes2

, OFC wallpaper contest entry, (3); and

Lisa1068

graphic (5).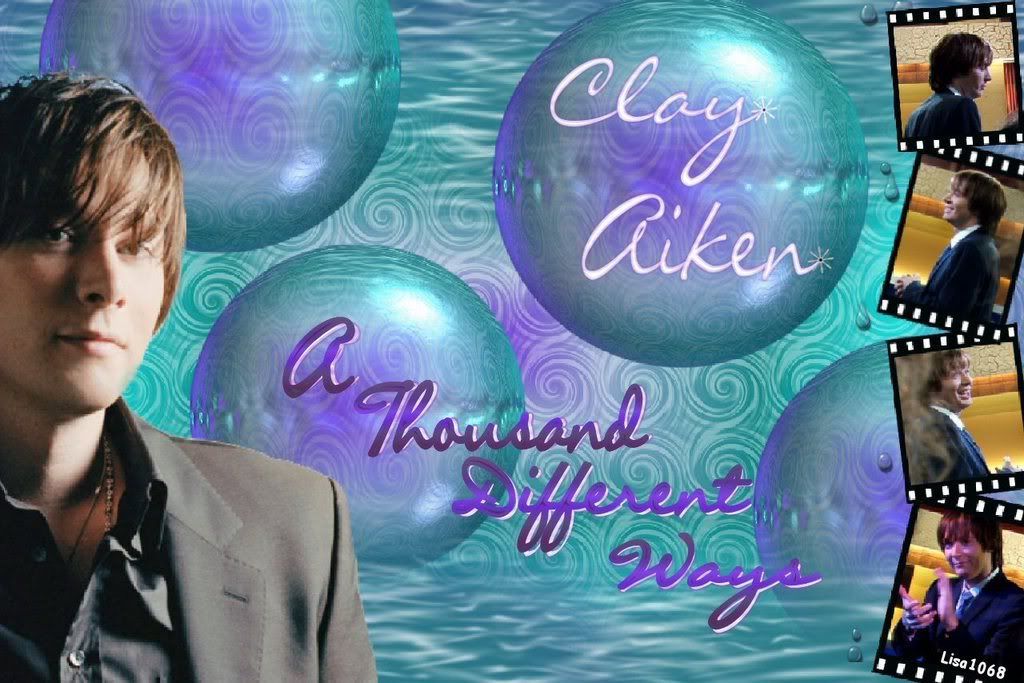 Friendly Postal Clerk Entertains
Whenever possible, this southern gal takes the safety of others into great consideration and stays far away from slippery surfaces. I am fortunate that music students drive to my house for lessons. Certain days this past week were too dangerous for many of us fair-weather drivers, and some parents opted for a makeup lesson later. Friday, as sunshine and warmer temps again reigned supreme, my cabin fever got the best of me; and I lit out with a string of errands to complete.
Much to the enjoyment of all in the Friendly Shopping Center Post Office line, our resident postal clerk-comedian was in rare form. On the receiving end of his gentle jabs was a college-aged private assistant to a local "institution" in her 80's. Apparently, her boss, Mrs. "F," had forgotten to pay her mailbox dues; and the post office was issuing a final reminder.
PCC (postal clerk comedian) pleasantly told the PA to remind her boss that in order to retrieve her mail, she must pay a month's rent ... WITH INTEREST!!! "Or something from her oven!" he quickly added.
Culinary Art Secures Mail
In fact, if the PA could promise that Mrs. "F" would be baking the staff something very soon, the PCC would send her mail home one last time. All of us standing in line thoroughly enjoyed the repartee between the two.
When my turn came, I handed the PCC a box of reeds I had been planning to return since late December. He asked if there was anything liquid in the box, and I replied, "Oh, no, just some oboe reeds."
In mock puzzlement, no doubt thinking of his next joke, PCC said he hadn't heard of "hobo reeds" and asked what kind of hobo could fit into that tiny box. To explain, I pinched my nose and warbled the snake charmer song I generally use to demonstrate my instrument. He laughed and asked if I weren't mailing a snake instead.
Who needs TV? Just drop by the Friendly Post Office any time of the day -- a comedy act is generally on duty.
Here is a clickable of Ambassador of Love's graphic up top:


ONE MORE NOTE: Clay's sophomore CD, ATDW, is #19 in the Top 100 Customers' Favorites of 2006 at Amazon.com.
Congratulations, Clay! Have a great week, Clay Nation!
Caro
RELATED TAGS:
Clay Aiken
,
A Thousand Different Ways
,
Jimmy Kimmel Live
,
Extreme Makeover: Home Edtition
,
Ty Pennington
,
Faye Parker
,
Official Fan Club
,
Claymates
,
Clay Nation
,
Amazon 100 Favorites of 2006