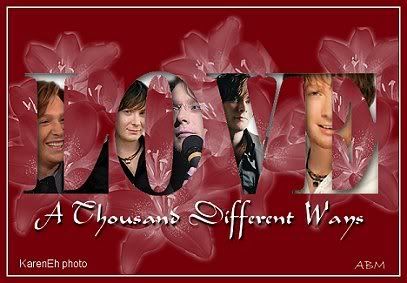 LOVE SONG COLLECTION -- A Beautiful Mind's graphic design captures the essence of Clay Aiken's album, A Thousand Different Ways. Photos by Karen Eh.
Valentine's Day Memento
ATDW Celebrates Love Songs
While the incredibly beautiful vocals and innovative interpretations of love songs make Clay Aiken's A Thousand Different Ways an exceptional Valentine's Day memento, the album recently received kudos from a music web site in several Best of 2006 Awards categories.
Shipwreck Island Studios is a four-year-old web site run by two 20-something guys, Tony and Jere, who enjoy writing about music. The industry-respected site honored ATDW for the year's tops in a variety of divisions. Clay's Christmas EP, All Is Well, was also recognized in two areas. Below is a listing of the nominations and winners in the categories for both Clay's CDs. To view the winners and all finalists, see 2006 Music Awards.
Shipwreck Island Studios: Best of 2006
Pop Album of the Year: ATDW was in the top five on both lists, #2 on Tony's Picks, #4 on Jere's Picks.
Winner: Nick Lachey -- What's Left of Me

Holiday Album of the Year: AIW was #3 on Tony's Picks.
Winner: Twisted Sister -- A Twisted Christmas

Solo Album of the Year: ATDW was #2 on Tony's Picks and #8 on Jere's Picks.
Winner: Holly Brook -- Like Blood Like Honey

Producer of the Year: Jaymes Foster/ATDW was #2 on Tony's Picks.
Winner: John L.Cooper & Brian Howes -- Skillet

Vocalist of the Year: Clay was #4 on Tony's Picks.
Winner: John Cooper -- Skillet -- Comatose

Cover Song of the Year: ATDW nominations included When I See You Smile, Because You Love Me, Broken Wings, Everything I Do (I Do It for You), I Want To Know What Love Is, Right Here Waiting
WINNER: When I See You Smile -- Clay Aiken

Song of the Year: ATD was #7 on Tony's Picks. AIW also received a nomination.
Winner: Rebirthing -- Skillet

Pop/Country Song of the Year: ATD was #4 on Tony's Picks and #7 on Jere's Picks.
Winner: I Can Not Ignore -- Janeen

Ballad of the Year: TOA was #8 on Tony's Picks.
Winner: Without You Here -- Goo Goo Dolls
To view the complete agenda of 500-plus nominated songs, artists, producers, vocalists, instrumentalists, albums, album covers, TV and movie performances, see Best of 06 Intro and Best of 06 List.
Shipwreck's ATDW Review Recalled
Readers may remember Shipwreck Island's spectacular initial reaction and complete album critique for ATDW written by Tony in September (9/5/06 and 9/15/06 blogs).
Tony's review of ATDW is well worth a second read. Here are a few paragraphs of his memorable critique:
This is a career setting album for Clay but not his best, as his best is still to come. You could hear throughout this release how completely in love he is with the classic material and as a listener it's nice to hear an artist actually appreciate the material being put forth.
Personally I find these songs to be a real breath of fresh air because there's been a ton of cover discs that have been released in the past two years and, frankly, there's only been two or three that have really been done well. This album is in fact one of the better cover discs because of how Clay was able to reinvent the original songs.
Overall this is a brilliantly done album that one can sit back, listen to and just drift away. Clay is much more then just some kid from a realty show, he's a musician in every sense of the word. The best is still to come and what is scary is that this disc is so good how can he possibly top it?
New Original Songs: 3.95/4; Release Overall: 4.95/5
PHOTO INTERMISSION: This clickable intermission features ATDW and Christmas tour graphics by four visual artists, including Katt45, photos by Shamrock Pat, 1; Amazing_CA, photos by Fairfield2002, 2; Cindilu2, 3; Amazing_CA, photos by Scrpkym, 4; and Ambassador of Love, photos by PinkCocoa/Ztilb, 5.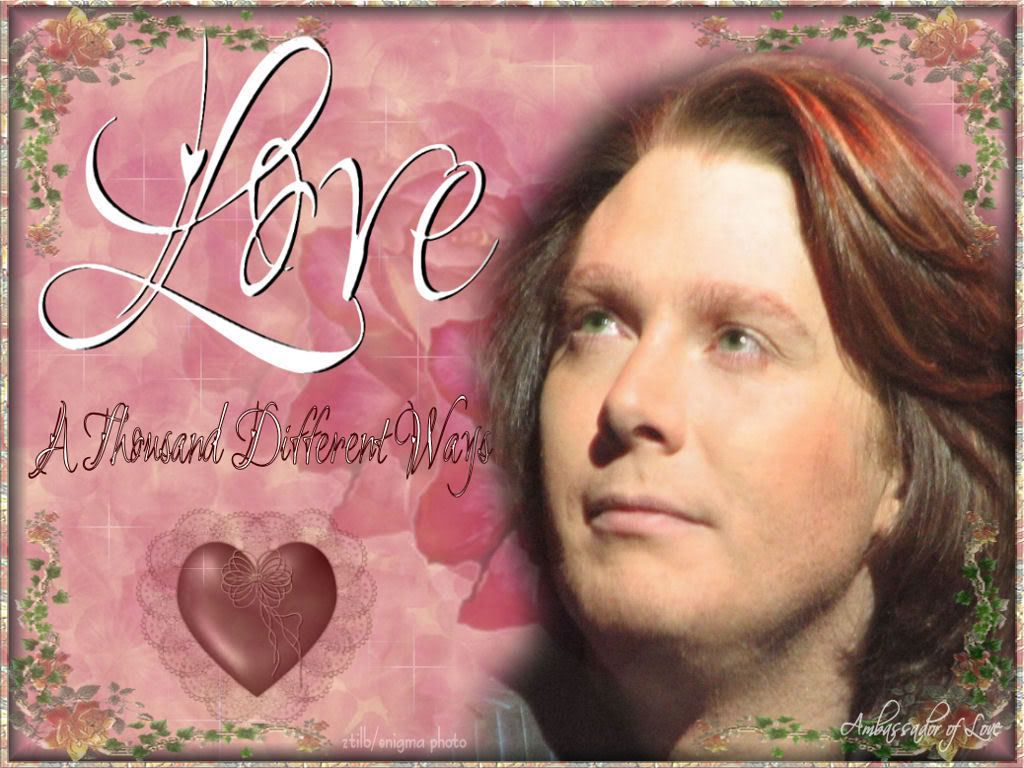 Clay Interview Posted at 'She Knows'
Coinciding with this week's launch of American Idol 6, an interesting interview with the Season 2 runner-up appeared on the She Knows web site: 10 Questions with Clay Aiken. The into to the story by Joel D. Amos begins like this:
In the ever-crowded field of American Idol alumnus there are two that have towered over the rest -- first season winner Kelly Clarkson and second season runner-up Clay Aiken. Between record sales and concert tickets, those two performers shadow over the music industry, courtesy of a little television program, has been immense. Now that a few years have passed since Aiken proved nice guys finish second, he takes a few moments to reflect with SheKnows.
For "10 Questions," Clay spoke freely about a variety of topics -- from "backstage" information about ATDW, Clive Davis, AI 2, media focus, etc. For the entire interview, see She Knows. Here are a couple of Q/A samples:
SK: The idea this record is brilliant, popular music is littered with incredible vocal songs made famous by singers who didn't quite squeeze everything out of the song. Have you spoken with any of the songwriters before crafting your own versions?
CA: I have had the privilege of hearing from Diane Warren and Richard Page. Both wrote songs we recorded. There were quite complimentary.
SK: In the last year the focus, in terms of the public eye, for Clay Aiken seemed to be about his hair, his latest suit, the floored American Idol fan (and, recently, Kelly Ripa) -- how thrilled are you to have the Clay Aiken focus on your music again?
CA: (Laughs) I think that part of the focus on "Clay Aiken" is always going to be on how weird he looks! Part of the phenomenon is that this skinny, dorky looking white kid could be transformed into something moderately presentable! (Laughs) I hope that people have always been able to look past the exterior and hear me sing. Or, at least, be able to say "He may look weird, but he can sing well!"

'A Thousand Days' on the Radio!
This week ATD went for "adds" with mainstream Adult Contemporary radio and is receiving praise and spins on various stations throughout the country. In addition, CA fans are also enjoying many of his album cuts via Internet radio.
A search of Live 365 yields a varied listing of stations programming Clay's music. As I typed this paragraph I was thrilled to hear Lover All Alone on Rose Radio. CA fan Roseviolet has programmed quite an eclectic mix, including Clay, Lynyrd Skynyrd, Carole Bayer Sager, Queen, Albert Hammond, Al Green, Kimberly Locke, to name a few.
Popular with fans around the globe, Big R Radio also is programming numerous songs from Clay's mainstream albums under the station's "Warm Hits" category.
According to Sorkid78 at Clayversity, the latest CA playlist on Big R Radio includes the following songs:
From ATDW: A Thousand Days, Broken Wings, These Open Arms, Every Time You Go Away, Everything I Have, Here You Come Again, Everything I Do (I Do It for You), I Want To Know What Love Is, and Lover All Alone.
From MOAM: Shine, I Will Cary You, Measure of a Man, and Touch.
Catch you on the radio, Clay Nation!
Caro
RELATED TAGS: Clay Aiken, A Thousand Different Ways, Jaymes Foster, Shipwreck Island Studios Best of 2006, All Is Well Christmas EP, All Is Well, A Thousand Days, Broken Wings, These Open Arms, Every Time You Go Away, Here You Come Again, Everything I Do (I Do for You, I Want To Know What Love Is, Lover All Alone, When I See You Smile, American Idol, She Knows.Com, Joel D. Amos, Live 365 Radio, Rose Radio, Big R Radio, Measure of a Man, Shine, I Will Carry You, Touch