DEAN DOME -- Carolina home games are played in the Dean Smith Center, affectionately known as the Dean Dome. Tarheel Blue Photo

No. 1 Ranking in AP, ESPN Polls
Tar Heels Win ACC Opener
While most of the nation was glued to the NFL Wildcard games Sunday, Tar Heel basketball fans were focused on another match-up -- Carolina's Atlantic Coast Conference season opener against Florida State, which UNC won handily, 85-58, in Chapel Hill.
After Oregon upset top-rated UCLA on Saturday, the 14-1 Heels powered into the No. 1 spot in Monday's Associated Press and USA Today/ESPN coaches polls for the first time in almost six years. UNC had spent the previous three weeks on the No. 2 wrung of both lists. Maintaining a perfect home record, Carolina has now won nine of its 10 games at the Dean Smith Center by at least 12 points.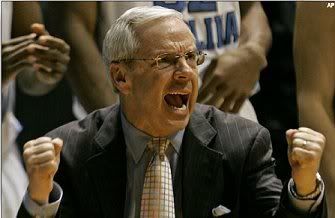 An intense Tar Heel coach -- AP Photo/Gerry Broome
Only Year-End Rating Counts
"It says that to this point in the year, we're doing all right," North Carolina coach Roy Williams said. "I've been No. 1 before, and if you don't finish that way at the end of the year, it means you had a good little stretch, but it doesn't mean what people remember."
The Carolina coach was also quoted in an AP story, "I feel good where we are, but it's so, so early. We have 15 more battles to go in the conference, so we'll see what happens."
The next ACC contest ("battle") is with Virginia Wednesday night in Chapel Hill. The last time UNC took over #1 from UCLA was the 1982-83 season, which ended with Carolina winning the national crown in April.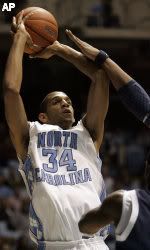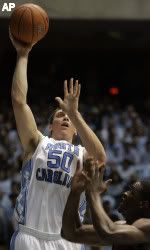 Brandan Wright, Tyler Hansbrough -- Gerry Broome Photos
Twin Towers Provide Interior Punch
In the Florida State game, 15 Carolina players saw action and 11 recorded points. The leading scorers -- freshman Brandan Wright of Nashville, TN, with 20 and sophomore Tyler Hansbrough of Poplar Bluff, MO, with 25 -- are proving to be the "twin towers" of a one-two interior punch. Monday Brandan was named the ACC Rookie of the Week for the fifth time this season.
Last year I wrote a blog about Tyler's hometown radio station, KAHR-FM, picking up the Tar Heel Sports Network feed and broadcasting UNC basketball to their native son's supporters. It's Year 2, and the Poplar Bluff crowd is still tuning in on game nights 634 miles away from the UNC campus.
As far back as I can remember, my father and I either listened to Carolina basketball on the radio or watched the games on television. When I married and moved to Texas and later Tennessee, I was trilled to occasionally find the Heels on late night TV replays. In NC, Carolina games are almost always televised. If not, I join the Poplar Bluff folks via the Tar Heel Sports Network.
I guess the only thing that would have made Sunday night's game better would have been Clay Aiken providing the halftime entertainment. If I could rewrite that break, my favorite singer would have been front and center, mic in hand, singing and chatting away with those in attendance, maybe similar to the scenes captured below.
SPECIAL HALFTIME: Blends and photos from Clay's Christmas Symphony Tour -- a.k.a. the Joyful Not a Tour -- are featured in this clickable interlude, including an Amazing_CA graphic, photos by Invisible926 (1); Snix, Merrillville photo (2); DeniseBernadette, West Point photo (3); PinkCocoa/Ztilb, Charlotte photo (4); and an Amazing_CA graphic with photos by Karen Eh from the Grand Rapids concert (5).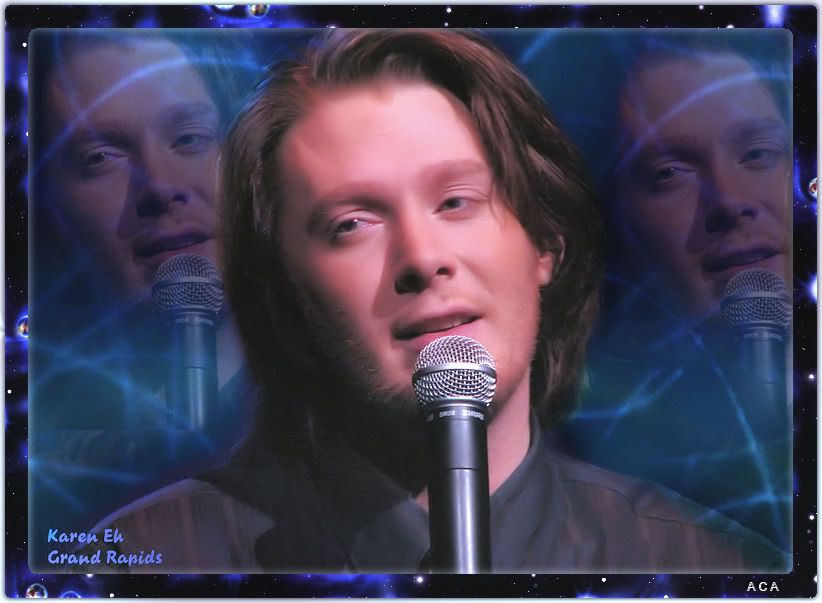 Typically, a drought of sorts follows a CA tour. Throughout most of the year, I don't watch a whole lot of TV. However, come winter, I upgrade my very basic cable to include extra sports channels so I can stay in touch with Carolina basketball through April. This also includes the 18-0 Lady Heels, who are currently ranked #2 in the nation.
Until the Aiken's next move, I'm quite busy enthusiastically leading Tar Heel cheers on the home front. Have a great week, Clay Nation!
Caro
RELATED TAGS:
Clay Aiken
,
Christmas Symphony Tour
,
Joyful Not a Tour
,
Carolina Tar Heels
,
Tyler Hansbrough
,
Brandan Wright
,
Roy Williams
,
Tar Heel Sports Network
,
Clay Nation