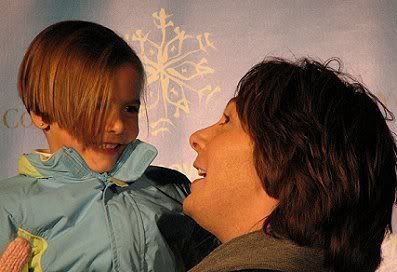 BEACON OF HOPE -- UNICEF Ambassador Clay Aiken shares a special moment with a youngster at the annual Snowflake lighting ceremony in New York City. A clip of the Nov. 18 event will be available at the UNICEF web site on Jan. 15. -- Photo by Butterflyshine


From the Mouths of Babes
Child's Mind a Wondrous Thing
Occasionally, one of those tossed around ditties wends its way to my email box, hangs around for a while, and eventually becomes the basis for a blog entry. "From the Mouths of Babes" has been patiently waiting its turn since 12/22.
In our family, twin four-year-olds easily provide plenty of fodder for this type blog. They are a handful; and, sadly, my niece has very little spare time to record such moments in a journal. As segue into the piece from my Texas friend, here are some chuckles from recent adventures of our duo.
A Solution for Grandmother
The week before Christmas my sister, grandmother to the twins, caught a terrible flu bug. She and my brother-in-law were scheduled to entertain the twins so their parents could finish some important shopping. BIL decided it would be best if he drove them around looking at holiday decorations and making a few shopping stops instead of exposing them to the bug.
Both were very disappointed because they have toys, books, DVD's, even a set of beds in their grandparents' home; and they love their regular visits. Their mother explained the reason they couldn't enter the house was because GM was very sick, similar to when their dog has to run outside and throw up.
Of course, young William had a much better solution: "I don't see why GM can't come over here and throw up on the grass so we can go inside and play."
~~~~~~~~~~
Have you noticed that kids are developing amazing vocabularies earlier and earlier? This pair, who just turned four the end of December, were outside riding their new bikes a few days after Christmas. Grace repeatedly forgot to put on her bicycle's brakes and, consequently, she ran into the fence several times.
When her mother reminded her to stop hitting their neighbor's fence, she replied, "Why? Do you think he would be cross with me?"
~~~~~~~~~~
Apparently, my grand-niece is the "girlfriend" of two boys in her preschool class and naturally has a favorite. We are told the suitor with #2 status implores in his nightly prayers this simple plea:
"Dear God, please let Grace dream about me tonight instead of David."
~~~~~~~~~~
I hope you enjoy this "From the Mouths of Babes" collection. Perhaps you will share humorous instances from your own circle.
Take Your Time, Lord
A little boy was overheard praying, "Lord, if you can't make me a better boy, don't worry about it. I'm having a real good time like I am."
~~~~~~~~~~
Three-year-old Reese prayerd, "Our Father, Who does art in heaven, Harold is His name. Amen."
~~~~~~~~~~
After the christening of his baby brother in church, Jason sobbed all the way home in the back seat of the car. His father asked him three times what was wrong.Finally, the boy replied, "That preacher said he wanted us brought up in a Christian home, and I want to stay with you guys."
~~~~~~~~~~
I had been teaching my three-year-old daughter, Caitlin, the Lord's Prayer for several evenings at bedtime. She would repeat after me the lines from the prayer. Finally, she decided to go solo.
I listened with pride as she carefully enunciated each word, right up to the end of the prayer:
"Lead us not into temptation," she prayed, "but deliver us from E-mail."
~~~~~~~~~~
One particular four-year-old prayed, "And forgive us our trash baskets as we forgive those who put trash in our baskets."
PHOTO INTERMISSION -- Pressing "pause" for this clickable interlude from Clay Aiken's recent Christmas Symphony Tour as portrayed by talented fan photographers and graphic artists. Photo album links are provided when available. Featured are an Amazing_CA graphic with photos by dc4clay, 1; PinkCocoa/Ztilb Charlotte concert photo, 2; ShineinNC, photo from Greensboro concert, 3; Barb123, photo from Greensboro, 4; and an Ambassador of Love graphic with photo by PinkCocoa/Ztilb, 5.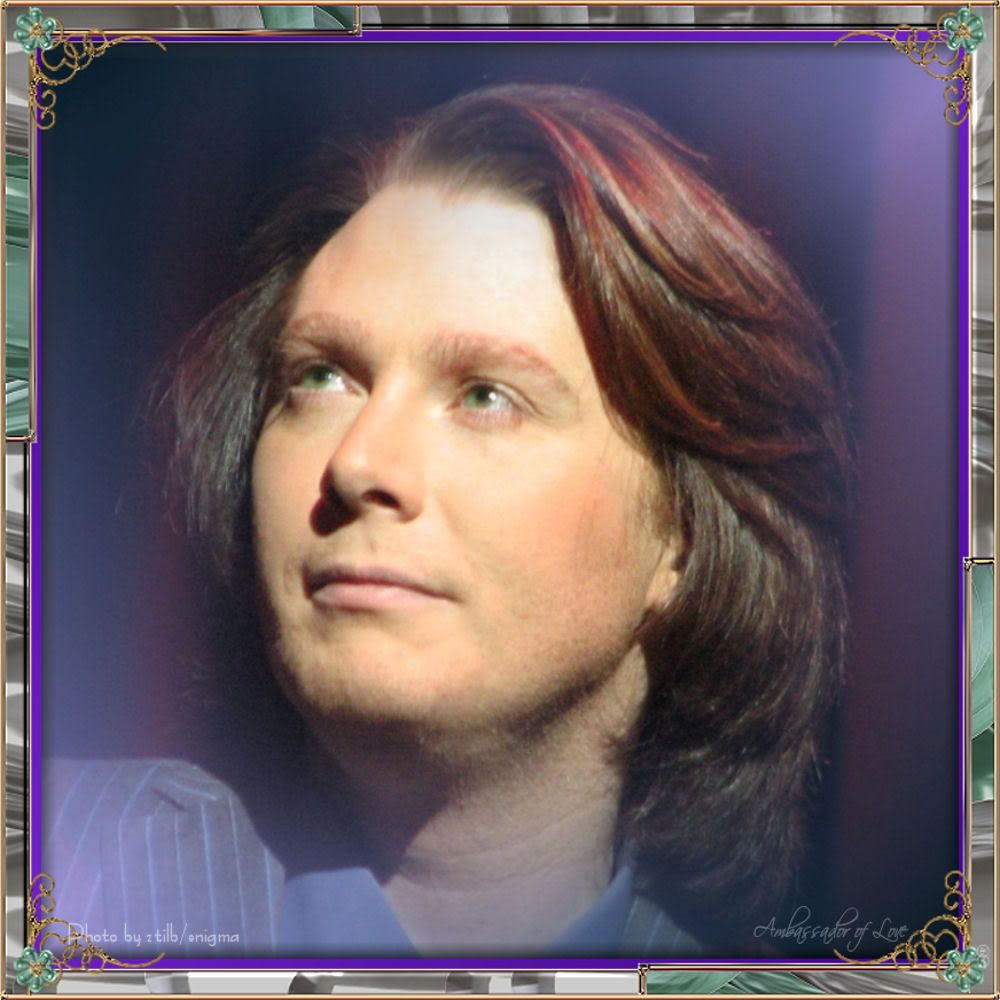 Good Reason To Be Quiet
A Sunday school teacher asked her children as they were on the way to the church service, "And why is it necessary to be quiet in church?"
One bright little girl replied, "Because people are sleeping."
~~~~~~~~~~
Six-year-old Angie and her four-year-old brother, Joel, were sitting together in church. Joel giggled, sand, and talked out loud.
Finally, his sister had had enough. "You're not supposed to talk out loud in church."
"Why? Who's going to stop me?" Joel asked.
Angie pointed to the back of the church and said, "See those two men standing by the door? They're hushers."
~~~~~~~~~~
A mother was preparing pancakes for her sons, Kevin, 5, and Ryan, 3. The boys began to argue over who would get the first pancake.
Their mother saw the opportunity for a moral lesson: "If Jesus were sitting here, He would say, 'Let my brother have the first pancake, I can wait.'
Kevin turned to his younger brother and said, "Ryan, you be Jesus!"
~~~~~~~~~~
A father was at the beach with his children when the four-year-old son ran up to him, grabbed his hand, and led him to the shore where a seagull lay dead in the sand.
"Daddy, what happened to him?" the son asked.
"He died and went to heaven," the Dad replied.
The boy thought a moment and then said, "Did God throw him back down?"
~~~~~~~~~~
A wife invited some people to dinner. At the table, she turned to the couple's six-year-old daughter and said, "Would you like to say the blessing?"
"I wouldn't know what to say," the girl replied.
"Just say what you hear Mommy say," the wife answered.
The daughter bowed her head and said, "Lord, why on earth did I invite all these people to dinner?"
~~~~~~~~~~
Have a wonderful weekend, Clay Nation!
Caro
RELATED TAGS: Clay Aiken, Christmas Symphony Tour, UNICEF, UNICEF Snowflake, Clay Nation