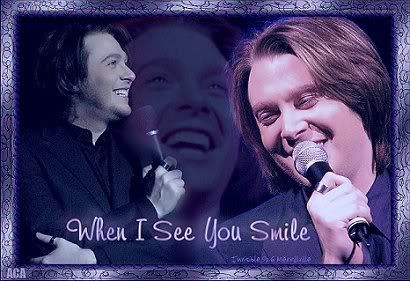 WHEN I SEE YOU SMILE -- There is nothing like Clay Aiken's smile, and Amazing_CA captures several in her graphic of photos by Invisible926.
Humorous 'Road Stories'
Family Driving Adventures Run the Gamut
As I wished a friend luck traversing the wintry mix on the mountainous West Virginia roads she travels daily, I thought back on some of our family's daffy driving episodes. We have had a little of everything -- from a collegian's solo cross-country trip home to my unscheduled conclave with a city bus in an unmarked intersection.

Our daughter was driving cross-country from UN-Las Vegas to Nashville when a red light signaled overheating somewhere in East Texas. Gleefully rubbing their hands together at the thought of a helpless college student, the service station attendants promptly informed her the only solution was a brand new radiator.

However, wise ole Daddy had instructed his daughter to call him the minute she encountered any kind of problem. He quizzed a suddenly sheepish attendant, asked how far the next service station was, and instructed our daughter to lock her car and head to the next station for the necessary water and checkup.

Star Pupil Fails Driving Test

Even though I took drivers education during high school in Wilmington, NC, I didn't obtain my license until I was married and teaching school in Lubbock, TX. The "star" of the class according to our instructor, I was very excited to test for a drivers license on my 16th birthday. I aced the written part and should have easily passed the driving test. However, after ramming the rear pole during the parallel parking portion, I wasn't even allowed to demonstrate my terrific driving skills.

We didn't have a spare car anyway, so I walked, bummed rides, and caught the city bus for my job at the local newspaper. Somehow, I made it through college and into my first band directing job without a license.
The roads in West Texas are wide open stretches and make for great driver training grounds.

One of the funniest episodes in my renewed drivers training came when my husband and I were headed back to El Paso from Cloudcroft, NM, with the unlicensed novice at the wheel. As we approached another automobile, Mr. Caro instructed his student to put on the turn signal and blink the headlights while passing.

I misunderstood and kept the signal and flashing headlights going all the whole way around the other car. Tears streaming down his face from laughing so hard, my husband quickly sobered as we realized I had just driven around a highway patrolman blinking like Christmas lights. Fortunately for us, he wasn't bothered by my sparkling passing technique.

New Pickers Learn the Road

The email about the West Virginia terrain joggled a couple of adventures from my husband's years as drummer-road manager for Sonny James, Nashville country entertainer. Mr. Caro always returned from those trips with wacky stories due to windy roads and the succession of new band members he was constantly training to drive a bus shift.

It never failed that just when he finally fell asleep in his bunk, a new picker/driver would come wake him up to help maneuver the bus through some hilly country or unexpected maze. He would then take his pillow and blanket forward to sleep on the couch at the front of the bus so he would be more accessible.

I wish we had pictures of the time he was awakened from a deep sleep by a young driver who had decided to stop for coffee at a McDonalds on the side of a West Virginia mountain. The parking lot was tiny; and when the drummer was beckoned for help, he noted that the bus was sitting at a 45-degree angle with only inches to spare in the front and back.

Wearing his usual sleeping apparel, briefs and an undershirt, the drummer began the tedious process of bailing out his young driver, inch by inch. Tour buses draw a crowd anywhere, even on the side of a West Virginia mountain in the middle of the night. It's a good thing the fans couldn't see the whole picture and too bad no one snapped that shot for posterity!

PHOTO INTERMISSION: Anticipating Valentine's Day and recalling Clay's most recent tour, this clickable interlude features the work of five graphic artists and three photographers. They include Katt45, photo by PermaSwooned, 1; MNmeesh, OFC wallpaper contest entry, 2; Claystruck, photo by ClayCounty, 3; Amazing_CA, photos by KarenEh, 4; and Ambassador of Love, 5.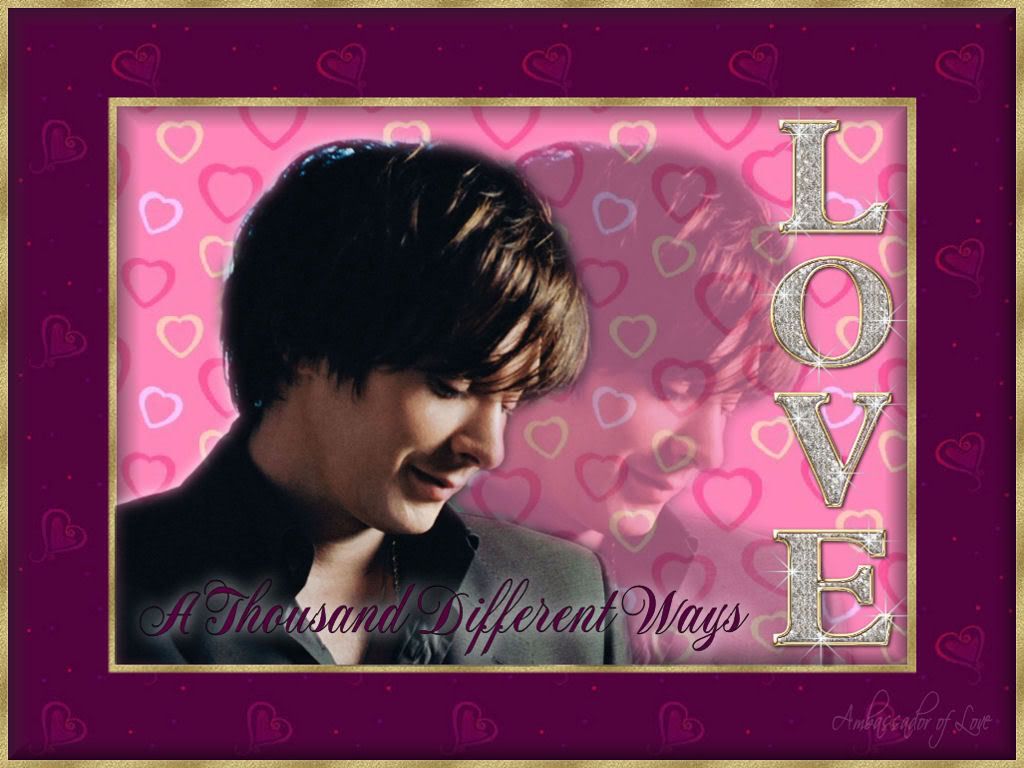 Rondezvous With a City Bus

I previously shared this driving incident as part of a June 2006 'Father Lions' tribute to three special men, one of whom was my late father-in-law, Jack. During my second year teaching band and orchestra in Lubbock, I decided to search for a quicker route to the middle school. At an unmarked intersection, I looked both ways, but -- KAPOW!!! -- the next thing I knew I was slammed into the steering wheel and my head hurt where I had struck the windshield. Our red station wagon had been mauled by a city bus.

Fortunately, there was nothing in the passenger seat but my teaching violin, which miraculously survived with a couple of dents on its hard case. The car, however, looked like a crushed beer can.

Lying on a blanket on the ground, I remember a kind little woman giving me last rights -- "Oh, Lord, forgive her of her sins and deliver her into heaven ... " -- and thinking that my head hurt, my tongue was bleeding, but I wasn't that bad off. I had told a policeman my husband's name and phone number; and when he arrived on the scene, he recalls his knees practically went out from under him.

Buckling your seat belt was just coming into vogue; so when asked if mine was fastened, I crossed my fingers and answered in the affirmative. After receiving minor treatment from my physician, I was sent home to rest from the concussion. In Odessa, my in-laws had immediately packed their car and were driving to Lubbock.

FIL a Very Sly Detective

The next day, Jack went with me to look at the remains of our car in a local junkyard. I remember him walking around the vehicle several times, arms crossed, rubbing his chin and carefully studying the driver's seat, which on impact had drastically been thrust in opposite directions.

He looked at me and grinned slyly, "You really didn't have on your seat belt, did you, DIL?" Blushing, I told him the truth. He said that was very fortunate because from what he could tell, I would have been cut in half if I had buckled up that day.

A few weeks later, my in-laws made the same trip back to Lubbock for my court date. I had been given the ticket, but Jack thought I had a justifiable argument since my car was more than halfway through the intersection. He was right, and the judge threw the case out.

Anyone else have a crazy road story? I'm sure there's one happening somewhere right now.
Clay Makes News During Drought
Even during his down time, Clay Aiken continues to make news. In last week's Yahoo! Music Dig It or Dis It poll, Clay Aiken's Without You won with 32% of the votes. Way to go, Clay and Clay Nation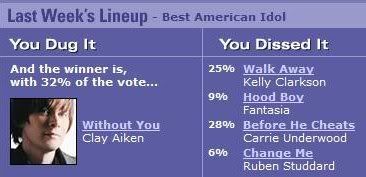 Yahoo! will also premiere a video for A Thousand Days on Thursday, Jan. 25.

'Web's Most Wanted Male'

Clay was named "the Web's Most Wanted Man" as Lycos 50 released its most searched listings for 2006: Clay has been on the Lycos 50 for 180 weeks due to the ardent admiration of the Claymates. Their loyalty will persist through all of his hairstyles.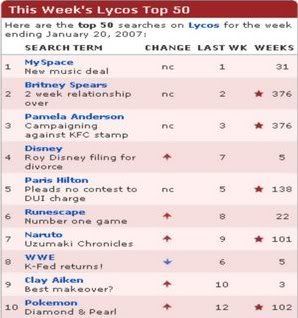 As of Jan. 20, Clay's current position in the Top 50 is #9 with the caption "Best Makeover." Fans can search for all things CA at the Lycos site.
Mark Your Calendar!
Jan. 24: Megan Mullally Show (Repeat)
Jan. 25: ATD Video Premiere, Yahoo Music
Feb. 1: Good Morning America (for UNICEF), ABC
Feb. 14: Jimmy Kimmel Live, ABC
This is a clickable of Amazing_CA 's lead WISYS graphic: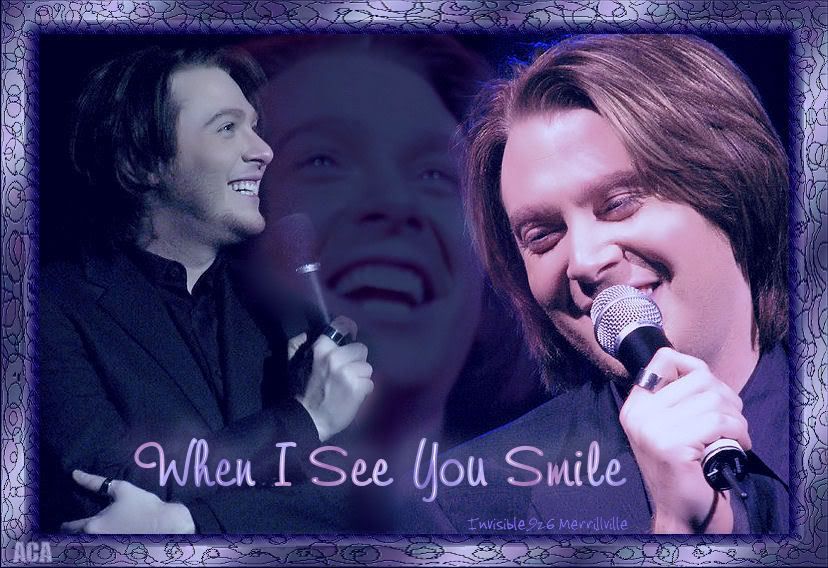 Here's to safe driving and a memorable week, Clay Nation!

Caro

RELATED TAGS: Clay Aiken, A Thousand Different Ways, A Thousand Days, Without You, When I See You Smile, Yahoo Music, Lycos Top 50, Megan Mullally Show, Jimmy Kimmel Live, Clay Nation