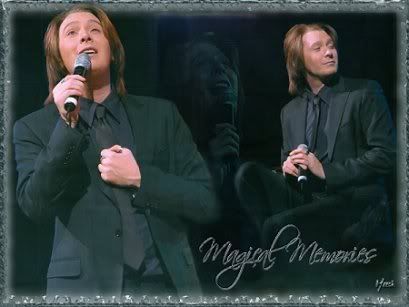 MAGICAL MEMORIES -- Clay Aiken's Summer Symphony Tour 2007, which opens in Frisco, TX, on July 4, promises to add many magical moments. Graphic by MNmeesh, photos by Snix and Karen Eh.
Heart of Tuesday's Matter
Holiday Tour Dates Surface

Clay Aiken has proven he's a popular concert artist and with the summer tour opener just 10 days away, November and December dates for the Magical Holiday Tour 2007 are already surfacing on orchestra websites.
The latest additions are Dec. 19-20 concerts in Minneapolis: Clay Aiken Christmas with the Minnesota Orchestra. This information is from the symphony's website:

As the first runner-up to FOX TV's second American Idol, Clay Aiken wowed television audiences in 2003 with his sweet Southern charm and glorious voice. His debut album went to No. 1 on Billboard's "Top 200" during its first week of release and went on to triple platinum status.
His first holiday recording, "Merry Christmas with Love," debuted at no. 1 on Billboard's "Top Holiday Albums" chart. Now, joined by the Minnesota Orchestra, you'll hear Christmas favorites like "Winter Wonderland," "Sleigh Ride" and "The Christmas Song."
Advance ordering for these concerts is available for 2007-08 season subscribers beginning June 25. Tickets go on sale to the general public August 13.
The Magical Holiday Tour list currently includes these dates:

Nov. 26 Wichita, KS -- Central Christian Church
Nov. 30 Kalamazoo, MI -- James W. Miller Auditorium
Dec. 4 Wilkes-Barre, PA -- The F.M. Kirby Center
Dec. 7 Albany, NY -- The Palace Theater
Dec. 19 Minneapolis, MN -- Orchestra Hall
Dec. 20 Minneapolis, MN -- Orchestra Hall
Clay Interviewed in Weekly Reader
The featured celebrity in this month's Weekly Reader, Clay answered questions from students aged 8 - 16 regarding Afghanistan, charities, children with special needs, music, American Idol, fame, and down time. The image links to the entire interview, but here is the first question: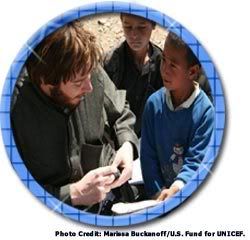 1. What was it like over in Afghanistan and how were you able to help children through UNICEF? —Nicole C., age 16

CLAY AIKEN: The people of Afghanistan were extremely friendly and gracious. Everywhere we traveled, we were greeted warmly. With the exception of visiting my grandparents, I have never felt more welcomed. Since 1949, UNICEF has been working for the survival and development of children in Afghanistan.
I witnessed UNICEF's extraordinary education work, which has helped hundreds of thousands of children return to school, provided them with school supplies, trained thousands of teachers, built hundreds of schools or provided tents so children can study sheltered from the weather.

And it's not only children who are receiving an education through UNICEF-supported programs. Women, who were forbidden an education under the Taliban regime, now walk for almost an hour to learn how to read and write and experience formal education for the first time.
TBAF Assists Tornado Victims

In a report this week, CA fans learned that The Bubel/Aiken Foundation was quick to respond to needs of Greensburg, KS, directly hit by an EF-5 tornado on May 4 with winds in excess of 205 mph, destroying 95% of the town.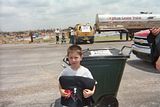 More than 1,200 citizens were suddenly without homes, belongs, schools, churches, and nearly all local business, which meant most were also without employment. Twelve residents of Greensburg and surrounding communities lost their lives.

When TBAF learned of the tragedy, they contacted the Beta Alpha chapter "KC Voices Making a Difference" and asked how they could help. Within days, 100 blankets and more than 200 t-shirts were on their way to Jen Layne, the chapter contact, who distributed them to Greensburg residents.

The items were handed out to citizens during the city's first church service since the storm, where more than 1,000 huddled under a makeshift tent and reconnected with neighbors and friends. They were also distributed at high school graduation where everything for the 25 seniors - caps, gowns, diplomas, class rings, and letter jackets, were donated to replace those that were lost. Each graduate received a TBAF blanket that day for which they were very grateful.
The complete report can be read at the Bubel/Aiken website.
Clay's the Thing in Off-Broadway Musical
On June 22, News&Observer staff writer David Menconi reported on "Idol: The Musical." These are selected paragraphs, but the entire article can be read in full here.
When "Idol: The Musical" hits the stage in New York next month, Clay Aiken won't be there in person. But there will be a bust of Raleigh's hometown "American Idol" star onstage, and someone singing "Burnin' Hunk o' Clay" to it.

Yes, Aiken is coming to the theatrical stage, but only as inspiration. "Idol: The Musical" is billed as a musical farce about a "delusional group of 'Idol' fans in search of fame." It begins previews at New York's off-Broadway 45th Street Theatre on July 5.

The cast of "Idol: The Musical" consists of eight high school seniors in Steubenville, Ohio, where they've built a shrine to Aiken in a barn and meet every day to worship. There's a basketball player who would rather be a male stripper in Chippendales, a goth girl, a cowboy with poor fashion sense, a guy who plays accordion while reciting Shakespeare -- and Emily, the leader, whose fantasy it is to marry Aiken someday.

"The audience loved the show. It's universal, an everyman story," said producer Todd Ellis. "Everyone wants something better than what they have, to be discovered."
For the very latest in CA happenings, stay tuned to Clay's Daily Double.
PHOTO INTERMISSION:
This clickable interlude features the talents of six visual artists from Clay Cyberspace, including

Amazing_CA

, 1;

Amazing_CA

, photo by

Karen Eh

, 2; A Beautiful Mind, 3;

Amazing_CA

, photos by

Denise Bernadette

, 4; and Ztilb, photo by

PermaSwooned

, 5.
Heart of the Matter
This is a transcript of a Sunday morning discussion between my BOD and my HEART. The topic is Tuesday's cath procedure with possible stent intervention. I just sat back and took notes ...
BOD: Listen up, HEART, this the BRAIN speaking for the rest of Caro. We are assembled because we want you to know we are tired of spending our annual "vacation" at the hospital. This will be the third consecutive year we have had to go to this cath lab convention. Do you have a crush on the doctor or something?
HEART: Hey, guys, it's not my fault. The docs can't even figure it out. I know people who would kill for her cholesterol readings; the last LDL was 73. Do you know how awesome that is?!? She reads labels, watches sodium and cholesterol intake, doesn't touch fried foods, rarely eats red meat. She never has used much salt and should own serious stock in Mrs. Dash. Now that you mention it, that surgeon is kind of cute though.
BOD: Yeah, we know. With all that label reading, grocery shopping takes a lot more time when she could be blogging or practicing or something useful. But, hey, we've got to blame somebody; and we are tired of getting punctured and x-rayed every June. Do you know how many times the technicians have to stab our WRIST to put in an IV? The blood vessels have tried running away, but some super duper nurse always comes along and catches them.
HEART: Hey, it's no picnic for me either. They are going to send all kinds of objects into my area through that catheter -- dye, a balloon to flush out possible plaque, maybe a new stent, and who knows what all.
BOD: Wait a minute, Ticker ole buddy, before that catheter gets to you, it has to enter through a main LEG ARTERY. We all have to give up something for these annual get-togethers in the cath lab.
HEART: Well, we will get to rest. From noon on, she will have to lie flat on her back. If a new stent is required, we'll be in the hospital overnight. If not, you guys have to lie still for six straight hours before we can depart the premises.
BOD: We have another complaint -- do you realize we will have been under a 16-hour fast by the time we get to eat?
HEART: Guess these docs have heard stomachs growling at them before. After this procedure, even hospital food might taste good.
BOD: OMG, can you imagine the Internet withdrawal trauma all of us will be undergoing?!?!? It's a good thing that IV contains relaxation meds. Wonder if the hospital has a spare laptop. They could stave off all kinds of anxiety symptoms if they'd just let her sign onto those Clay Aiken websites while she's hooked up.
HEART: Don't worry -- she will have lots of Clay with her, either on CDs or an mp3 player. The man does have a great voice and maintains a special place in my chambers.
BOD: You sassy thing, you -- I thought you had a crush on the surgeon!
HEART: You know what I mean. I just love to listen to Clay sing.
BOD: Yeah, we do, too; but under different circumstances. We'd better hope they fix what ails the ole girl because she really wants to attend the Aiken's summer concert in Knoxville.
HEART: You think I'm broken now -- just see what happens if she can't go!
BOD: Everyone knows the Claymates always provide fantastic Clack. Meanwhile, can we get some cooperation so we don't have to do this next year? We promise to exercise more. What can you do, HEART?
HEART: I react to two main factors -- heredity and lifestyle. And Clay Aiken, of course!
BOD: OK, let's hope the third time is the charm. Meanwhile, she's giving us a heckuva workout cleaning house, packing an overnight bag, etc. We're tired already. Guess lying down won't be so bad after all. Plus, HEART, we kinda like watching you star in those picture shows on the overhead screens.
HEART: Well, she has lots of friends sending good vibrations. Did y'all see that card Cindilu2 emailed this morning? I read that Cindy even grew the flowers and shot the photo. It's for sure our "black" THUMBS couldn't get those results.
BOD: Of course, we did -- our girl probably used up a tree in tissues! And then she had to play Clay's song, "All Is Well" a hundred times. That led to "A Thousand Different Ways" and John Denver, Eva Cassidy, Alannah Myles, Evanescence. Oh, HEART, you must really be loving all this!
HEART: Well, I was mighty touched. Many thnx, Cindilu2. I'm sure all will be well. After all, we are old hands at this; and I do know how to pick good 'n cute surgeons.
BOD: Guess we should thank everyone for all the good vibes and prayers they've been sending in blog comments and emails. Thnx for thinking of us, y'all! We'll be in touch -- either late Tuesday night or sometime Wednesday.
Below is a clickable of Meesh's opening graphic: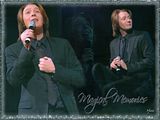 Have an awesome week, Clay Nation!

Caro
RELATED TAGES: Magical Holiday Tour 2007, Minnesota Orchestra, Clay Aiken Christmas, Kalamazoo Symphony Orchestra, Weekly Reader, The Bubel/Aiken Foundation, Greensburg, Kansas Tornado, EF-5 Tornado, KC Voices Making a Difference, Idol: The Musical, Clay's Daily Double, Cardiac Catheterization, Claymates, Official Fan Club, Clay Nation