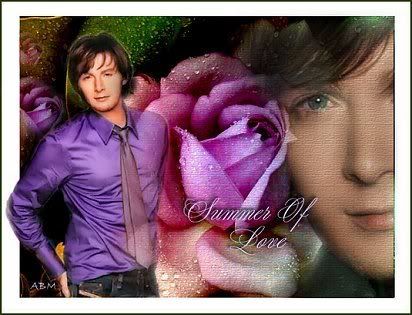 SUMMER OF LOVE -- One of the alternate tags for Clay Aiken's Summer Symphony Tour is featured in this lovely graphic by A Beautiful Mind. Several selections from the singer's A Thousand Different Ways CD are reportedly on the program.
Clay Reveals Rebound Love

'Jericho' Fans Rejoice on Web
Thinking his first love, "Jericho," had been axed, Clay Aiken blogged to his fans that he has entered into a "rebound relationship" with a new favorite TV show,"The Riches." Meanwhile, entertainment pundits reported that "Jericho" was on the verge of mid-season revival, and preliminary rejoicing hit the aisles of Cyberspace.
Michael Ausiello's preliminary report appeared in TV Guide:
Multiple sources are telling me that CBS is thisclose to sealing a deal to bring Jericho back for at least eight episodes, possibly at mid-season.
To say this would be a huge victory for crazy TV fans everywhere would be the understatement of the frakkin' millennium.
CBS Head Rewards 'Jericho' Fans
The announcement that "Jericho" will come back as a mid-season show was made by CBS head Nina Tassler Wednesday. You can read Jericho's Return here:
Over the past few weeks, you have put forth an impressive and probably unprecedented display of passion in support of a prime time television series. You got our attention; your emails and collective voice have been heard.
As a result, CBS has ordered seven episodes of "Jericho" for mid-season next year. In success, there is the potential for more. But, for there to be more "Jericho," we will need more viewers.
Among the initiatives planned to help introduce the show to new audience members include re-broadcasting "Jericho" on CBS this summer, streaming episodes and clips from these episodes, and releasing the first season DVD in September.
Blog Spurs Show-Saving Campaign
In a May 1 journal entry, Clay encouraged his fans to band together to help save "Jericho" with as many TV sets tuned to "this masterpiece of suspenseful entertainment as humanly possible."
He also urged a letter-writing campaign to the network -- senators, assemblymen, even Santa Claus! -- to "make magic happen!" Indeed, CBS was duly swamped with email and faxes in an attempt to save this favorite show of many.
Eoline's feature Watch With Kristin complimented the show's tenacious fans:
And I, for one, am tipping my hat to you nut freaks who've been sending in pounds of peanuts not only to CBS but also to a slew of offices here at E!. You and the Family Guy fans seem to be carving out a new era where even deceased TV shows can get a second chance. You go with your badass fanpaign selves.
The enthusiasm of "Jericho" backers rings loud and clear in the comments, which can be read at the Eonline site. Eight new episodes are not enough, many say; so the campaign continues.
Clay Finds 'The Riches' on Rebound
While holding out hope for the return of "Jericho," Clay shared in a June 1 blog his excitement for a new TV love -- "The Riches," which airs at 10 p.m. Mondays on FX or via iTunes downloads.
After a synopsis of the show's premise, the singer suggested, "Be something great to pass the time while we are waiting to see each other this summer."
If that didn't inspire the Clay Nation to join him as a regular viewer, his final sentence did: "Gonna be an interesting show when we see each other then, too!"
We're counting on it! The 2007 Summer Tour opens July 4 with Clay performing with The Philharmonic Orchestra at the Freedom Fest in Frisco, TX.
Horoscopes and Misplaced Passports
As reported in the previous entry, Clay and David Foster zipped across Canada last week with appearances in Vancouver, Calgary, and Toronto. Ironically, a nutshell of the activity could be read into the June 3 horoscope for Sagittarians:
Is it humanly possible to fit so much excitement, wild optimism and in-love-with-life energy into a 72-hour period without collapsing in exhaustion? If anyone can do it, you can. Take your vitamins.
A couple of days ago, Puggmom jokingly relayed the singer's weekly horoscope in her blog comment here:
Though you are usually unconcerned with such matters, you still find that you're obsessed with material possessions on Monday -- gifts in particular. You come out of it midweek to explore new romantic territory, learning considerably more about how the world really works. You're prone to losing things on Thursday and Friday, so try not to carry anything immensely valuable or irreplaceable if you expect to be distracted. Use that creative energy you are so well-known for to make this weekend truly memorable.
Well, the days might be off; but if a blurb in a Canadian newspaper can be believed [subsequently verified in Clay's 6/7 blog], our singer, long known for his penchant for losing keys and such on vacation, misplaced his passport while in Calgary. The cherished stamps from Afghanistan, Uganda, Croatia, Slovenia, etc., definitely qualify as something "immensely valuable and irreplaceable"?
Fortunately, no passport is required for the entertainer during his July-August "Summer of Love" Tour!
PHOTO INTERLUDE: This clickable interlude features the creative talent of five visual artists, including Claystruck, 1; Amazing_CA, 2; Ambassador of Love, 3; Amazing_CA, photo by Tasapio; and Cindilu2, 5.
June Brings Annual Tune-Ups
June is annual tune-up month for me when I run this one and only bod by a variety of physician mechanics to make sure parts are hitting on all cylinders and ready for another 12 months of service.
Why June? Well, our spring recital has come and gone, and music students generally take time off during their first month of school vacation. Then, too, like most business enterprises, almighty insurance companies close the books on one fiscal year June 30 and begin another cycle of accrued deductions the next day.
My medical dance card for the month began Tuesday with a trip to my lady gynecologist. As most know, those few moments in the stirrups don't rate on the lists of fun, comfortable activities, but are generally deemed a necessary annual ritual. I have always thought male gynos a bit ridiculous in their futile reminder for the patient to "just relax" prior to the brief, but painful, foray.
Lady OB/GYN and I laughed about this little quirk when I noticed she didn't utter the phrase. Afterwards, a pertinent scene from the movie "Patch Adams" crossed my mind; and I learned that my doc has never seen the movie. The nurse and I made her promise to rent it very soon. How I would love to be a fly on the wall when she views those hilarious gynecological frames!
Calcium, Vitamin D Allotments Change
My OB/GHN keeps tabs on bone density as well, and I learned that minimum recommended doses of calcium and Vitamin D have changed since our previous meeting. Calcium requirements are 1200 mg and 1500 mg, pre-menopausal and post-menopausal women, respectively. Physicians are now recommending at least 1,000 IU of Vitamin D daily. The body can only absorb 600 mg of calcium at a time, so divided doses are best.
The remainder of my June tune-up dance card includes visits to the dentist, the imaging center for a yearly mammogram (always a pancake-smashing, unamusing adventure!), and a cath lab procedure with possible stent intervention to fix whatever caused me to fail this spring's stress test.
If all goes well with the June 26 cardio process, I look forward to sharing Clay's summer concert in Knoxville. Prior to Aug. 12, my car is due similar annual tune-ups, after which I hope to see some of you in the hills of Tennessee.
In fact, I'm counting on it!
Below is a clickable of
A Beautiful Mind
's lovely opening graphic: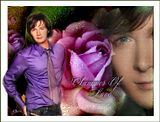 Have a wonderful week, Clay Nation!
Caro
RELATED TAGS:
Clay Aiken
,
A Thousand Different Ways
,
2007 Summer Symphony Tour
,
David Foster
,
Jericho
,
The Riches
,
TV Guide
,
Eonline
,
Horoscope
,
Frisco Freedom Fest
,
Clay Nation