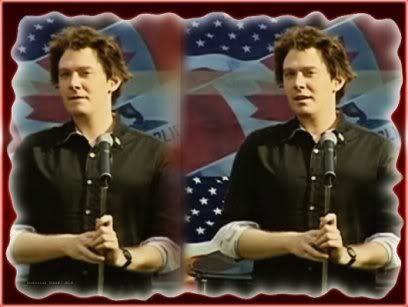 WEEKEND IN CANADA -- Clay Aiken excited Canadian fans when he performed with David Foster in Vancouver and Calgary on Thursday and Friday with hints of a third appearance Saturday. Graphic by Amazing_CA, screen cap by Gerwhisp.
Canadians Craving Clay
Fans Follow Trail to Toronto
In response to a trail of hints and rumors that Clay Aiken would possibly be a surprise guest performer with David Foster Saturday night, fans descended in droves from various parts of Canada to attend the Royal Ontario Museum's "A World of Possibilities" concert in Toronto.
Alas, there was no Clay on the program. However, this impromptu response to the possibility will go down in CA fandom history right alongside such wishful/waiting/watching occasions as the multiple page refreshes of the "Raleigh Dotcert," the correspondent's dinner during which fans were glued to C-Span for hours hoping for a glimpse of the back of the singer's head, and the SpongeBob marathon viewing for intermittent sightings.
Inspiration for Saturday's hopes lay in newspaper reports of appearances by Clay and David Foster in Vancouver and Calgary. Below are news stories about those events and what many concluded would be a third in Toronto.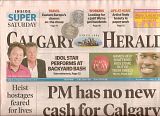 Clickable Calgary scans by Zippy888
Saturday's headline in the Calgary Herald read "Foster Summons Famous Friends."
David Foster has friends in high places.
Lionel Richie, Reba McEntire -- he drops the names of those superstar singers with an almost casual air as he announces the list of musicians he's asked to perform at the David Foster and Friends Charity Gala, to be held Sept. 8 at the Jack Singer Concert Hall [in Calgary].
His buddy Jay Leno? Foster hasn't made the call yet, but the Victoria-born, Grammy-winning musician and producer plans to, and, since the Tonight Show host made it to another gig for the David Foster Foundation in Victoria 10 years back, there's a good chance he'll make it to Calgary, too.
As for that famed runner-up from American Idol, Clay Aiken? Well, a playful Foster dances around the rumour that Aiken will be performing at the Calgary concert, but he did manage to bring the pop star into town Friday to perform at a private backyard party for the foundation.
Why wasn't Aiken at the Friday afternoon press conference, held downtown at the new Wild Ginger restaurant? "Clay likes to sleep late," explains a dapper Foster, posing for pictures at his keyboard as the conference wraps up.
"But he's a wonderful friend of the Foundation and he loves Canada. . . . He's just here to help."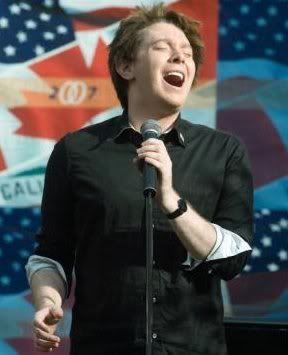 'Solitaire' - UPI Photo by Heinz Ruckermann
Idol 'Super Grad' Steals Show
On Thursday, Clay performed for California Governor Arnold Schwarzenegger's green-way appearance in Vancouver. Below are Saturday's lead paragraphs from a column in The Vancouver Sun:
CLAY AIKEN, the American Idol super-graduate, stole the show by singing at Arnold Schwarzenegger's appearance at the Stanley Park Pavilion Thursday. With Premier Gordon Campbell humming along, the California governor preached the green-way mantra other politicos have suddenly taken to heart. But a far older theme -- a star is born -- played later when Aiken dined with homegrown music-biz biggie David Foster at Umberto Menghi's Il Giardino restaurant.
It involved a Greenway, too. That was server Andrea Greenway, who, at Menghi's request, ripped off an operatic aria while setting Foster and Aiken's chow on the table.
Foster's response: "A car will pick you up at eight in the morning. Bring two changes of clothes and your passport. You'll sing with Clay in Calgary Friday. We'll be in Toronto Saturday."
For a June 4 update, read CTV's story here; and watch Andrea Greenway's interview (with CA mention) using the video link on the right.
CTV's report of the Vancouver appearance can be viewed on YouTube.
'We'll Be in Toronto Saturday'
Foster's statement "We'll be in Toronto Saturday" sparked fan speculation that Clay would be singing in Saturday night's 75-minute concert, A World of Possibilities, at the Royal Ontario Museum in Toronto.
Celebrating the architectural opening of Michael Lee-Chin Crystal, the concert featured theatrical performances by an outstanding line-up of Canadian and international artists from all musical and performance genres.
Hosted by film and television actor and writer Paul Gross, A World of Possibilities tells the story of mankind's timeless and adventurous pursuit of the impossible. Three stages host a series of pop, classical, rock, jazz, opera, ballet, folk and gospel performances, including R&B singer Deborah Cox, Broadway star and holder of one of the longest running number one singles on the music charts, Metropolitan Opera star and international recording artist Isabel Bayrakdarian, acclaimed environmentalist and scientist David Suzuki, and multi-Grammy award winning producer-composer David Foster, who will be writing and conducting the musical Grand Finale.

Though our singer did not perform in Toronto this weekend, it certainly was great fun following the cell phone reports from the countless fans who made their way to the outdoor event, many from miles away. Thank you to RedBay, Zippy888, and all who kept Internet fans informed and provided Clack for an event that was Clay-less -- though he was reportedly in the wings.
A more accurate report of the elusive CA appeared in the June 4 "Crystal Gazing" column of the National Post:
Aiken, my spies report, flew in to Toronto on Saturday morning with uberproducer David Foster, after having conquered Vancouver during a singsong coinciding there with the West Coast's visit of The Governator, Arnold Schwarzenegger.
The Idol checked out the staging, watched the rehearsals with Foster and at the same time fit in a meeting with Mark Shekter, who was exec-producing the concert at the ROM on Saturday night.
"He also talked to Jann Arden," my source reports, adding that he ran for the airport just as soon as he could that afternoon.
If a certain team is reading message boards and blogs, there should be no doubt that Canada craves much more Clay time.
Ironically, additional proof of the flurry this man inspires in his followers can be found in the June 3 horoscope for Sagittarians: Is it humanly possible to fit so much excitement, wild optimism and in-love-with-life energy into a 72-hour period without collapsing in exhaustion? If anyone can do it, you can. Take your vitamins.
PHOTO INTERLUDE: Highlighted in this clickable interlude are previous performances, as well as hints of the growing anticipation for Clay's Summer Symphony Tour beginning July 4 in Frisco, TX. Graphic artists include Amazing _CA, photos by Scrpkym, 1 and 2; Cindilu2, June calendar wallpaper, 3; and Katt45, photos by KarenEh, 4 and 5.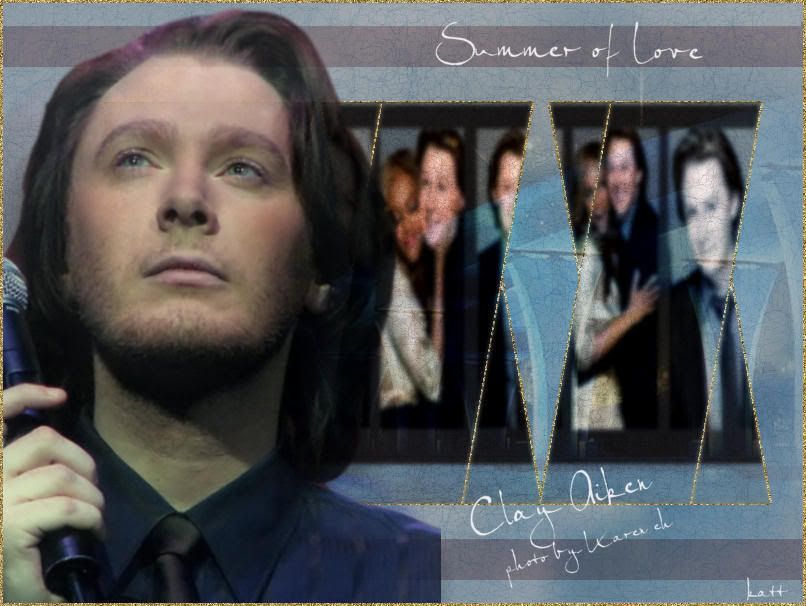 'Idol: The Musical' Debuts in Syracuse
Syracuse, NY, thespians this weekend premiered the first of two performances of Idol: The Musical prior to a month's Off-Broadway run. You can read about the presentation by the Syracuse Civic Theatre and BiPolar Productions in this review from the Syracuse Post Standard:
The work, with music and lyrics by Jon Balcourt and book and lyrics by Bill Boland, from a concept by producer Todd Ellis, had a first performance Friday before a highly reactive and appreciative crowd.
"Idol" is about a somewhat improbable social group of high school seniors, evidently bound together by their worshipful devotion to "American Idol" second season second-placer Clay Aiken.The numbers are never less than serviceable, and several are quite appealing. "Discipline," about the need to practice the entertainment craft, is an early standout, while "Quakin' for Aiken" also lingers in memory, possibly due to the lyric "We're quakin' for Aiken, and shakin' our bacon."
The Toronto weekend notwithstanding, I would imagine there is more than enough material for a sequel or two already.
Next performance of Idol: The Musical will be Friday, June 8, after which the show goes to Off Broadway for a month.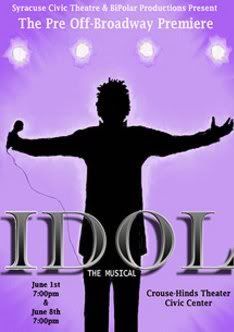 'Idol: The Musical' Poster
Spikes, Ocean Breeze, or Summertime 'Do'?

Clay's appearance in Vancouver sparked many a board discussion on the singer's ever-changing hairstyle. Some saw a return to the spikes of American Idol days while others decided the wind played a major styling factor. Canuck2010, who lives 15 minutes from the venue, reported Thursday was a very windy day by the sea in Vancouver.
Then, again, it could be a summertime "do." Whatever, message board bandwidth felt the pressure of major hair analysis over the weekend. I'm very glad my hairstyle doesn't receive that kind of ink. Besides, most fans came for the voice and stayed for the man, his heart, and his pipes.
The topic will close -- in this blog anyway -- with a cartoon graphic by LINDA_CARRELLI: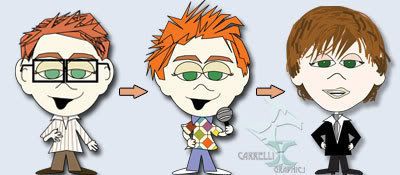 Best wishes to my sister and all who share her June 3 birthday! Have an awesome week, Clay Nation!
Caro
RELATED TAGS:
Clay Aiken
,
A Thousand Different Ways
,
Summer Symphony Tour
,
David Foster
,
David Foster and Friends Charity Gala
,
Governor Arnold Schwarzenegger
,
Premier Gordon Campbell
,
A World of Possibilities Concert
,
Michael Lee-Chin Crystal
,
Royal Ontario Museum
,
Idol: the Musical
,
Syracuse Civic Theatre
,
Clay Nation