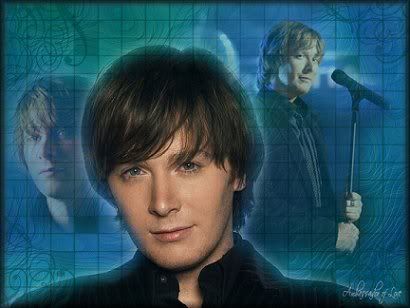 SUMMER OF CLAY -- Excitement for the July kick-off of Clay Aiken's Summer Symphony Tour 2007 heightens daily. Graphic by Ambassador of Love.
Scaling New Mountains
'Clay's Angels' Acknowledged
My Angels, Clay Aiken christened his fans in a June 7 blog. Clay's Angels really does have a catchy ring to it and might even be a good name for a TV show.
So when and where do we sign up for our halos and wings? It's for sure I don't have these accessories in my standard wardrobe, and I'll just bet (Oops, there went a feather or two!) I'm not alone.
Just the opposite, horns are more my style. I have a quartet of these suckers -- flute, oboe, clarinet, and alto saxophone. Yep, I qualify for "have horns, will travel" at a moment's notice.
Clay seems to think that since CBS plans a mid-season reinstatement of his favorite show, "Jericho," we are invincible and can do anything. Actually, his exact words were "seriously unbelievable"; but I'm sure he considers us a supremely commanding force, very capable of moving mountains.
At his request, we did help save his beloved TV show. With halos slightly askew, we won't tell him that countless "Jericho" boards filled with "cra ... enthusiastic" fans were also very involved in the show-saving campaign that, among other tactics, included delivery of boatloads of peanuts to CBS headquarters.
Singer Boasts About His Mates
Everyone knows Clay recently bragged to his host on Jimmy Kimmel Live that the proficient Claymates could locate Osama Bin Laden within 20 minutes. I guess the president's men, like their leader, were already in bed when the late night show aired and didn't hear about the superior espionage talents of the singer's fanbase.
For the past week, our guy has frolicked through spectacular Paris completely unnoticed by photographers and autograph seekers, no security drivers ("They will be locked!") required. Granted, that had to be a welcome change for Clay; but what's wrong with the these worldly Parisians in the Information Age?
You mean not one solitary French soul has ever stumbled across the VOX on YouTube? Oh, we need immediate Claying-It-Forward emissaries volunteering to sail the Atlantic and spread the gospel in this Clackless nation.
Time for a think tank, Claymates. Maybe an email campaign with links to Clack Unlimited or whatnot. These good folks need to hear what they are missing in life!
PHOTO INTERLUDE: The creativity of Clay's Angels is displayed in these clickable designs by graphic artists A Beautiful Mind, 1 and 3; Claysmelody, 2; Katt45, featuring the skyline of Angel Headquarters, Raleigh, NC, 4; and Amazing_CA, photo by Scrpkym, 5.

Tour, Album Tidbits Shared
Fans were elated to learn that tour rehearsals will begin in a week or so. Sounds like old home week with Jesse, Quiana, Angela, and a new drummer set to accompany Clay from city to city for the summer symphony run July 4 - Aug. 19.
We savor the man's hints -- some songs he's never sung before, some from A Thousand Different Ways, some up-tempo ditties (er um, he misspelled that word), all with symphonic treatment. Smart guy, too -- if we love the program, the playlist will have been all Clay's doing. If we don't, then it was Quiana's brainchild all along.
New album banter is always a welcome topic, and the bywords seem to be "fresh and yet not too strange, great songs, and great melodies." He can't go wrong there, but I'm sure a committee of angelic fan advisors could be organized in a nanosecond if needed during the process, still in the producer pursing stages.
Clay's lost passport of a week ago was located in Calgary long after he had secured a replacement for his vacation in France. You can tell he cherishes the older document, whose stamps boast of his travels to Afghanistan, Uganda, Croatia, Slovenia, etc. Ebay/TBAF Gold, but I wouldn't doubt Clay keeps this treasure in the family.
Crucial Mission Earmarked
The Claymates do have one very important assignment, however. Since the official message board is down and "Jericho" is protected, we are to focus on securing our singer his own show.
You know, I really think the word is out. It's not like Clay hasn't dropped hints often in multiple nooks and crannies. He's also proved he can ably handle talk show duties, not to mention a certain co-host. Still, we are the indomitable Claymates; and our guy, who believes we can do anything, has earmarked his flock's next venture.
So was that network connection Nebraska's nephew-in-law's second cousin once removed or Tennessee's step sister-in-law's uncle? I swanee, I ran across this info in somebody's blog.
Whatever, we need to get cracking on this objective. Clay's Angels are smart, creative, enthusiastic; and over the years, we have learned how to work the system like no other fanbase.
If you haven't already done so, check with your angelic chairperson for your assignment. With North Carolina being God's Country, progress reports are due at Angel Headquarters in Raleigh by the end of June.
United, Clay's Angels are invincible!
Below is a clickable of Ambassador of Love's beautiful opening graphic: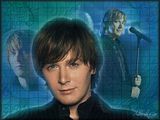 Have an awesome weekend, Clay Nation!

Caro
RELATED TAGS:
Clay Aiken
,
A Thousand Different Ways
,
2007 Summer Symphony Tour
,
Jericho
,
Jimmy Kimmel Live
,
Paris
,
Claymates
,
Clay Nation