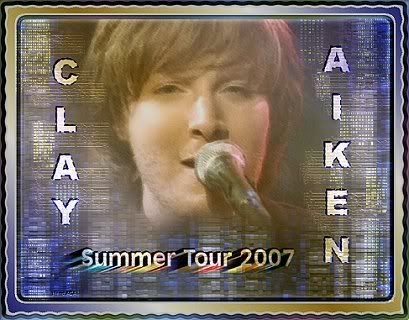 ANTICIPATION -- Clay Aiken's Summer Symphony Tour 2007 opens in less than two weeks. Graphic by Amazing_CA.
Thrills from the Heels
Cyber Fans Count Down to Tour
Whether your concert is the first week of July, mid-August, or via Clack, the fact that the countdown for Clay Aiken's Summer Symphony Tour opener dipped under two weeks Wednesday inspired tumultuous rounds of cyber celebrations.
Countdown tickers are prevalent on message boards, as well as at the top of many fan blogs. Even for fans who plan to enjoy this tour via cellcert, recaps, and Clack from attendees, anticipation is much more animated and widespread throughout the CA fandom.
One of the best articles about the upcoming Summer Symphony Tour was posted at Live Daily Tuesday. Below are a few paragraphs from Kym Kilgore's article, which can read in full at the site:

Clay Aiken Supports ATDW
The summer jaunt will finally give Aiken a chance to fully support his third studio album, "A Thousand Different Ways," which snagged the No. 2 spot on The Billboard 200 when it was released in September. The singer found himself in a somewhat awkward position when the record hit shelves, being that he'd already lined up holiday shows for the remainder of 2006, limiting his ability to promote the new set.


"A Thousand Different Ways" comprises 10 cover versions of love songs spanning the last three decades, plus four new tunes. Renditions of Harry Nilsson's "Without You," Elton John's "Sorry Seems to be the Hardest Word" and new single "A Thousand Days" are streaming at Aiken's MySpace page.

Aiken, who was the second-season runner-up on FOX-TV's "American Idol," has used his music career to further his humanitarian efforts. The former teacher created the Bubel/Aiken Foundation to promote and fund education and recreational programs for children with special needs, and he acts as a goodwill ambassador for UNICEF.
The performer also added "best-selling author" to his list of titles when he released his autobiography, "Learning to Sing: Hearing the Music in Your Life," in 2004.
Compliments of Claystruck, here is a beautiful way to keep up with the Summer of Tour dates:
In other tour news, tickets for the recently-added Fort Myers, FL, concert -- 8/16 in Edison College's Barbara B. Mann Performing Arts Hall -- will go on sale Saturday at 10 a.m. via the box office or online.

Contact/order information can be viewed at the Barbara Mann website or on the clickable image below:

Clay will be the exclusive musical guest for the "Capitol One Holiday Celebration on Ice" this winter, and fans may want to bookmark this link. The show, which will be taped on Nov. 6 at The Orleans - Las Vegas, NV, will be air on NBC-TV at 2:30 p.m. EST Christmas Day.
Meanwhile, the Summer Symphony Tour (a.k.a "Summer of Love," "An Evening with Clay Aiken," "Soft Rock and a Hard Place 2007," "A Soft Rock Summer") is just around the corner!
PHOTO INTERMISSION: This clickable interlude features graphics from tours past as fans anticipate July-August concerts. Included are designs by A Beautiful Mind, photos by Invisible926, 1 and 4; Amazing_CA, 2; Aikenfan6, photo by Invisible926, 3; and Ztilb/Pink Cocoa, 5.
Basketball Fan Finds Baseball
As un-American as this sounds, baseball has never been my favorite sport -- except for 10 days during the month of June. That's when the NCAA College World Series transforms Omaha, NE, into a baseball mecca; and for the past three years, this basketball enthusiast has been glued to the ESPN-televised games.
My love affair with the CWS began three years ago when my brother Chuck stayed in my home while visiting our mother for her June 22 birthday. Mama Mac passed away the following month, but our family recalls many fond memories on this special day.
An any and all sports aficionado, Chuck was assured a willing viewer three seasons ago when he told me Tennessee and Texas were in the running. Together, we led the cheers for the eventual champion, the Longhorns of Texas, from my den. Mama Mac was her son's partner for afternoon CWS games, and her nursing home room was converted into a spirited baseball grandstand.
In 2006, I became an avid viewer as my team, the Carolina Tar Heels, progressed to the finals, losing to Oregon State, 3-2, in the deciding game of the best of three series. The clickable below is from the opening ceremony of last year's Game 2 between UNC and OSU.

Nebraska Claymates Send Memos
Earlier this month 1inNebraska4Clay and Cclazy12 began reminding me via blog comments and email that once again the Heels were in the tournament; and the three of us have high-fived and traded assurances through Carolina's victories and the loss that put the team in a must-win situation against Rice University Thursday night.
The 61st CWS marks the 58th year that Omaha has hosted the event at Rosenblatt Stadium. During the annual 10-day span, the city is transformed into a baseball mecca when the best in the college game come together for the crowning of a national champion. A fair-like atmosphere surrounds the festivities, and I am told by the Nebraskans that the UNC team said Omaha smells like Krispy Kreme doughnuts. How's that for a Clay Aiken connection?
I am now such a fan that I enthusiastically watched UC-Irvine win consecutive come-from-behind, extra-inning games, only to lose to Oregon State Wednesday night. The OSU Beavers will meet the the UNC-Rice game winner on Saturday. [UPDATE: Carolina won Thursday's game, 7-4!]
An interesting aspect to this year's telecasts is the intermittent focus on the Win Probability of competing teams. The Win Probability for a specific situation (inning, number of outs, men on base, score, pitcher's record, and numerous other factors) is determined by first locating all the teams that have encountered this identical situation, the result being a computerized win-loss percentage. More can be read on the subject at Wikipedia.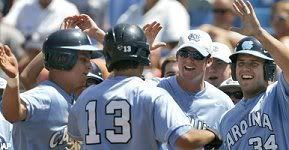 Tar Heels Celebrate Victory
UNC Team Visits Transplant Center
In the Piedmont Triad, Chase Jones, a freshman team manager for Carolina, is providing the Greensboro News-Record with a dugout view. This is an excerpt from one of his blogs:
On our day off, the team visited the Lied Transplant Center at the University of Nebraska Medical Center. This involved traveling the pediatric floor and visiting kids with all sorts of maladies.
For the first time, baseball was the least of anybody's worries. Everything was about making these kids happy, giving out autographs, pictures and words of support.
When asked if he were going to "kick butt" when he could do karate outside of the hospital, an 8-year-old with all the future in the world responded: "If I make it."
Those were easily the four most powerful words I had ever heard. Baseball is what brought us here, but just maybe it is not the most important thing about our stay in Omaha. Making a difference in a child's life is.
Cupid a Baseball Fan, Too
Apparently, Cupid is a baseball fan, too. Correspondent Allen Stoye this week provided the Chapel Hill News a love connection side bar, as junior catcher/designated hitter Benji Johnson proposed to the gal he met during the 2006 series. Michaela Ammerman, a senior airman at nearby Offutt Air Force Base, accepted.
This basketball enthusiast will be watching her team tonight and, hopefully, in the best-of-three championship games to follow. It's for sure I will be in good company. [FINALS UPDATE: OSU, 1; UNC, 0 -- Go, Heels, Go!!!]
As in previous games, prominent in the Omaha stands will be Carolina's beloved head basketball coach Roy Williams.
Below is a clickable of Amazing_CA 's opening graphic:

Meanwhile, take me out to the ball game ... and have a wonderful weekend, Clay Nation!
Caro
RELATED TAGS:
Clay Aiken
,
A Thousand Different Ways
,
2007 Summer Symphony Tour
,
An Evening with Clay Aiken
,
LiveDaily
,
Barbara Mann Performing Arts Center
,
Capitol One Holiday Celebration on Ice
,
NCAA College World Series
,
Baseball
,
Win Probability
,
Omaha, Nebraska
,
Carolina Tar Heels
,
Claymates
,
Official Fan Club
,
Clay Nation