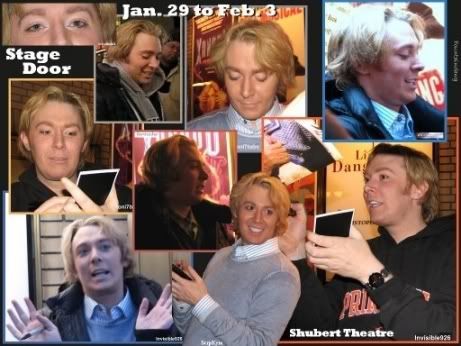 STAGE DOOR COLLAGE -- Clay Aiken greets fans following each "Spamalot" performance at the Shubert Theatre. Graphic by Fountaindawg, photos by Toni7babe, Invisible926, and Scrpkym.
At Shubert Stage Door
Clay Intros 'Spamalot' Dresser
At the post show stage door gathering after Wednesday's performance of "Spamalot," fans got a little more than autographed playbills, pictures, and video from Clay Aiken when he introduced "the lady who takes my pants on an off."

According to Morganette, Clay entered Shubert Alley with his arm around a red-headed gal, introduced her as his dresser, and suggested they pass the word to the message boards all over the Internet.
Thanks to AustenFan, here is a Sendspace download of Wednesday's stage door scene. Karma4Clay posted a snippet of the video on You Tube: Clay and His UnDresser. Such a tease!
In her recap, AustenFan wrote: Clay got great applause when he appeared in the "All For One" number. His "Idol Of Our Age" and yodeling to the super high held note got huge applause. People laughed big time at that moment.

In the full video, you can hear someone from the crowd saying more than once, "Clay, you rock!" Read any recap, and you know he does! Rock on, Clay!

Carolina Geer No Guarantee
Despite the fact that Clay wore his Carolina hoodie during Wednesday's stage door appearance and, as previously planned, grandson Kai had donned his Tar Heel jersey, UNC lost the big basketball game to Duke.

My "morning after" started with the dishwasher draining all over the kitchen floor. I came very close to running the cycle during the game. For once, procrastination paid off!

Carolina and Duke will meet again. Hopefully, my plumbing problems will be solved by Friday morning. Meanwhile, I am washing dishes the old-fashioned way.
And you never know what to expect at the Shubert's stage door!

VALENTINE GRAPHICS: Visual artists have been celebrating Valentine's Day since Feb. 1. Represented in these graphics are Amazing_CA, photo by Toni7babe, 1; Amazing_CA, 2 and 4; ABeautifulMind, photos by KarenEh, 3; and Ambassador of Love, 5.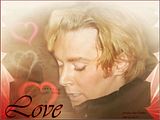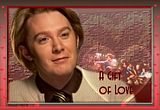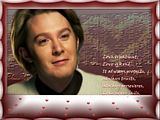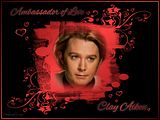 Grandson Kai has the spotlight in this special "Be Mine" Valentine graphic by

Ashes

.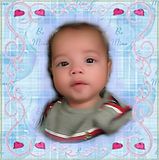 Have an awesome weekend, Clay Nation!
Caro
RELATED TAGS:
Clay Aiken
,
Spamalot
,
Broadway
,
Schubert Theatre
,
stage door
,
Schubert Alley
,
dresser
,
Carolina
,
Duke
,
Tar Heels
,
Blue Devils
,
Valentines
,
Official Fan Club
,
Clay Nation