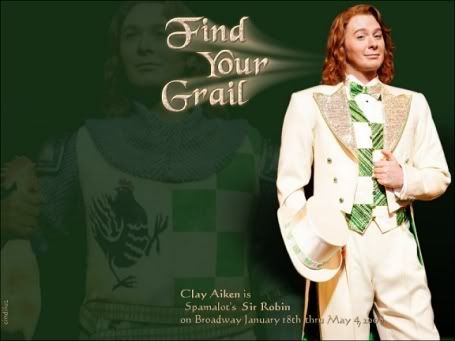 FIND YOUR GRAIL -- Clay Aiken receives high praise as Sir Robin in the Broadway show "Spamalot." Graphic by Cindilu2, photos by Joan Marcus.
New CD Makes Headlines, Too
AP Drama Critic Applauds Clay
When the AP drama critic's amazing review of Clay Aiken's "Spamalot" roles started hitting the wires at 2:42 p.m. Friday, this blog flip-flopped its lead story. This longtime CA fan could not resist ...



Team player ... fits seamlessly into the extended high jinks of "Spamalot" ... gets the goofy humor and goes with the flow ... exudes the physical buffoonery ... radiates a delightful benign bewilderment ... a native North Carolinian with a credible British accent!



Your fans couldn't be prouder, Clay! Bravo and a colossal, resounding Standing-O!


Clay Aiken Deftly Acts Supremely Silly

By MICHAEL KUCHWARA
AP Drama Critic

Let's clear things up right away: Clay Aiken can handle supremely silly.

That's not an inconsiderable talent when you are appearing in something as daffy as "Monty Python's Spamalot," the madcap medieval musical that has just added the "American Idol" alum to its cast.

We knew Aiken could sing. "Idol," television's favorite trial-by-fire, proved that. So it was only natural that Broadway, eager for new faces that might sell tickets, would call — just as it did for Fantasia, Frenchie Davis, Constantine Maroulis and others from "Idol."

But don't go expecting a star turn. Aiken is a team player — and that's meant as a compliment. The ingratiating performer fits seamlessly into the extended high jinks of "Spamalot," which has been running at the Shubert Theatre since March 2005.

The guy gets the goofy humor that is the Python trademark and goes with the flow, most prominently when he is portraying the perpetually petrified Sir Robin. It's one of three roles he plays in the musical.

Aiken also exudes the physical buffoonery that underlines the cartoonlike nature of the characters and their quest to find the Holy Grail. He radiates a delightful benign bewilderment. What's more, for someone born and raised in North Carolina, Aiken does a credible British accent.
The entire article can be read in many arenas, some of which include CBS Showbuzz, Yahoo News, International Herald Tribune, and MSN Entertainment.
MICHAEL KUCHWARA has been the drama critic and drama writer for the Associated Press since 1984. Before being named to that position, he worked for the AP in Chicago as a general assignment editor and reporter and in New York on its General (now the National) Desk, the main editing desk for national news. Born in Scranton, Pa., he is a graduate of Syracuse University. Kuchwara also has a master's degree in journalism from the University of Missouri. Kuchwara is a past president of the New York Drama Critics' Circle.
Celebration Planning To Begin
With the recent barrage of articles about Clay's upcoming CD release in May, the song "Dancing in the Street" has been boogieing through my mind all week.

Besides the media spurt, I have read The Celebration Team's report announcing that a huge brouhaha is in the works for the Virgin Megastore of Hollywood, CA.

The marketing director at VM-Hollywood knows a good thing when she sees it. The info has already been forwarded to Sony, and -- for sure -- there will be a super sendoff for Clay's new CD ... and plenty of "dancing in the street"!

Stay tuned, as the Celebration Team's website will be operational in about a week when some serious party-planning gets underway.

Meanwhile, it's great to read and hear about the CD in so many media centers. This representative blurb is from the "Scoop" section (p. 26) of the March 3 print issue of People Magazine and is accompanied by the chicken picture from "Spamalot."
Dishing With Clay Aiken

The Idol singer, 29, is starring on Broadway in Monty Python's Spamalot. He chatted with Scoop about:

SPAMALOT: It's smart, intelligent and almost highbrow humor. The punch lines don't slap you in the face. But for someone who's not a dancer, it's kicking my rear end!

HIS NEW CD: We're hoping [to release it] May 6. In the past five years, I've learned a lot about life. I would like to wrap a lot of the music around that theme.

A NEW IMAGE: Last time I came out with dark crazy hair. We don't have any plans this time. But I've got the red wig...

AMERICAN IDOL: It's something I wouldn't be here without. But I haven't watched it in three years. I've got other things to do!
CD Release in the News

CD announcement stories are everywhere, too. See People Online, TV Guide, ET Online, The Insider Online, and Reality TV Magazine.

Next week WRAL-TV will run a Linda Loveland special report from New York City about Clay on Broadway.
Here are two brief Sendspace downloads of the station's Thursday announcements about the new CD: Album/Spamalot/Jukebox and Album/Spamalot/ATDW.

PHOTO INTERLUDE: This clickable interlude represents the talents of eight visual artists, including ABeautifulMind, photo by FiveGoldens, 1; Artz11, photos by Scrpkym, 2; PinkCocoa, photo by Joan Marcus, 3; Amazing_CA, photo by Toni7babe, 4; and Amazing_CA, photo by Scrpkym, 5.
A Little Bit Country
Don't forget American Idol Rewind 2 this weekend. This is Country Week, and Clay performed "Someone Else's Star." He received a standing ovation from judges Randy, Paula, and Olivia Newton-John. Simon disagreed.
Check local listings for the Saturday-Sunday telecast.
Fever Joins Frog on Friday
I have had a frog in my throat off and on for the past month. Every time I think I'm finally over it, the tiresome croaking returns. No cold, no fever - just laryngitis. Friday, however, a fever accompanied the squeaky squawk; so I spent part of the morning scheduling makeup lessons for my afternoon students via email.

Since I had the luxury of not having to talk about quarter notes and such, I decided to tackle my malady head on. All day I kept spiced tea and cider spiked with lemon juice nearby. For lunch, I made a bowl of chicken soup to make any mother -- Jewish or otherwise -- proud.

Since I didn't start the soup from scratch, I'm sure I lost points there. Instead, I spruced up a can of Healthy Choice with extra vegetables and red pepper flakes. My own mother believed that onions could cure anything, and she would have approved of my concoction.

With the appearance of a fever, I took a couple of unused antibiotics from January and hoped the combination of home remedies would jump-start the cure.

This would have been the perfect day for my new assistant to write a blog, but he's still enjoying his computer training and may even have set his sights on a higher position. Little does he know his first task will be cracking the Textism format!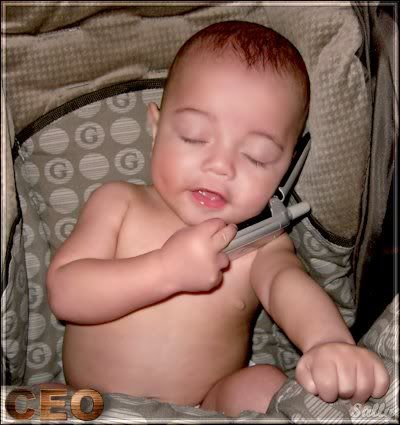 CEO Kai "working it" with his cell phone. Graphic by Sally.
Have a wonderful weekend, Clay Nation!
Caro
RELATED TAGS:
Clay Aiken
,
Spamalot
,
Broadway
,
Associated Press
,
People Magazine
,
American Idol 2 Rewind
,
Textisms
,
Official Fan Club
,
Clay Nation