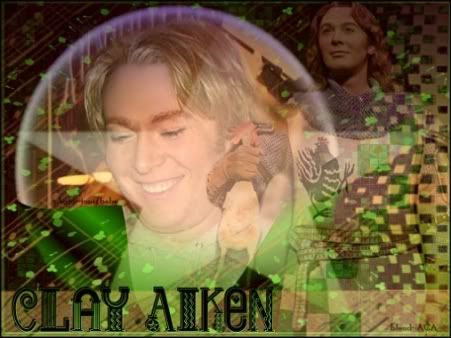 THE WHOLE PACKAGE -- This beautiful graphic by Amazing_CA blends two aspects of the "Spamalot experience" enjoyed Clay Aiken's fans with a stage photo by Joan Marcus and Toni7babe's shot during a post show autograph signing in Shubert Alley.
Dancing Aiken's New Grail
Newsday Critic Lauds Sir Robin
What could be finer on The Great White Way than a second major review lauding the talents of Clay Aiken as "Spamalot's new Sir Robin?
Posted Monday by Linda Winer at Newsday, here are excerpts from the article:
Clay Aiken fits as Sir Robin in Spamalot


Hey, it's not dead yet. In the words of one of the supremely goofy bad-taste delights from "Monty Python's Spamalot," the musical may be approaching its third year at the Shubert Theatre. But the thing's not dead yet - in fact, not even close.

Forgive our suspicion that "Spamalot" might have reached the uh-oh point in its heretofore long and happy run. After all, Clay Aiken, unknown until he was the runner-up in the second season of "American Idol," had been cast, with alarming hoopla, to play Sir Robin and assorted zanies - in a British accent, in a role created on film by (author, lyricist, co-composer) Eric Idle himself and recreated on Broadway by David Hyde Pierce.

We know that Fantasia, Aiken's fellow breakout survivor from gladiator TV, had a phenomenal stage debut last year as a replacement for the star in "The Color Purple." But what are the chances that another newbie from the South with zero stage experience would be able to slip into a high-maintenance Broadway hit without dragging it down like a boulder tied to its soft shoe?

So it's excellent news for Aiken and "Spamalot," not so good for drama schools. Aiken is a charmer. With his aging cherub face and a frizzle-pageboy wig, he goes sweetly and deftly Medieval on Broadway - a world described in the show as "a very special place with people who can sing and dance, often at the same time."

And so he does, frequently at the same time. Aiken blends into the sophomoric adorableness of the show, even toying with his own girlish charisma at a piano topped with a Liberace candelabra. His voice has range and color. He dances with a childlike skip, he yodels and sings falsetto and gets through the scenes when Robin "soils himself" with no visible humiliation. This is not a debut for cowards.
An Icon Who Can Dance
Clay has got to love all the talk about his dancing abilities. Promoted to "icon" in the clickable article above, he has received compliments for his acting, singing range (yodeling and falsetto), as well as his dancing.

Mind you, I haven't seen the show - just read a gazillion fan reviews. Isn't that a Menorah on the piano ... with the Star of David above? After all, this occurs during Sir Robin's big song, "You Won't Succeed on Broadway if You Don't Have Any Jews."

As for the "aging cherub face," the AI2 runner-up has become a man. Then, too, maybe the reviewer caught one of Clay's tours and heard him bemoaning the fact that at 29, he's getting old, LOL!

Every fan has a favorite line from this review, and Lovethatguy at Clayversity put a couple together: "He's a dancing fool with no need for drama school. "

I can't tell this writer how much Clay's fans have enjoyed the "alarming hoopla." Take notes, RCA, and duplicate the hoopla in the new CD promos!
LINDA WINER is chief theatre critic and arts columnist for Newsday , which she joined in 1987. She also has been adjunct associate professor at Columbia University since 1993. Ms. Winer was theatre and dance critic -- and also covered music -- for the Chicago Tribune from 1969 to 1980, then was a critic at the New York Daily News for two years and critic-at-large at USA Today for five years.
PHOTO INTERLUDE: This clickable interlude spotlights happenings at "Spamalot," a collection of Linda Huber's drawings of Clay, and more. Featured are graphics by Amazing_CA, photo by Scrpkym, 1; Cindilu2, 2; Cindilu2, photos by Toni7babe and Scrpkym, 3; Amazing_CA, photos by Toni7babe, 4; and Ambassador of Love, drawings by Linda Huber, 5.
Recaps Share Spam Adventures
Message board recaps of Clay's performances -- and the experiences of those attending "Spamalot" -- not only transports fans back home to the Big Apple, but also provides interesting asides to the whole adventure. This is from a recap by kwhite1022:

When we were at the box office getting tickets, there were two women in front of me trying to coordinate a trip to see the show. I was kinda wondering if they were fans, but didn't want to interrupt them. When they settled on a date in April, one leaned over to the other and whispered in her ear, to which the other said to the guy helping them, "Will Clay Aiken still be here then?"

I leaned over and said, "He is here till May 4." She laughed and said thank you, and the shy one said she was too embarrassed to ask, I told her to never be embarrassed about Clay. They were too cute!
When we got up to the window looking for seats, the same guy, of course, had me pegged as a Clay fan and started telling us where our seats would be, saying, "I know you'll wanna be on the right because that's where the best view of him is."

The "Spamalot" crew so has us pegged!
Clay Blogs About His Fans
A special Monday feature on the Monty Python site his Clay's Spamalot Blog in which he answers a different question each week. Accompanying our replay is a Claystruck's graphic of Shubert Alley stage door scenes captured by Toni7babe.
2.25.08: What has been the response from your fans about you heading to Broadway?
I really am so lucky to have THE most amazing fans in the world, I believe. Not only are they supportive of the music and the touring, they get passionate about seemingly everything I do. From music to TV to charities. They have been unbelievably supportive. I know that Python fans are EXTREMELY loyal and enthusiastic. It will be interesting to see the "Claymates" in Python-land!

So Much for 'Diamonds in the Rough'

From the Wichita Falls, TX, Times Record comes an interesting article about American Idol past and present entitled Come Back, Sanjaya!

There are several Clay mentions in this comparison of the current Idol roster of contenders with its many seasoned performers to the "diamonds in the rough" of years past.

O, Sanjaya, wherefore art thou?

I'm sure I'm not the only one to notice that this season's "American Idol" contestants are, first of all, part of The Beautiful People tribe. They are camera-ready, fashion savvy and irritatingly cute and in shape, meaning audiences won't get the sheer joy of seeing a diamond in the rough go from geek to chic. [snip]

I just want a Clay Aiken to root for, by golly!
Below is a clickable of Amazing_CA's opening graphic: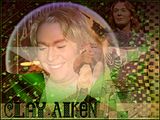 As a rule, I don't answer the telephone when I am teaching music lessons. However, Tuesday afternoon two students who normally take piano at a school in another city were coming to my house for makeups. Sure enough, the first student got lost and had to call for additional instructions. To be safe, I brought a mobile receiver to the piano.

Five minutes before completing the final lesson the phone rang. Something about the "ring" told me this was Sally calling from New York City. She is there to see Clay in "Spamalot," but the call was not about that.
Nope, my friend needed to know the Textism code for posting a small siggie in her comment at the OFC. Imagine the look on the mother's face as I instructed, "Asterisk, space, exclamation point, URL … etc," LOL!
Have a wonderful week, Clay Nation!
Caro
RELATED TAGS:
Clay Aiken
,
Spamalot
,
Broadway
,
Newsday
,
Linda Winer
,
American Idol
,
Claymates
,
Official Fan Club
,
Clay Nation