Kai takes a break before the big game. Photo edited by Sally
Props for Clay's Performances
Kai Ready for UNC-Duke Game
In one of the most intense rivalries in all of basketball, the the first of two Carolina-Duke games this season is slated for Wednesday, and predictions for an outcome either way are already running rampant along Tobacco Road.

With the Duke Blue Devils and UNC Tar Heels ranked Nos. 2 and 3 in the country, this year promises lots of spine-tingling play to accompany all the nail biting by fans on the sidelines. Carolina fans may have an edge on the latter, as our starting point guard, Ty Lawson, suffered a sprained ankle in the previous game.

Wearing the right colors during the game is of utmost importance; and I have already enlisted my grandson Kai to do his part. Soon after he was born, Grams4242, a Canadian Clay fan who knows well my love for Carolina basketball, sent Kai a Tar Heel jersey, Size 5-T.

The toddler size is just a minor problem as you can tell by the photos. Two weeks shy of five minths, Kai had quite a time getting into the jersey and keeping it on. I sent my Canadian friend some of the pictures last weekend; she laughed and emailed back that there's a plus to all of this.

In a few years, Kai will already have a fine-fitting Carolina jersey. Have you noticed Clay Aiken sporting a variety of Tar Heel geer at his stage door gatherings after "Spamalot" performances?
Go, Heels!!!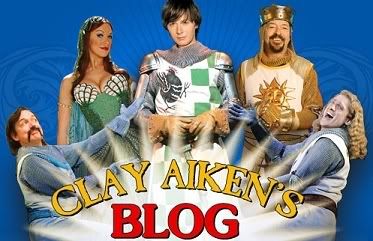 Photo links to Clay's 'Spamalot' blog.
Clay Outlines Theater Experience

Clay Aiken's success in the Sir Robin role of the Broadway musical "Spamalot" continues to make headlines in the media and assorted blogs across the Internet.

In his own weekly blog Monday, he was asked the question: Did you ever act in plays/musicals in school, or in your local community growing up?

Interestingly enough, I got cut from my high school musical my senior year, and wasn't necessarily one of my 10-12th grade choir teachers "favorites," so my experience in my younger years was limited to local productions.

The North Carolina Theatre in Raleigh is a pretty reputable regional theatre that puts on some great shows in the area. But, it is so professional that it casts most of its performers with very experienced New York actors and musicians.

They staged a production of 1776 in 1995 and put out a casting call for 21 year olds and older. I was only 17, but a good friend suggested I audition anyway to gain experience. I did and was the only person under 21 who did.

Terrence Mann, the Broadway star, was directing it and chose to take a risk on a young kid, so I made it. I remember thinking I was such a star because I got to work with real professional performers. I did a few shows at North Carolina Theatre in addition to 1776 before I went off to college. I still try to catch as many of their productions as possible.

Rosenhaus: 'Clay Surprisingly Good'

Steven Rosenhaus included comments about Clay's performance in his blog Monday: SPAMALOT. In addition to this excerpt, the entire Live Journal entry is an excellent read.

Yes, I know that because of the book Writing Musical Theater that my co-author Allen Cohen and I are considered experts in musical theater. And I also know that as such there is an expectation to see Broadway, off-Broadway, and off-off-Broadway shows with cynical eyes and ears.

But sometimes I just want to be audience, and just sit back, relax, and enjoy the show without thinking about it to any great depth. I can always to do the deep thinking later . . .

Clay Aiken: Yeah, the guy from American Idol, playing Sir Robin, Guard 1, and Brother Maynard. Surprisingly good.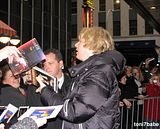 Stage Door Scene
Clickable by Toni7babe
Kudos from 'OC Register'

Across the country in the Orange Country Register in California, Paul Hodgins wrote in the "The Arts Blog," Clay Charms His Critics:

Whatever you think of Aiken as a performer, you gotta love his devotion to his audience. That's him last month, above, braving 19-degree weather to mingle with his "Spamalot" fans.

Would Live Schreiber or Frank Langella stand out in the cold just to mix and mingle with the hoi polloi? Not when it's cold enough to freeze the ink in autograph-seekers' pens.

In another Live Journal blog, I like to push the pram-a-looooot, Coyotegrrl gave Clay props for his performance:

Clay Aiken (one of the first American Idols) was playing Sir Robin, and I didn't think anything in particular of it going in. But he was awesome - I think he stole the show.

Singer-Actor #6 at Lycos

Despite Super Bowl XLII Weekend, Clay moved up to #6 in his 238th consecutive week on The Lycos 50 listing:

Clay Aiken
Broadway Star

Keep searching with Lycos, Clay Nation!

PHOTO INTERLUDE: Spamalot" and Valentines are the central themes of this clickable interlude. Included are designs by Amazing_CA, 1; Amazing_CA, 2, photo by Toni7babe, 2; ABeautifulMind, 3; Ambassador of Love, photo by Karen Eh, 4; and MNmeesh, 5.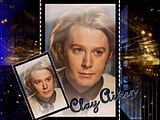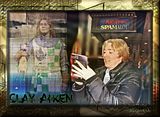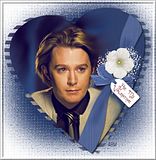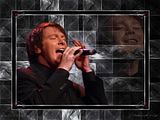 WRAL Features UNICEF Trip

Raleigh's WRAL website currently features a story about Lynda Loveland's TV interview with Clay on his Christmas UNICEF trip to the flood-ravaged areas of Mexico, Clay Aiken Reflects on Charity Trip to Mexico:

Raleigh — Before making it to the finals of Fox TV's "American Idol," Raleigh native Clay Aiken gave a good deal of his time to helping local kids with disabilities. Since American Idol, he has been helping kids worldwide.

WRAL Anchor Lynda Loveland sat down with Aiken about his trip to Mexico with UNICEF.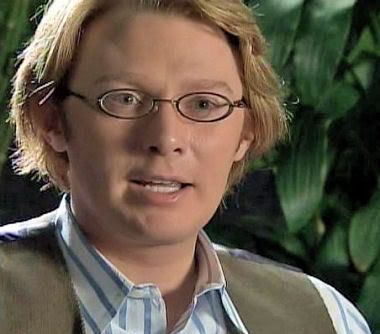 Photo links to WRAL interview.
The above photo links to the WRAL video. Here is a Sendspace download of the interview, the first in a weekly series.
The lead photo does not entirely reflect all the trouble grandson Kai went through to get ready for the Duke-Carolina game, but these clickables do. In the photo at left, his head is barely visible as he wrestled into the new Tar Heel jersey.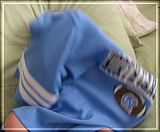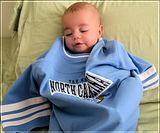 Go, Tar Heels! -- Photos edited by Sally
Have a wonderful week, Clay Nation!
Caro
RELATED TAGS:
Clay Aiken
,
Spamalot
,
Broadway
,
Carolina
,
Duke
,
Tar Heels
,
Blue Devils
,
basketball rivalry
,
Tobacco Road
,
The Lycos 50
,
Official Fan Club
,
Clay Nation