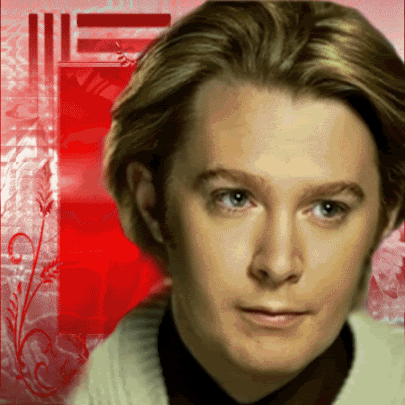 VALENTINE'S WEEK -- Clay Aiken fans celebrate important occasions with outstanding art like this animation graphic by Amazing_CA.
A Splash of Rewind
Valentines, 'Spamalot' on Tap
Borrowing a page from American Idol Rewind, this St. Valentine's Week blog takes a look back while keeping an eye on current affairs as they revolve around Clay Aiken and his growing fan club at Broadway's Shubert Theatre.
According to nightly recaps shared on various message boards, Clay seems to be in his element with the "Spamalot" roles, each performance revealing greater confidence, spontaneity, and his inherent improvisational skills. Not to mention the ever-present powerful set of pipes!
Whooping laughter and rousing ovations are the norm from the very appreciative audiences comprised mostly of the "Not Just Us" variety. The breakdown is usually more men than women, and weekend shows are often Standing Room Only.
Following this weekend's shows, Tiggy2winkle wrote, "There is a definite buzz going through the audience about Clay Aiken. A man a few rows in front of us was talking about him and I heard him say, 'That Clay Aiken is AWESOME!!!'

He got lots of laughs at his funny lines and cheers and lots of applause for his big numbers. He got the most rousing cheers as each actor comes out in the finale, and this is really something considering that almost the whole audience is NJUs and the quality of the other actors performances."

Here is a link to Clay's Monday Spamalot blog: What do you think it will be like performing on Broadway vs. in concert?
PHOTO INTERLUDE -- Celebrating Clay's success in "Spamalot," as well as this week of hearts, are these five graphics by Amazing_CA, photos by Toni7babe, 1 and 2; Sally, photo by Toni7babe, 3; ACA, photo by Irishbookgal, 4; and Claysmelody, photo by Katy4Clay, 5.
AI2 Rewind Spotlights Motown
This week's edition of American Idol 2 Rewind features the Motown songs of Lamont Dozier. Clay sang "I Can't Help Myself," and the songwriter-judge had this to say after his performance:

"Clay, you look live you've already arrived. You look like a professional, and you look like you've been doing this for years; and that's the look of a star!" -- Lamont Dozier, celebrity guest judge, Motown Week

In the show's current interview, Clay talked about how exciting it was to perform before a live audience for the first time in the competition and to see his name on several signs throughout the hall.
If you missed the Saturday-Sunday telecast, here is a Sendspace download of Clay's Motwon performance:
I Can't Help Myself
.

Want to know what's coming next? Take a peek at

Fountaindawg

's
American Idol wallpapers
on the Clay Aiken Kids site. Here is a link for the collection in
slide show
form
.
Take Me Back to the Sixties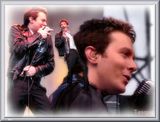 You never know what gems are coming your way via email. This link for
Take Me Back to the Sixties
is a perfect example. With much appreciation to Grams4242

,

I hope you enjoy the rewind or -- for you "young thangs" -- a brief introduction to a very interesting decade.

The accompanying art is from Clay's very popular Jukebox Tour of 2005. The graphics by

Amazing_CA

and

Cindilu2

feature photos by

Tasapio

.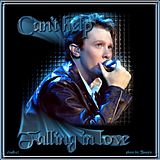 Valentines Old and New
Continuing the theme of "looking back," my Sunday afternoon scroll through older Photobucket folders netted a memorable medley of Valentine art from previous seasons.

VALENTINE REWIND
: Featured in this collection of graphics are the designs and photos of six visual artists, including

Katt45

, 1;

Cindilu2

, 2;

ABeautifulMind

, 3;

ABM

, photo by

Scpkym

, 4; and

Amazing_CA

, photo by

KarenEh

, 5.
Of course, in our family grandson Kai is the new Valentine. I think he looks right at home in the midst of all those candy hearts.
Where There's a Will ...

One of my high school piano students ordered a boat load of Evanescence music for her March birthday. Near the end of her lesson Wednesday, her mother told us the music had been left by the mailbox on a day of constant, heavy rain. Her parents promptly contacted the company about the water-logged delivery, and a new set of music was already on its way.
They didn't have the heart to tell their daughter until her mother let the news slip at our lessson. The student immediately made plans to apply her hair dryer to the soaked music. She has her driver's permit, and I don't doubt she and her mother were home in record time that night.

Today I received an email that she did indeed rescue all but two pieces and will bring Evanescence to her next lesson.

I hope I can report the same about my dishwasher that spewed soapy water all over my kitchen floor early Thursday morning. After fixing the disposal problem, my plumber said the dishwasher's gaskets are shot. Well, they are 14 years old!

Meanwhile, I'm washing dishes the old-fashioned way. I wonder if a hair-dryer could weave some magic here, LOL!

Below is a clickable of Amazing_CA's opening graphic:
Have a wonderful week, Clay Nation!

Caro
RELATED TAGS:
Clay Aiken
,
Spamalot
,
Broadway
,
American Idol 2 Rewind
,
Valentines
,
Official Fan Club
,
Clay Nation