FINAL CURTAIN - Amazing_CA's handsome graphic celebrates Clay Aiken's very successful run in "Spamalot." The singer takes his final bow Sunday night.
'Clayapalooza Weekend'
Spamalot, OMWH in Spotlight
"Clayapalooza Weekend" is off and running! With hundreds of his fans in the audience, Clay Aiken is performing the final four shows of his "Spamalot" run on Broadway Saturday and Sunday.

Then on Monday and Tuesday, with many of the same fans on hand, the New York City celebration will turn to the Big Apple's CD Release Party for the singer's new album, On My Way Here. Clay is slated to autograph CD's for 300 lucky fans at the Virgin Megastore.

Thousands more fans at home are connected to all the festivities via streams and telephone reports relayed to various CA message boards. The transition from Sir Robin to pop singer began a few nights ago when Clay's trademark striped socks slipped into his on stage wardrobe.
All weekend there will be many exciting posts transporting Clay fans via their computers to the Shubert Theater. Here are two I especially like:
Yaknelle

: The play was wonderful, and Clay is very comfortable on stage. He has filled out each of his characters. He has slowed his motions and words, taking time to enhance each with looks and motions. He commands the stage during his bottle dance and song. He actually breaks it into two parts, before the piano and after the piano. The cast is so brilliant, and I'm so fortunate to see this play.

I think today and tomorrow are going to be a blast until it's over, and then I think we're going to cry. Yep, were going to cry a lot.



ClaysFayevorite

: During the curtain call last night, Clay held up four fingers. This afternoon, he held up three. After tonight, he will have two more performances.

No contest with Hannah today. The King held his hand over Clay's head, and the applause sounded like thunder! Hannah just rolled her eyes and then looked down. When she looked up, she smiled at Clay as if to say, "I can't compete with that!"

We heard NJUs talking on their cell phones telling people how good the show was and how amazing the crowd was.



RockysMom

: The last time I was at "Spamalot," one of the ushers, knowing I was a regular, chatted with me a bit. She said that the staff had decided that if they worked there another 20 years - no matter what show, no matter what star - they would never forget when Clay Aiken and his fans were at the Shubert Theater.

Clay's Farewell to Spamalot
Screen caps from Zippy888's video
Clay Exits Broadway in Style
Clay Aiken has always known how to make an entrance. Sunday night he proved he also knows how to make an exit. We at home already knew that 118 floral arrangements had been delivered to the Shubert Theater. This summary is taken from many fan phone and stream recaps reported to CA message boards.


The cast let this be his night, and the curtain call was marvelous. When the king came out for his bow, he didn't take his stance, but instead immediately knelt down and held out his arm for Clay, who was given roses, Hannah blew him a kiss. Everyone in the theater was on their feet the entire time, and the applause went on forever. No one wanted to leave.

Approximately 1,000 people waited in Shubert Alley even though it was known there would be no stage door for the final show. Clay came out on the roof to acknowledge the fans, signed "thank you," along with waves and kisses. Before he left, he held up six fingers. An hour later, the excited crowd, reluctant to leave, was still in the alley.

Oldmoviegal: What a night! And tomorrow night at this time, we'll be counting down to the official release. I'll bet none of the people who review this CD have ever stood on top of a Broadway marquee while thousands cheer.
Thanks to jtgranny's video, here is a Sendspace download of Clay's farewell from the roof. Also, you can view a video at You Tube uploaded by kaakca. For a very special look back, see Yollie950's montage, Clay Aiken - Spamalot Scrapbook, at YouTube.
As the singer-actor celebrated the final curtain with friends and family, fans began lining up at New York's Virgin Megastore for the next chapter.
Bravo to Sir Robin! What a truly magical final bow!
PHOTO INTERLUDE: As a tribute to Clay's final bows at "Spamalot," this clickable interlude features visuals from the Shubert Theatre, as well as post performance stage door autograph sessions, one from this weekend. Artists include Amazing_CA, 1 and 5; Artz11, 2; Fountaindawg, 3; and Isdollylovesclay, 4.
Interviews, Flyers Spread Word
Brick and mortar store advertisements for OMWH plus a wealth of print and radio interviews with the articulate singer are spreading word of Clay's CD throughout media markets in North America. Scheduled TV appearances are included in the calendar below.
Aidin Vaziri's San Francisco Chronicle piece, POP QUIZ: Clay Aiken, appeared online Friday and is scheduled for this weekend's print news:

We realize that Clay Aiken is not everyone's favorite "American Idol" runner-up. But the 29-year-old North Carolina native is the only one who sells millions of records, stars in a major Broadway show, gets to sell stuff on QVC, runs a foundation for children with disabilities and inspires fans to make homemade T-shirts that read "Clay shakes my ovaries a thousand different ways."

This week, Aiken releases "On My Way Here," his first album of original material since his 2003 double-platinum debut, "Measure of a Man." We spoke to him by phone from New York a few days before he wrapped up his five-month stint in the Tony award-winning musical comedy "Spamalot."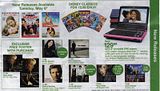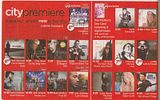 Clickable K-Mart, Circuit City flyers
Clay, OMWH in the News
From SheKnows, here is the lead for the insightful interview by Joel Amos, Clay Aiken gets personal:

Clay Aiken will be returning to the top spots of the album charts when "On My Way Here" is released May 6. That much is a certainty. The American Idol runner up is ready to get first new material to his fans since his 2003 debut, "Measure of a Man" went twice platinum.

In 2006, Aiken released "A Thousand Different Ways," a record of songs made famous by other people. "On My Way Here" allows Aiken to get his sound out to an audience that has been hungering for original Aiken in five years.

He walked off of the "American Idol" stage during its second season as its runner-up and set the standard for success outside the top spot on the Fox phenomenon.

One of the best interviews of the weekend has been Clay's 'On His Way' Back to Music on ABC Radio. You can listen at the site or download the interview with this Sendspace: ABC Radio.

LALATE 'eLATED' About Clay, OMWH

Sunday LALATE premiered its new celebrity news special, eLATED, with an episode about Clay and his new CD. Besides the article, you can view this video presentation at the site.


LALATE is eLATED about Clay Aiken and On My Way Here. OMWH is lyrically brilliant, timeless messages with amazing melodies.

LALATE highly recommends these tracts: "Something About Us," "Falling," "OMWH," and "The Real Me." All songs and bonus tracts are listed.


May Calendar
Ambassador of Love

DATES TO REMEMBER

May 6 Virgin Megastore (CD signing)
May 6 Satellite 30 Tour (media interviews)
May 7 Good Morning America (ABC)
May 8 The View (ABC)
TBD New York's CW 11 - Morning News
May 9 The Today Show (NBC, 10-11 a.m. EDT)
May 9 Nightline New York (ABC, 8 p.m. EDT)
May 12 Tonight Show with Jay Leno (NBC)
May 13 AOL Sessions Live (taping)
May 16 The Rachael Ray Show (ABC)
May 16 Jimmy Kimmel Live (ABC)
May 20 Late Late Show with Craig Ferguson (CBS)

Pre-Order Notes for OMWH

You can pre-order OMWH at several online websites or shop in stores on May 6. Most are in the $9.99 price range. The least expensive is Best Buy ($7.99 and free shipping), good for Sunday and Monday only. Below are a few stores/sites selling Clay's CD:

Amazon; WalMart (includes bonus track); Target; Circuit City; KMart/Sears (includes album credits, poster while supplies last); Best Buy (best price @ $7.99 and free shipping); Barnes&Noble (Mother's Day gift suggestion).

After making this survey of online sites, I plan to purchase my MIL's copy through Best Buy. Perfect for Mother's Day -- and I love the price!

Progressive Party Rocks On

Like the weekend's rollicking progressive celebration, this blog has been ongoing since May 3. One of the most recent updates is that AOL First Listen is featuring the complete OMWH CD.

Below is a clickable of Amazing_CA's opening graphic:

Grandson Kai is preparing for his trip to the East Coast. Sally caught him practicing his surfing skills in this clickable graphic.


Clay Nation -- here's to an awesome weekend celebrating the end of one chapter and the beginning of another!

Caro
RELATED TAGS: Clay Aiken, Spamalot, On My Way Here, Official Fan Club, Clay Nation