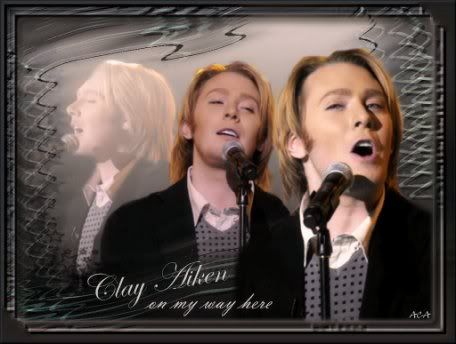 EAST TO WEST -- The initial East Coast leg complete, Clay Aiken's promotional appearances for his new CD, On My Way Here, this week have a decidedly western flavor.
OMWH Debuts with 94k!
Aiken Shines on Leno Show
NOTE: Many updated links, info added since original upload. This is Spring Recital Weekend and countdown to Kai. Thnx for stopping back by! -- Caro
The West Coast phase of On My Way Here Promo Week got off to a rip-roaring start on Monday's Tonight Show with the quick wits, genial personalities, and comedic timing of singer-actors Clay Aiken and Jack Black interacting at center stage.

At times, host Jay Leno just sat back and watched his guests hop from topic to topic. Turns out Jack is a Monty Python aficionado, and Clay talked about his recent run in the Broadway's "Spamalot," demonstrating his newly-acquired British accent. Clay and Jack even sit on one foot the same way.

Clay & Co. also performed a beautiful rendition of the album's lead single, "On My Way Here."

If you missed the show, downloads are available at
Clack Unlimited
. You can also watch Clay's interview and performance at
Rickey.org
.
WEST COAST CALENDAR

May 13

AOL Sessions Live (taping) - Will be active May 27.


May 13

OMWH Video Premiere (Yahoo Music)


May 14

Good Day LA - See interview here.


May 16

The Rachael Ray Show (ABC) - See Web Exclusives online, and download Clay on RR here.


May 16

Jimmy Kimmel Live (ABC) - Download the interview and OMWH/Ashes (partial) performance. The songs have been posted at the Music Kimmel Channel on YouTube, and the interview is here.

Fans everywhere have enjoyed the hot celebrity pictures from Pacific Coast News Online. One catchy caption: Clay is "on his way" to lunch ... with his iPhone.



OMWH Opens in Top 5




Father Maynard (Spamalot): "....and the number shall be THREE...not four and not two except if followed by THREE..."
First week sales numbers are in, and OMWH came in at #4 with 94,071 CD's sold. First reports from Hits Daily Double were 92,887 units and a #3 ranking. This marks the fourth consecutive CA album to debut in the Top 5.

LW TW artist / album label power index % change

-- 1 NEIL DIAMOND COLUMBIA 140,004 --
HOME BEFORE DARK
-- 2 TOBY KEITH UME/SHOW DOG 100,527 --
35 BIGGEST HITS
-- 3 CLAY AIKEN RCA/RMG 92,887 --

Credit goes to Clayniac2 of The Clayboard for tying the Father Maynard script to the CD sales chart. So Father Maynard's now famous lines about the number "three" almost pre-determined first week sales.

HDD #3, Soundscan #4, Internet #1

In Wednesday's Nielsen SoundScan tallies, Clay (94k) placed fourth behind Neil Diamond (146k), Toby Keith (103k), and Madonna (94k). See the story at Billboard Chart Alert. Only 100 CD's separated Clay and Madonna, per MTV Newsroom.

According to Billboard, Clay's OMWH opened as #1 at the Top Internet Album, followed by Neil Diamond, Josh Groban, Madonna, and Toby Keith.

MORE NUMBERS

: RCA Music Group released label tallies on Wednesday:
Clay Aiken's RCA Records/19 Recordings, ON MY WAY HERE debuts this week at #4 with 94,071 units sold this week, making this Aiken's fourth Top 5 debut. Released on May 6th, ON MY WAY HERE is Aiken's fourth album and his first album of original songs since his 2003 chart topping, double platinum debut Measure of a Man.

The title track and first single from the album "On My Way Here" debuted at #1 on the AOL streaming chart week of release, rocketed to #1 on the Amazon chart the week it was made available as a pre-release, and debuted at #1 on the Amazon download chart the day it was released.
For an excellent interview with Clay about past experiences and his advancing carrer, including the release of OMWH and recent Spamalot role, see Artist Direct:
Before a performance of the Broadway hit Spamalot, where Aiken stars as Sir Robin, we caught up with the double threat (he's a self-confessed terrible dancer) to talk about his new album and current Broadway experience.

In the course of our interview we found that Aiken is a straight-to-the-point, no-nonsense kind of guy, who knows what he wants and gets the job done.
PHOTO INTERLUDE

: Featured in this clickable interlude are six visual artists, including

Amazing_CA

, photo by

Robyn428

, 1;

MNmeesh

, photo by

ShineinNC

, 2;

Amazing_CA

, photo by

tsunamimommy

, 3;

MNmeesh

, photo by

ShineinNC

, 4; and

Amazing_CA

, photo by

Aiken4clayscrew

, 5.

About.com Awards CD 4/5 Stars



Bill Lamb of
About.com
has given OMWH an outstanding review, part of which is printed here. The entire article can be read at the site.

First, if you are a serious Clay Aiken fan, you will be very pleased with On My Way Here. The production throughout this album is wisely toned down to make plenty of room for Aiken's warm, sweet vocals. The songwriting, while not spectacular, is solid throughout.

Success in the mainstream pop arena can be a very enticing bauble for a pop singer to attempt to grab. However, adult contemporary fans and radio are more likely to embrace an artist over the long term with appreciation for a polished voice.

This is clearly Clay Aiken's comfort zone and from time to time on On My Way Here he soars. This is his niche in the pop music industry.

Top Tracks from On My Way Here: On My Way Here, Falling Weight of the World, Lover All Alone



Yahoo Music Spotlights Video

Yahoo Music this week featured a wonderful video of Clay recording "OMWH," complete with shots in the studio and older pictures as well.

The video can be embedded on websites, and the link emailed to people within your network. Sign in and rate the video, too.

OMWH Release of the Week

Pause and Play named OMWH the Release of the Week with this story:
A common criticism of "American Idol" finalists is that when they get into the recording studio, their talent is overshadowed by poor material selection and overproduction. There's not a hint of that on Aiken's first album of original material since 2003.

Just listen to the title track and you'll be asking too, "Why didn't he win Season 2?!" Check out: "On My Way Here," "Ashes," "Everything I Need," "Something About Us." Hear here.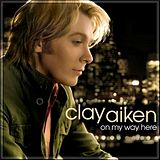 Photo by Eric Ogden
Enhanced by Sally
Fans Share OMWH 'Reviews'

Every day fans pass along Not.Just.Us reports of acquaintances who have discovered OMWH. These are from the Clayversity message board, as well as comments in the Carolina blog:

SANDY: As I was waiting for my husband to pick me up at the doctor's office, I was leafing through the OMWH playlist. A woman who was on her way out caught the cover and said to me, "Where did you get that? I cheered for him on American Idol and had no idea he has become this famous until I saw an ad the other day saying he was going to be on 'The View.' I just love his voice."

I told her all about Clay's new CD and that it is everywhere. She said she will definitely be buying it. Can you imagine the CD sales if Clay were to get radio play?

BAMINTX: My daughter plays bass guitar and sings background in a local rock band. She's always admired Clay's voice but has not been all that interested in his music ... until yesterday. Since it was Mother's Day, we spent the day together and were in the car quite a bit. We listened to the CD, and she loved it, especially the upbeat songs!

I'm still somewhat stunned. Naturally, I hoped she'd like it, but she actually wanted a copy. I gave her one of mine; and she EEEEEEEE'd! She couldn't wait to listen to it in her den with the speakers full blast. She said that "OMWH" is a really good song. To her, the album is very radio friendly.

SANDY: I just got an e-mail from a Clay fan who lives outside Ottawa. She is in her 70's but LOVES Clay. She wanted to let me know that her family got her an iPod for Mother's Day and her grandson had already uploaded all her Clay music into it. Now if that wasn't one of the best Mother's day gifts! She always says that Clay makes her feel better than any of the pills she takes.

CLAYBUTTONS: For Mother's Day, I gave a copy of OMWH to my adorable landlady, who is in her 30's. She loves Clay; but with a husband, a five-year old, and job, she has little time. She is also very active in her daughter's school and is a Girl Scout leader.

She came over tonight and told me she took OMWH to Teachers Appreciation Day and played it while they were eating. She was so happy because the CD was a huge hit, and all of the teachers were raving about it and said they will be buying it. None of them knew Clay had a new CD out, but they do now.
Let OMWH be heard - it sells itself!

Fans Explope New Viral Paths

Clay fans everywhere continue to share OMWH with their network of family and friends in person, via email, on the Internet (blogs, MySpace, Facebook, etc.). Three songs from the CD are currently streaming from Clay Aiken's My Space: "On My Way Here," "Everything I Don't Need," and "Ashes."

Clayversity's Yaknelle, whom I often quote on the "ins and outs" of viral marketing, offers these suggestions:
Gift the single to friends, to friends of friends, especially to young girls you know. You know young girls want to be in love, and he's looking good. Sales aren't the barometer of success for the artist, concert attendance is. Sales numbers make the label rich. Concerts make the artist rich.

I'd love to hear Clay on the radio, and I do think it will build slowly, but his physical appearance, humor and timing last night made him fans too. Spamalot made him concert fans. His music will make him fans. Kimmel and Ferguson will make him fans. Rachel Ray and Paula Dean will make him fans. You and I, for 99 cents can make him fans.
One of the best prices for multiple purchases of the full CD is
Tower Records
at $7.76 and free shipping for orders of $25 or more. Perhaps it's time for some early Christmas shopping!

Clay has been interviewed by AC/Hot AC radio from coast to coast, and many can be accessed on the station websites. Two excellent examples that have already aired are Casey's chat with Clay on
WHUD-FM
and Maureen McLain's interview at
WASH-FM
. This is
Clay's page
on the WASH-FM website.
WJZ-TV has posted its satellite interview, Coffee with Singer Clay Aiken, another viral tool to share.
'To Do' Calendar Overload
Next Wednesday grandson Kai, eight months old this weekend and pictured above in the Eeyore graphic by Claysmelody, will be on his way here. He and his mother will arrive three days after my students' spring recital to visit the Carolina relatives for an entire month.
Before this much-anticipated get-together, there are still paths to clear in my house and an important recital to coordinate. Do send good vibes this way on Sunday as our string students will open the concert with the Brandenburg Concerto No. 2 in F (not a favorite orchestra key) and close with a medley of Scottish and Irish fiddle tunes.
In between, 20 elementary through advanced students (piano, violin, viola, cello, flute, oboe) will perform solos and duets by some of the greats: Bach, Haydn, Mozart, Beethoven, Schumann, and Dvorak. One young pianist will present his own composition, "Song of the Sea."
Below is a clickable of Amazing_CA's opening graphic: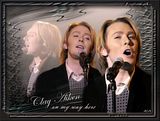 Have a wonderful weekend, Clay Nation ... and thnx for stopping by the Carolina corner!
Caro
RELATED TAGS:
Clay Aiken
,
On My Way Here
,
Tonight Show
,
Spamalot
,
Hits Daily Double
,
About.com
,
Yahoo Music
,
Pause and Play
,
viral marketing
,
radio interviews
,
spring recital
,
Official Fan Club
,
Clay Nation