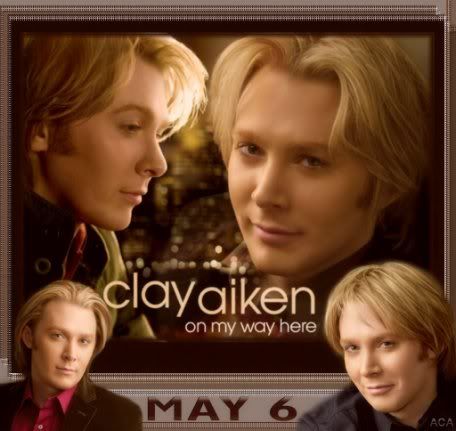 OMWH HERE - Amazing_CA incorporated four photos by Eric Ogden in her graphic honoring Clay Aiken's new CD, On My Way Here.
May Promos Fill Calendar

Aiken Fans Celebrate OMWH
From Clay Aiken's amazing "Spamalot" send-off Sunday night to the release of his incredible CD, On My Way Here, this week has been off the charts, filled with memorable moments and the long awaited strains of a beautiful eclectic collection of music.

As they watched countdown clocks proclaim Tuesday, May 6, finally here, many fans listened to AOL's sneak preview of album tracks. Release parties, iTunes downloads, and midnight runs to 24-hour stores began a Clay Cyberspace CD listening party that is still in high gear.
Even when met with shelves not yet stocked, CA fans have adeptly maneuvered most "minor" obstacles. In their quest for the new CD, many have assisted clerks locate albums still in shipment boxes, rearranged stock for a more prominent OMWH display, and continued sharing this exceptional album within their network of family and acquaintances.
This blog's second half spotlights fan reactions and some CD-buying/sharing experiences. The message of Cindilu2's banner at The Clayboard sums up the paramount sentiment for most: Thank you, Clay! We love it, and we love you!

Shipwreck: Clay's Musical Diversity Tops

Tony of Shipwreck Island Studios gave On My Way Here a rating of 4.85/5. The genre is adult contemporary/pop rock. Below are excerpts from his review:

Five years after Measure Of A Man, Clay showcases his growth as a musician as well as a person. From the catchy "Ashes" to the inspiring "As Long As Were Here", Aiken shares his diversity like no current musician. After every Clay release I find myself wondering what could he possibly do next to showcase his talent? Of course only he knows what is to come up next.

But with On My Way Here, he has hit another homerun. There's a great pallet of songs to choose from. There are of course the Clay Aiken pop rock tunes that music fans all know him for, then there are tunes that will shock even the most faithful "CA" fan.

If you like a broad range of material that covers different musical genres then it is a no brainer that you will appreciate this release. The one song that I feel will shock many "Everything I Don't Need", because it is "CA" outside the box. Clearly going the extra mile to try something different and frankly I think it worked out perfectly.

Overall Clay has done the impossible again, releasing a disc that has something for everyone. If you liked his previous releases it only makes sense to continue the trend and pick this one up. A fun filled adventure from start to finish in the way only "CA" can do it.
Tony listed 10 "best tracks":
On My Way Here, Ashes, Everything I Don't Need, Falling, Where I Draw the Line, The Real Me, Weight of the World, As Long As We're Here, Grace of God, Lover All Alone.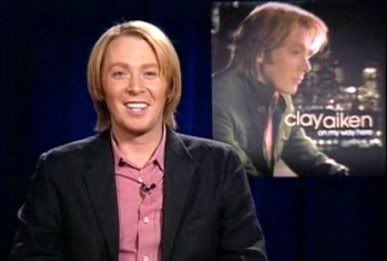 Clay talks about OMWH in WRAL Satellite spot.
Satellite Tour Launches Promos
The May promo blitz got underway bright and early Tuesday morning when Clay was interviewed by 30 Fox television morning shows throughout the US, many of which are linked at Claymatized. The new CD, "Spamalot," and Clay's views on this season's American Idol were prime topics.

In Birmingham, Clay talked about choosing the song "As Long as We're Here" during his UNICEF trip to Indonesia. With Linda Loveland of Raleigh's WRAL-TV, he identified Track 9 (ALAWH) as his favorite song on the album.
CravingClay recapped the Baltimore interview:
I just saw Clay on the Baltimore station. They showed some of the video of him in the studio recording OMWH. Clay talked about the songs on the album being connected, experiences everybody goes through.

The news lady told Clay he has a lot of fans in Baltimore. Since they've been advertising his spot on the show, their phones have been ringing off the hook. He said they always enjoy coming to Baltimore.

She said something about him using regular people in his videos. He said he couldn't use pretty people or he would be the ugly one in the video. She said, "Oh, pulease!" (He was looking particularly gorgeous).

She ended with, "Clay Aiken, you're just it ... you've got IT." Yes he does!
Another excellent online video interview is Clay Aiken's Life Lessons with Karen Brown of CBS.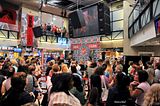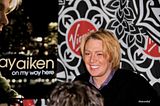 Virgin Megastore CD Signing - Photos by dancerdad
Fans Party at Virgin Megastore

Tuesday afternoon 300 fans celebrated the the arrival of OMWH with Clay at the Virgin Megastore and had their newly-purchased CD autographed. According to recaps and the above photos by

Dancerdad

, the main floor was packed with Clay fans while other shoppers watched from the balcony above.

Descending the store escalator, Clay was greeted by the cheers of his fans and a steady stream of paparazzi flashes. See
WENN
,
Getty Images
, and London Features Internaional for many more photos.

A compilation of the Virgin Megastore happening is shared by mee2u2

in this Sendspace download:
OMWH CD Signing
.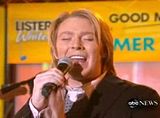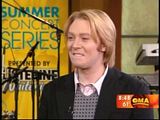 Clay performs at Good Morning America.
GMA Crew Welcomes Clay, Fans

For Wednesday's Good Morning America appearance, Clay was promoted as "the man with the golden voice that American can't resist." ABC certainly got that right at my house. Except for teaching lessons, I haven't been able to stop listening to OMWH since it dropped on Tuesday.
Clay warmed up the morning show crowd with "Invisible," talked about his run in Spamalot, Diane Sawyer's laryngitis problem ("too many rock concerts"), his new CD, Mother's Day, etc. As he and his backup musicians performed an abbreviated "OMWH", the ABC cameras spanned the Grand Canyon, the show's featured US wonder of the day.

Wednesday's GMA performance, including "Ashes" (Clay Aiken Performs New Song!) can be viewed here. You can download segments of GMA with OMWH and Invisible.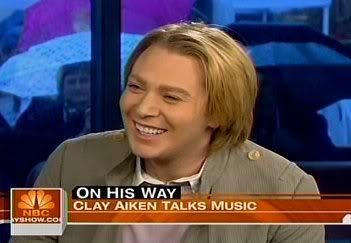 The above screen cap by

Pattilynn

links to a portion of Friday's TODAY Show interview at YouTube. The entire TODAY Show segment can be viewed
here
.

For a most fun read and video interview, see
Clay Aiken at Benihana
in Mo Rocca's Friday blog at AOL News.
The comments are right up there, too!
You can also see this interview on
YouTube
.
PHOTO INTERLUDE
: This clickable interlude features graphics by

Amazing_CA

, photos by

dancerdad

, 1, and 3;

Ambassador of Love

, 2;

Artz11

, 4; and

MNmeesh

, 5.
Fans Share Excitement for OMWH

Message board posts by CA fans exemplify the excitement, pride, and love for the singer's new album. Overall, these selections express the sheer joy of finally owning OMWH, some ingenious methods of sharing it with others, and the listening party circling the globe.
Dillonshane (posted at 2:09 a.m. May 6): EEEEEEEEEEEEEEEEEEEEEEE! Just got back from Walmart getting my OMWH with bonus! I asked a woman putting out movies, and she opened some boxes and found one for me. She then said she might need to go ahead a put more out.

Toni7babe: I listened to OMWH all day and so did my OR team! I played the CD in the operating room during our first two surgical cases. There were five people in the OR, not including the sleeping patient - and they loved it!!

"Ashes," "Falling," "The Real Me," and "Everything I Don't Need" were their favorites. One of the surgeons came up afterwards and said he was definitely picking up the CD. He said he never really heard Clay sing before but knew he was from a previous Idol season. He said he loved the CD and that the guy can really SING!!

Miscellaneous online comment: Is it OK to be a guy in college who plays football and likes this CD? Coz I am. "Weight of the World" (which sounds kind of like a U2 song), "Falling" which sounds NOTHING like "Invisible"), and "Ashes" (which just sounds freakin' good), are my picks to download.

anc: This afternoon I picked up two CD's, one for my mother and one for me. A nice older gentleman checked me out in the music area and instead of ringing up two, he accidentally rang up three. We talked about Clay while he was trying to correct the register.
Turns out the cashier was a fan when Clay was on Idol. He was having a hard time changing the ticket, so I decided to purchase another OMWH. After paying for them, I handed him the extra disk and said, "Enjoy the CD; it's terrific!" I was so excited I probably could have bought one for everyone in the store!

Cindilu2: I'm at work blasting this CD while the boss is out to lunch. Who needs food???? I'm stayin' in today!!!
Laughn: I went to K-Mart first thing and grabbed a couple copies. No poster yet, but the gal said they were expecting a shipment from UPS this morning and she would call me when they arrived. She said that sometimes happens, the CDs and posters getting out of sync.

She said they have a load of Mariah Carey posters that came in at the same time as the CDs but nobody wanted to take them. Then she looked at the OMWH ad in the flier with the poster picture, fingered it, and said, "But this one, umm, yeah ... people will want this."

As I was leaving she asked, "You wouldn't know of anyone who would want some Mariah Carey posters, would you?"

Ansamcw: This album is soooo Clay!!!

Yaknelle: Clay makes me want to laugh and dance in the aisle at the Newark airport. I'm sitting here waiting for my plane home and I am smiling. Happy, happy day. Clay's voice has no peer and, with earphones on, it soars!
CravingClay: My 16-year-old listened to OMWH last night. This morning she told me her favorite song was Falling and her next favorite was "Where I Draw the Line." "Falling" was playing in the car while I was driving her to school, and she already knew the words.

Liney23: Love this CD. It has depth and variety and message and... oh, the singer has a great voice!!!

Clayworthy (Singapore): A picture paints a thousand words. OMWH paints a thousand visions. I admire the work of the art which is crafted by Mr. Clay Aiken. OMWH has been a long walk, and he is making his way a step closer in reaching those milestones which will ultimately fulfill his goals and visions.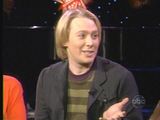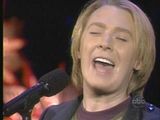 'The View' screen caps by ChaChaTrusty
Mark Your Calendar
May 8 The View (ABC)
May 8 Nightline 11:35 p.m. EDT (ABC) - See Nightline Playlist: Clay Aiken video.
May 9 The Today Show (NBC, 10-11 a.m. EDT)
May 9 Nightline New York (ABC, 8 p.m. EDT)
May 12 Tonight Show with Jay Leno (NBC)
May 13 AOL Sessions Live (taping)
May 16 The Rachael Ray Show (ABC)
May 16 Jimmy Kimmel Live (ABC)
May 20 Late Late Show with Craig Ferguson (CBS)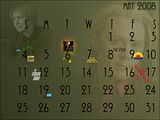 May Promo Calendar
Graphic by Cindilu2
When Clay is on TV, I can always count on hearing from Josie, my mother's cousin in eastern NC. Sure enough, sometime after Good Morning America had aired, I opened this email:

This is Wednesday morning at 8:30. I look a Good Morning America every morning, and today -- NOW! -- Clay Aiken is their guest. I hope you see him, too.
I need to let her know I did.
Below is a clickable of Amazing_CA's opening graphic: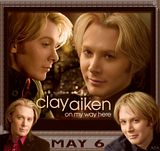 Have a wonderful CD Release Week, Clay Nation!

Caro

RELATED TAGS:

Clay Aiken, On My Way Here, Shipwreck Island Studios, Virgin Megastore, Good Morning America, Official Fan Club, Clay Nation