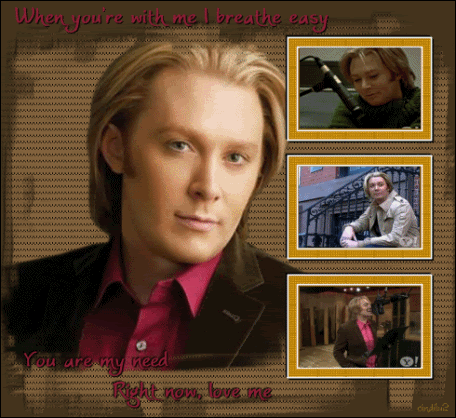 Animated design by Cindilu2 spotlights OMWH webisode promos.
OMWH Songs Run Gamut
AOL Session Surprises Viewers
When Clay Aiken took a much-deserved "couple" of days' rest, he left his fans a very special parting gift to tide them over until the possible fall tour -- a five-song live performance from his new CD, On My Way Here, airing now on AOL Sessions and surprising many new viewers with its variety.


SPAMALOT NETS 3 AWARDS! -- Congratulations to Clay, Hannah Waddington, and Spamalot for winning the 2008 Audience Awards for Best Replacement Male, Best Replacement Female, and Favorite Long-Running Broadway Show!

See Broadway.com for a complete list of theater fan favorites announced Friday. Winners will be honored at a private ceremony Monday.
Recorded in Los Angeles on May 13, the AOL concert-interview became active Tuesday and overnight vaulted to the 1-2 positions of Most Recent, Highest Rated, and Most Viewed videos on Sessions.
To link to Clay Aiken Sessions, click on the Joaquin Palting picture below. After each song, click on NEXT.
EIDN Leads Viewer Poll
Although "Ashes" leads in the number of views, the current poll on the right sidebar indicates the songs rank in popularity like this: "Everything I Don't Need," "Ashes," "Something About Us," "Where I Draw the Line," and "On My Way Here."

Besides the poll, the sidebar includes a 10-photo slide show of pictures by Palting and more about the album in "The Story":


Clay Aiken epitomizes what 'American Idol' is capable of. The former special-education teacher is now a multiplatinum recording artist, but he doesn't consider himself a musician. He is an entertainer, a role he is very comfortable with when he visits the AOL studios in Beverly Hills to perform songs from his new album, 'On My Way Here.'

A natural when the cameras are on, Aiken displays the inner ham he says has always been there. And that comfort has only been heightened during the five years between original albums by his role on Broadway in 'Spamalot' and multiple TV appearances, including variety shows like 'A Clay Aiken Christmas.' Following his performance, Aiken spoke with AOL about the new album, his growth in the past five years and his unashamed lack of musical expertise.
In the Q&A portion on the left sidebar, Clay answers four questions
about tour plans, how
OMWH
is different from his previous album, what he has learned during the process of creating this album, and the difference in performing theatrically as opposed to performing in concert
.
Special thanks to ClayIzzaQT

for these clickable

screen caps from the AOL Sessions videos:
Rock, R&B, Timeless Romantic

Below are links to specific songs and some of the comments viewers have posted:

Ashes: Listened to this song 10 times and really like it. Downloaded it from iTunes to put on my iPod. Who would have thought Clay could rock out? Lovin' these few songs, can't wait to hear the rest ... Great song! Can't wait for a tour! ... I like the beat of this song ... Love the song on the CD, love it more here, will love it even more live!

Everything I Don't Need: This is one of the sexiest songs I have ever heard! ... Great song, great singer! I'd like to hear more songs like this from him ... Thanks to Kipper for this amazing song. Clay's soft touch on this R&B song is perfection. This guy can sing ANYTHING!

Where I Draw the Line: This song gives me chills. His voice is haunting and encapsulates the melody beautifully ... I really like this song. Clay sings it with such feeling. This would be the perfect song for radio ... This has been one of my top favorites right from the snippets.

On My Way Here: I can see why this is the title track of the CD. The song just flows, and I love the lyrics ...I love Clay's voice on this song. He just soars. I love the meaning of this song, and I love Clay's emotion in the song. Great hook!

Something About Us: This song is so unbelievable that it takes my breath away. So romantic, so effortless when he sings it. A song that reminds me of the old standards like Frank Sinatra or Tony Bennett ... A timeless romantic song, and it showcases Mr. Aiken's voice superbly ... Sigh ...

Fans Help Create 'Buzz'

In addition to the AOL Sessions, savvy CA fans are streaming from a variety of sites. Daily routines generally include the song "On My Way Here" at AOL and the Yahoo video of the same song.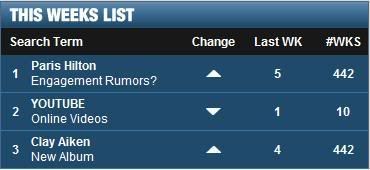 All the Interet activity helps create "buzz," and it's paying off. In his 442nd consecutive week on the list, Clay was #3 in the May 27 Lycos 50. The week's big story, of course, was the new American Idol, David Cook (#35).


The "Davids" duel is the first time two male contestants have competed on American Idol since Ruben Studdard beat out Clay Aiken in the show's second season in 2003.
PHOTO INTERLUDE: Featured graphics in this clickable interlude are by Amazing_CA, AOL Sessions screen caps, 1; Amazing_CA, photo by Aiken4Clayscrew, 2; and Artz11, 3.

An Entertainer at Heart
During the Sessions taping, Clay spoke briefly with
Popeater
. Here is an excerpt:


"I don't really consider myself a musician so much as I consider myself just an entertainer," says the man who finished second on 'American Idol,' sold millions of records and now stars in the hit Broadway musical 'Spamalot,' when he stopped by the AOL Studios for his Sessions taping.

Clay Aiken knows his place in the entertainment pantheon and he's just fine with it, thank you very much."

Montages Feature OMWH Songs

As previously reported, fans are advertising OMWH songs via montages. Among the latest are Falling featuring Dancing with the Stars contestants from various seasons by ChaChaTrusty; "Weight of the World" in IronMan HIS Perspective by 1agerard; The Real Me in Gerwhisp's wave videography from the coast of Portugal; and Yollie950's Legends accompanied by "Something About Us."

See the May 21 blog -- Montages Broadcast Aiken Tunes -- for others, which feature "On My Way Here," "Grace of God," "Something About Us," "Sacrificial Love," and "The Real Me."

Grandson Kai reminds everyone to help save the planet in the clickable photo above. He and his grandmother are having a blast getting to know each other.
Kai is most intrigued with my computer. So far he has been content to punch a few keys, but he definitely has his sights set on the bright blue on-off button at the back. He really wanted to help write this blog; and actually he did ... when he finally fell asleep, LOL!
Have a wonderful week, Clay Nation!
Caro
RELATED TAGS:
Clay Aiken
,
On My Way Here
,
AOL Sessions
,
Ashes
,
Everything I Don't Need
,
Where I Draw the Line
,
Something About Us
,
montages
,
Falling
,
Weight of the World
,
The Real Me
,
Popeater
,
Lycos50
,
Official Fan Club
,
Clay Nation