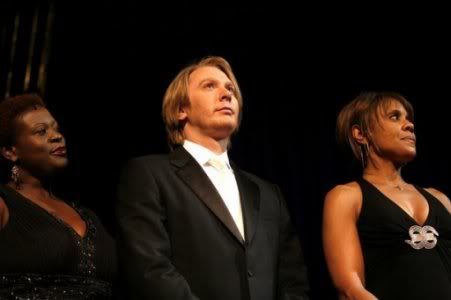 Clay Aiken at Ford's Theatre Gala in Washington Sunday. Photo by Gary Fabiano-Pool
'An American Celebration'
Clay Aiken Performs at Ford Gala
While grandson Kai and I played and tuned into his favorite shows on the Noggin Network, singer Clay Aiken was among several entertainers who performed at the Ford's Theatre Gala in Washington, DC, Sunday.

Tuesday the singer and former Spamalot co-star Hannah Waddington were honored as Best Replacement (Male) and Best Replacement (Female) at the 2008 Broadway.com Audience Awards luncheon. Spamalot was voted by theater fans as the Favorite Long-Running Broadway Show.

If we could've presented an honorable mention for Favorite Entrance of the Evening, the recipient would be Miss Hannah Waddingham. Winner of Favorite Replacement, the Spamalot vixen emerged from the elevator looking effortlessly glamorous with her platinum-blonde hair, basic-black dress and disarmingly bright grin.

"I'm thrilled to have won the only thing I'm eligible for!" Waddingham quipped. Then she displayed the trophy just above her ample bosom. "I'm proud of all my own work!"

Unfortunately, "An American Celebration at Ford's Theatre Gala" will not be televised on July 4 as first reported. Meanwhile, the scoop on Clay's Washington appearance is below.

Stars Perform for President at Gala

WASHINGTON -- Broadway came to the nation's capital Sunday night during a gala for the Ford's Theatre attended by President Bush and first lady Laura Bush.

That's the lead for the Associated Press story writen by Natasha T. Metzler. This is from Seattlepi.com.


Actor Hal Holbrook, country music singer Trisha Yearwood, former American Idol runner-up Clay Aiken and other stars performed songs and spoken word pieces from the musical "The Civil War" at the National Theatre, which hosted the event because the beneficiary theater is under renovation.

"Laura and I have been coming here now for eight years to the Ford Theatre gala and this is by far the best," Bush said after the performances. "It's such an uplifting performance and a reminder of what a great president Abraham Lincoln was."

The musical, which premiered in Houston in 1998 before opening on Broadway, follows the course of the war from multiple perspectives.

The spoken word selections invoked Frederick Douglass, Sojourner Truth and Lincoln among others. Holbrook read several selections.

Yearwood performed two numbers: "If I Should Lose My Way" and "The Honor of Your Name." Aiken sang "Sarah." Other performers included actor Avery Brooks, musician Larry Gatlin and author Maya Angelou.

Angelou was one of the evenings two recipients of Lincoln Medals. Actress Ruby Dee also was honored with a medal. Her daughter accepted it on her behalf.

"The Lincoln Medal brings Abraham Lincoln's legacy to life by recognizing his wisdom and vision in the work of today's leaders," the first lady said when introducing the recipients. "It honors those who through their accomplishments or personal attributes illuminate the character of our most beloved president."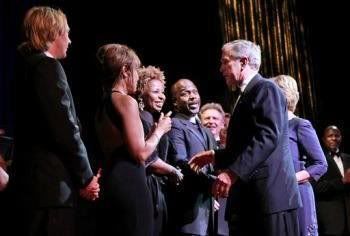 President and Mrs. Bush greet performers. Photo by Kimberlee Hewitt

You can listen to Clay's song, Sarah, performed on YouTube by Jeff Kready.

OMWH Songs, Videos Tops at AOL

Clay Aiken fans -- and obviously some from the Not.Just.Us. ranks -- have been streaming the singer's AOL Sessions performance videos and singles from On My Way Here. The five-song concert remains among the leaders in the most recent, most viewed and highest rated Sessions.

The Sessions tallies continue to climb. Below are 8 a.m. Tuesday and 5 p.m. Wednesday view totals:

Ashes: 65,428 and 72,334
Everything I Don't Need: 28,488 and 31,677
Where I Draw the Line: 21,098 and 23,106
On My Way Here: 26,456 and 29,532
Something About Us: 20,301 and 22,389

"On My Way Here" is #1 on AOL's Most Played Songs from all genres.

Also on page 1 of the song listing is "Ashes," with "The Real Me" on 2; "Everything I Don't Need" and "Falling" on 3; "Where I Draw the Line," "Something About Us," and "Sacrificial Love" on 4; "Lover All Alone," "As Long as We're Here," and "Weight of the World" on 5.

Other important streaming links include Clay Aiken's My Space (OMWH passed 100k plays on Tuesday) and Yahoo's OMWH video.

PHOTO INTERLUDE: In these clickable graphics, Amazing_CA highlights East and West Coast OMWH promo appearances, as well as Sunday night's Ford Gala performance. Photographers include Tsunamimommy, 1; Gary Fabiano-Pool, 2; and the Pacific Coast News Online crew, 3.



Clay #1 Search on Lycos 50

Clay is not only #1 on the Lycos 50 listing this week (his 443rd!), but he is also a member of the second tier of the Lycos Elite, having appeared for over 100 weeks. Also in that group are Naruto, Pokemon, Paris Hilton, Poker, Trish Stratus, Apple, and Carmen Electra.

The top tier includes those who have been ranked since 1999: Pamela Anderson, currently #5; Dragonball, #42 this week; and Britney Spears, #14.

Grandson Notches Fist of Firsts

The list began with Kai's initial plane trip across country 10 days ago. Since then, my eight-month-old grandson has experienced a string of "firsts" -- getting to know a gang of Carolina relatives, eating at a Japanese restaurant, "playing" the piano, and soaring through the air on an outdoor swing set.

Tuesday he is off to a strawberry patch with his new cousins and their mothers.



Favorites among our morning TV shows are Diego, Wonder Pets, Mickey Mouse, and Backyardigans. While music students take a little breather, Grandma Caro checks in for playtime "duty" several times a day.



Have an awesome week, Clay Nation!

Caro

RELATED TAGS: Clay Aiken, On My Way Here, Ford Theatre Gala, Clay Aiken, Official Fan Club, Clay Nation