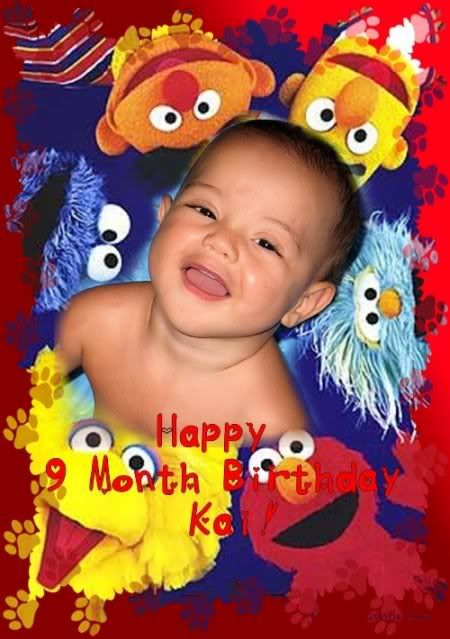 Kai marks nine months with Sesame gang. Graphic by Claysmelody.
'Our Kind of Love'
Kai Celebrates Nine Months
Today -- June 17 -- is Kai's nine-month birthday! We will have to party later because his grandmother has some kind of pesky bug and can't even be around the little guy.

Hopefully, the chills, fever, and sore throat that have hung around for 24 hours, are on the way out because I think we are both experiencing Noggin Network withdrawal, not to mention our Kai-Grandma Caro playtimes. The weekend will be filled with family gatherings, and Kai will be baptized by his uncle, a Methodist minister, Sunday.

Special thanks to Claysmelody for the handsome birthday graphic. I showed it to him on the computer screen, and he beamed his approval.
If you haven't seen

K4Clay2

's montage "Our Kind of Love" (from "The Beautiful Game") sung by Hannah Waddingham, you are in luck. Here is the
YouTube
link, and here is a Sendspace
download
. The images are Clay Aiken, and the exquisite vocals are by his former Spamalot co-star.



PHOTO INTERLUDE

: Featued clickable graphics are by

Fountaindawg

, photos by

SecretlyLovesClay

, 1 and 5, and Amazing_CA

, 2, 3, and 4.




Have a wonderful week, Clay Nation -- and stay away from bugs!

Caro

RELATED TAGS: Clay Aiken, On My Way Here, Hannah Waddington, Our Kind of Love, grandson, Official Fan Club, Clay Nation