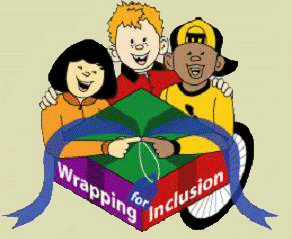 Holiday TBAF Fundraiser

Aiken Fans Wrap for Inclusion

Traditional holiday music, colorful decorations, and bustling shoppers completing gift lists herald the arrival of another season of Wrapping for Inclusion, cornerstone fundraiser for The Bubel Aiken Foundation.

Dual goals for the 2009 WFI campaign are raising $120,000 in funds along with awareness for the foundation's inclusive projects. Organized in 2003 by singer Clay Aiken and Diane Bubel, TBAF supports grants and variety of programs for inclusion, among which are Let's ALL Play Summer Camps in several states.
Since its inception five years ago, the holiday fundraiser has come a long way. A quick glance at the WFI page on the Bubel/Aiken website reveals just how well-organized this volunteer project has become in a few seasons.

In addition to an online WFI manual, there are confirmed wrapping locations in several states, complete with team leaders and contact information. New wrapping stations and leaders are being added daily.

TBAF Fundraisers Run Gamut

A complete listing of approved fundraisers includes projects sponsored by Beta Alpha chapters in the United States and Canada, many of which are ongoing and others based on the holidays as well as Clay's upcoming birthday.
Links and/or email addresses direct participants and shoppers to such varied events as Scrapping 4 Inclusion, Beta Alpha Cookbooks, Charming 4 Inclusion, Holiday Cards 4 Inclusion, as well as TBAF bumper stickers, tote bags, water bottles, to name a few.

Deck the Halls with Christmas wreaths!
Deck the Halls 4 Inclusion
, a holiday fundraiser sponsored by Triad Voices for Inclusion in conjunction with Rockdale Wreaths of Maine, offers beautiful handmade, natural decorations. Individual and bulk orders shipped to one address benefit the foundation with donations and save the shopper accordingly.

Deadline for wreath orders is Monday, Nov. 17. Information and photos of the five available wreaths are available at the Triad site. Two wreaths are pictured above.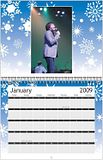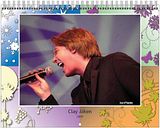 Clickables of January and cover
Rosaratana, CA fan who previously sponsored a very successful TBAF Embroidered Socks project, has compiled a 2009 calendar of performance photos by Toni7babe. Proceeds from the calendars will go to TBAF.

The 8.5" x 11" photo calendars are being printed on premium glossy card stock and will be available for shipping in one week. The $20 fee will cover printing, shipping, and a TBAF donation.

To order the calendar, contact Rosa Shurtz: rosash@comcast.net. Those using Paypal should add $1. International inquiries should be sent to the designer at the above email address. Cost for Canadian residents is US $25.
Deadline for calendar orders is Monday, Nov. 24, with projected shipment the following week.
In three short steps, online shoppers can complete their holiday lists and earn money for TBAF at the same time. First, login to GoodShop, select Bubel Aiken Foundation as your charity, and shop at the hundreds of available stores. Up to 30% of your purchases will go to TBAF.

Just about any merchandise you need is available in the 37 categories. Some of the businesses in the "most popular" listing are Amazon, Best Buy, Gap, Home Depot, L.L. Bean, Macy's, Old Navy, Office Depot, Target, Toys R Us, and Wal-Mart.



During 2008, TBAF supporters have raised $2,590.58 through GoodSearch ($2,218.34) and GoodShop ($372.24). To earn donations with Internet searches, sign into

GoodSearch and set TBAF as your charity.

Both GoodShop and GoodSearch make lots of "cents" and provide a way for all to contribute.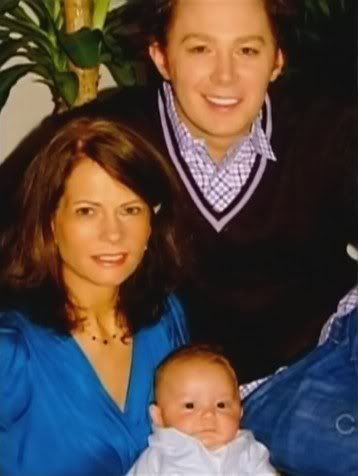 Jaymes, Clay, and son Parker Foster Aiken
Screen cap by claylove
Parker 'Appears' on Dr. Phil

Legendary music producer David Foster, uncle to the three-month old son of Clay and Jaymes, appeared on the Dr. Phil Show Wednesday, sharing stories about his family, successful career, and new book, Hitman.


"You have a sister, Jaymes," Dr. Phil said to David. "And she and Clay Aiken had a baby together named Parker."

Dr. Phil shows a photo of Jaymes and pop singer Clay Aiken with their child.

"Isn't that great? They took that picture yesterday, just for this show, and you know, Jaymes was married for 20-odd years and never had any children, always felt that she wanted to, and they found a beautiful way to be a family. And it's no secret what's going on with the three of them, but they're going to be great parents together, and it's a great thing," David said.

Parker's segment on the Dr. Phil Show
This is a Sendspace of Uncle David's appearance with Dr. Phil. For more, see the Dr. Phil website.
Clay Set for Thanksgiving Day Parade
According to The Futon Critic, Wednesday's CBS "Very Merry Yuletide" programming press release announced that Clay will be a guest on the network's Thanksgiving Day Parade broadcast:
Thursday, Nov. 27 (9:00 AM-Noon, Live ET 8:00-11:00AM, live CT 7:00-10:00 AM, live MT 1:00-4:00 PM, delayed PT) THE THANKSGIVING DAY PARADE ON CBS--Dave Price and Maggie Rodriguez of CBS News' "The Early Show" host this CBS Thanksgiving tradition which features the 82nd annual Macy's Thanksgiving Day Parade live from New York.

Also featured are performances by country music duo Sugarland and the Broadway casts of "Mary Poppins" and "Grease." Guests include Clay Aiken and CBS Daytime drama stars Jessica Leccia ("Guiding Light") and Julie Pinson ("As the World Turns").
Playbill and Broadway World also have press releases about the Nov. 27 event.
Mark your calendar -- and have a great week, Clay Nation!

Caro

TECHNORATI TAGS: Clay Aiken, On My Way Here, Monty Python's Spamalot, The Bubel/Aiken Foundation, Wrapping for Inclusion, approved fundraisers, Deck the Halls 4 Inclusion, 2009 Calendar, GoodShop, GoodSearch, David Foster, Dr. Phil Show, Jaymes Foster, Parker Foster Aiken, CBS Thanksgiving Day Parade, Official Fan Club, Clay Nation