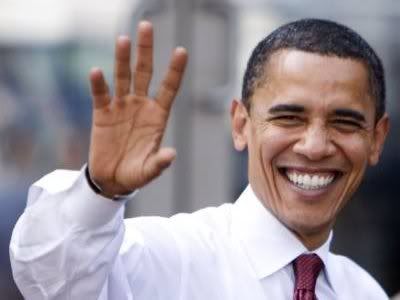 Barack Obama campaigns for the presidency.
Historical Election
Americans Celebrate Democracy

Tracking polls, traditional model, expanded model, registered voters, likely voters, undecided voters, independents, phonebankers, GOTV, ground game, unprecedented early voting, red states, blue states, battleground, swing, toss-up, robocalls -- we "political junkies" will be retiring a huge chunk of our vocabulary after Tuesday's elections.

Destined for an historical first -- either an African-American president or a female vice-president -- the 2008 US elections have for months monopolized headlines, conversations, my laptop's normally "all Clay Aiken" trays.
The political phenomenon of choosing new national, state, and local leaders has literally taken over television, print media, the Internet, billboards, yard signs, car decals, even my front door!

Ground Game Comes to Class
During a violin lesson Wednesday, the Obama ground game literally bounded into my living room in the form of a very enthusiastic canvasser. After asking two music moms about my yard sign, "Ms. Ground Game" determined that the homeowner was in the living room.
And in she came to leave some campaign info. For sure, an unusual interruption; but later that night I was very excited to inform my Democratic friends in other states that an organized ground game is alive and well in North Carolina.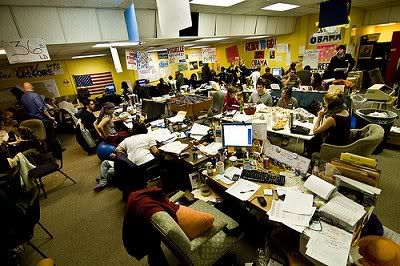 Getting out the vote!
Early Voting Breaks Records

In my state, 3/4 of the total number of citizens voting in 2004 have participated in this season's early polls. As in the 31 other early voting states, many stood in line for hours and hours. Driving home from my teaching gig on Oct. 24, I fortunately was able to vote in 15 minutes. Halloween night I took the same route home, and the polling lines at the town hall were unbelievably long.

The presidential and vice-presidential candidates -- Democrats Barack Obama and Joe Biden and Republicans John McCain and Sarah Palin -- have spent months making their case for change.
For all the junkies about to enter "election withdrawal" with me, 23/6 has provided a very entertaining Presidential Campaign in a Minute. It's a trip -- you betcha!
On a serious note, here are two excellent articles:
The World Hopes for Its First President
from Newsweek and Eugene Robinson's Op-Ed column,
A New Kind of Pride
, in the Washington-Post.
In May, AshFoals created a moving montage Obama for Change - Grace of God, set to a cut from Clay Aiken's On My Way Here album. The images and message could apply to either party, but that's why we vote.

Obama for Change - Grace of God
To learn more about the Democratic and Republican candidates, check out their websites: Barack Obama and John McCain. Other Clay Blogs marking the US elections include The ConCLAYve: Barack Obama and the American Dream and WebWeaver's World: One day to go... .

No matter who you support, it's almost time for regular TV programming, a new set of buzz words ... and Carolina Blue basketball!

Have an awesome week, Clay Nation, as we Americans celebrate democracy and change!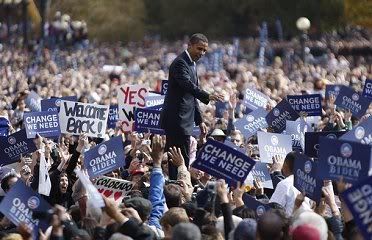 Caro
TECHNORATI TAGS: US elections, Barack Obama, Joe Biden, John McCain, Sarah Palin, change, ground game, montage, Grace of God, Clay Aiken, On My Way Here, Official Fan Club, Clay Nation