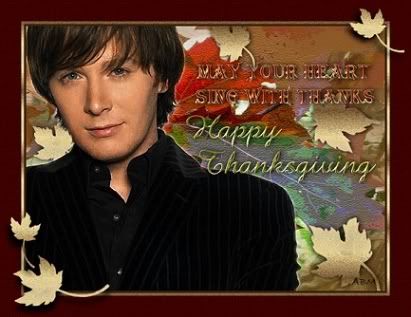 SECOND STANZA -- ABeautifulMind's handsome Clay Aiken graphic extends Thanksgiving greetings, celebrating the second verse of a trio of holidays exemplified in "Merry Thanksgivoween."
Merry Thanksgivoween!
Holiday Commemorations Merge

Due to their proximity on the calendar and the influence of commercial activity, Halloween, Thanksgiving, and Christmas celebrations have so effectively merged that the appropriate greeting for the season could very well be "Merry Thanksgivoween," as depicted in this clickable classic cartoon by Mike Thompson of the Detroit Free Press.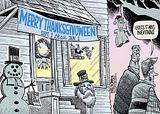 The spooks of Halloween have come and gone, Thanksgiving is still a week away, while from Schenectady to Spokane, Pensacola to Phoenix, radio stations with AC, Hot AC, CCM/Gospel, Oldies, and Smooth Jazz formats have for weeks greeted the "Merry Thanksgivoween" holiday season's third stanza with favorite Clay Aiken Christmas carols.

A virtual stroll through most CA message boards yields not only the latest Spamalot performance news but also updated locations of radio spins for the singer's Christmas repertoire.

View Moonhead's current compilation of Stations Playing Christmas Songs at The Ideal Idol. In various parts of the country, "O Holy Night," "The First Noel," "Don't Save It All for Christmas Day," "Merry Christmas with Love," and "Winter Wonderland" once again are sounding a joyful noise over the airwaves.
Another "hangout" for CA fans this holiday season has been Yes.com. It's the place to be to greet new spins, discuss radio play, and view Christmas videos. Register and join the fun!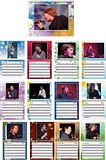 Calendar Raises Record Funds
Deadline to secure the 2009 Clay Aiken Calendar of performance photos by toni7babe is Monday, Nov. 24; and already orders have surpassed the original goal of the designer, CA fan Rosaratana.

To date, fans have requested 80 calendars, new inquiries are still arriving, and Rosa has augmented the print number twice. Proceeds from the calendar will benefit The Bubel/Aiken Foundation, although the use of Clay's image prevents the project from being on the list of approved TBAF fundraisers.

Shipping has already begun on the 8.5" x 11" photo calendars, which are printed on premium glossy card stock. The $20 cost covers printing and shipping fees, as well as a TBAF donation.

To order a calendar, contact Rosa Shurtz: rosash@comcast.net. Those using Paypal should add $1. International inquiries should be sent to the designer at the above email address. Cost for Canadian residents is US $25.
Any extra calendars after the deadline will be auctioned on eBay with proceeds going to TBAF.
PHOTO INTERLUDE: These clickables highlight the 2007 Christmas in the Heartland Tour. Included are Amazing_CA's graphic, photos by Riversend, 1; concert photos by Five Goldens, 2, and Invisible926, 3; graphic by cindilu2, photos by toni7babe, 4; and ACA's graphic, photos by ClayIzzaQT, 5.
Holiday Tours Replay in Clay Cyber

With Clay's Spamalot gig superceding a 2008 edition of his popular Joyful Noise and Heartland tours of 2004-07, Internet fans frequently simulate Cyberspace rewinds of the singer's holiday concerts with online clack-sharing sessions of photos, videos, and montages.
Last year, SueReu created this montage to the beautiful My Grown Up Christmas List.


My Grown Up Christmas List montage by SueReu
Christmas Albums Fan Favorites
Nucleus of past seasonal tours were songs from Clay's holiday albums, Merry Christmas with Love and All Is Well.

Released in mid-November 2004, MCWL has to date sold 1.4 million copies in the US and two million worldwide. Certified platinum and recognized by Billboard as the Best Selling Christmas Album of 2004 and the Best Selling Christian Album in 2005, the popular CD features classic carols, as well as some of the singer's personal favorites, including "Don't Save It All for Christmas Day" and "Mary, Did You Know?"
Availability is sporadic in brick and mortar stores, but MCWL can be purchased at several online sites.
A Walmart exclusive in November 2006, the four-track AIW was made available on iTunes in December 2007.

YouTube hosts countless montages set to the EP's four songs, especially the title track. Other songs include "Christmas Waltz," "O Come O Come Emanuel," and "My Grown-Up Christmas List." Below is Aspiegirl's All Is Well montage:

All Is Well montage by Aspiegirl
On the home front, today marks my students' first violin-viola group class for Fall 2009. If you happen by my street between 3:30 and 4:45, you will hear a mixture of classical solos, fiddle tunes, and three-part Christmas carols, all of which will sound even better in December.

Have a great weekend ... and Merry Thanksgivoween, Clay Nation!

Caro
TECHNORATI TAGS:
Clay Aiken
,
On My Way Here
,
Monty Python's Spamalot
,
Merry Thanksgivoween
,
Mike Thompson
,
Christmas carols
,
radio play
,
Yes.com
,
2009 Clay Aiken Calendar
,
The Bubel/Aiken Foundation
,
Joyful Noise Tour
,
Christmas in the Heartland Tour
,
montage
,
Merry Christmas With Love
,
My Grown Up Christmas List
,
All Is Well
,
Official Fan Club
,
Clay Nation