Ceremonies
of Tribute

America Remembers Veterans
A Veteran - whether active duty, retired, national guard or reserve - is someone who, at one point in their life, wrote a check made payable to "The United States of America," for an amount of "up to and including my life."

- Author Unknown
With commemorative ceremonies, speeches, parades, and traditional laying of wreaths, America today honors all men and women who have served in this country's armed services.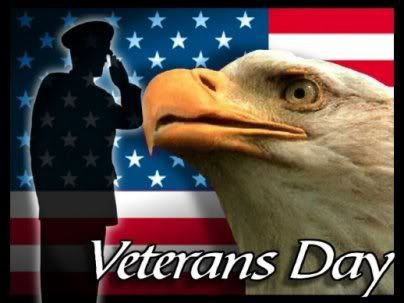 90th Anniversary of Armistice Day
In 1919, then President Woodrow Wilson proclaimed November 11 as the first commemoration of Armistice Day, the end of World War I:
"To us in America, the reflections of Armistice Day will be filled with solemn pride in the heroism of those who died in the country's service and with gratitude for the victory, both because of the thing from which it has freed us and because of the opportunity it has given America to show her sympathy with peace and justice in the councils of the nations…"
Armistice Day -- also celebrated as Remembrance Day and Poppy Day in other Allied countries -- took effect on the eleventh hour of the eleventh day of the eleventh month in 1918.
The United States first recognized Nov. 11 as a day to honor veterans in 1938, the 20th anniversary of the official end of World War I. A movement arose in the aftermath of World War II and the Korean War to expand the holiday to honor all veterans instead of only those from the first world war.
In 1954, President Dwight D. Eisenhower, himself a distinguished World War II veteran, signed a document to rename Armistice Day to Veterans Day. Except for seven years during the Vietnam War, when the holiday was observed on the last Monday of November, it has been observed on Nov. 11.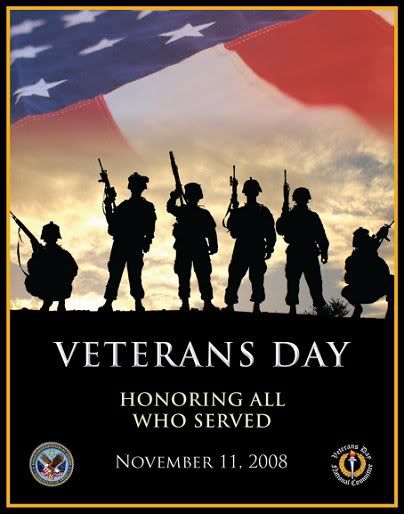 Honoring All Who Served
P
resident Ronald Reagan spoke these words on another Veterans Day:
I

t is, in a way, an odd thing to honor those who died in defense of our country, in defense of us, in wars afar away.

The imagination plays a trick. We see these soldiers in our mind as old and wise. We see them as something like the Founding Fathers, grave and gray-haired.

But most of them were boys when they died, and they gave up two lives, the one they were living and the one they would have lived.

When they died, they gave up their chance to be husbands and fathers and grandfathers and veterans. They gave up their chance to be revered old men. They gave up everything for our country, for us. And all we can do is remember.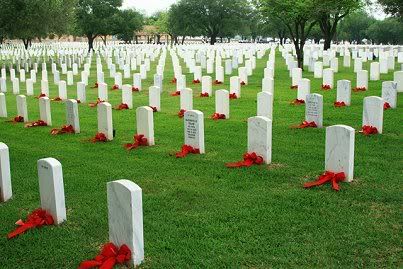 Courage, Honor, Sacrifice ... Forget Them Not
Red Ribbons Mark Sacrifice
SAN ANTONIO, TX -- The Red Ribbon Corps was established with a goal of collecting enough funds to supply 100,000 ribbons for placement on markers at the Fort Sam Houston National Cemetery in time for Veterans Day 2008.

The Red Ribbon Corps is a non-profit organization.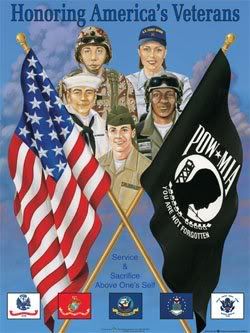 One America
Leaders Pay Tribute to Veterans
Today President George W. Bush formally rededicated the Intrepid Air, Sea & Space Museum in a Veterans Day ceremony in New York City while Vice-President Dick Cheney laid a wreath at the Tomb of the Unknowns at Arlington National Cemetery.
In his speech, Cheney saluted this country's last surviving veteran of World War I, Frank Buckles, 107 years old and living in Charleston, WV.

At a bronze memorial at Chicago's Solider's Field, President-elect Barack Obama laid a wreath to honor the nation's fallen veterans. He was accompanied by Tammy Duckworth, the Director of the Illinois Department of Veterans Affairs and a veteran of the Iraq war whose service cost her both of her legs.
Vice President-elect Joe Biden was the main speaker at his home state's annual Veteran's Day Ceremony in New Castle, sponsored by Delaware Commission of Veterans Affairs and the Korean War Veterans Association.

Clay Aiken's performance of God Bless the USA at the 2004 Capitol Fourth is also fitting for this patriotic day in November.

God Bless the U.S.A.
Clay Aiken performs at 2004 Capitol 4th.
Thank you to veterans past and present. God Bless the USA!
Caro
TECHNORATI TAGS:
veterans
,
Veterans Day
,
Armistice Day
,
Woodrow Wilson
,
Dwight D. Eisenhower
,
Red Ribbon Corps
,
Frank Buckles
,
Clay Aiken
,
God Bless the USA