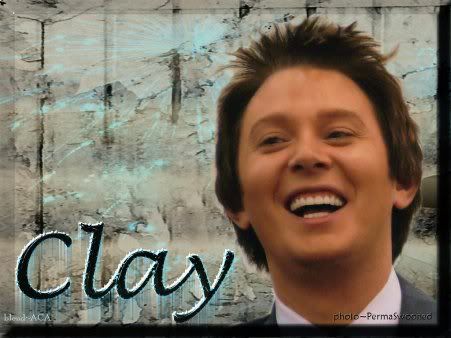 Graphic by Amazing_CA, photo by PermaSwooned
Fans Celebrate, Set DVRs
Week Yields Aiken Appearances
Between Thursday's traditional turkey and pumpkin pie courses, Clay Aiken fans will be giving thanks for the opportunity to see their favorite singer in TV appearances this week, Macy's Thanksgiving Day Parade on CBS and "Rosie Live" on NBC the night before.

TheaterMania is currently featuring a story about the annual event: Clay Aiken to Appear in CBS' Thanksgiving Day Parade Broadcast:

Clay Aiken currently performing in the Broadway production of Monty Python's Spamalot, will participate in the CBS Broadcast of the Macy's Thanksgiving Day Parade, to be anchored live from Times Square by The Early Show's Dave Price and Maggie Rodriguez, on Thursday November 27, beginning at 9 a.m.

The broadcast will also feature the casts of Mary Poppins and Grease, a performance by country music duo Sugarland, live reporting from actor Patrick Warburton, and conversations with daytime actors Jessica Leccia and Julie Pinson.

Aiken was a semi-finalist on FOX's American Idol and is one of the country's most popular recording and concert artists.
Clay will be among the A-list guests lending star wattage to Rosie O'Donnell's upcoming variety special,
Rosie Live
, to be telecast on NBC a 8 p.m. ET Wednesday live from New York's Little Shubert Theatre.

Other guest performers include Harry Connick Jr., Liza Minnelli, recording artists Ne-Yo and Alanis Morissette, comedienne Kathy Griffin, and '30 Rock" stars Jane Krakowski and Alec Baldwin.
O'Donnell will bring back the grand tradition of the variety show format to television, like such iconic series as "The Carol Burnett Show" and "The Ed Sullivan Show," while including brand-new elements for a new generation of fans.

The special will feature a topical monologue, musical production numbers and hilarious comedy sketches.
To view a preview of the variety show, see this story and video at Hollywood Scoop.

Clay Praises Charity, Variety Show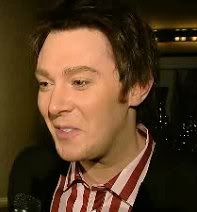 Gala screen cap by Cotton

Entertainment Tonight covered Rosa's benefit gala, Building Dreams for Kids, Monday at The Marriott Marquis. In the video, Clay praised Rosie's new variety show and discussed plans for son Parker's first Christmas.


ET was in Manhattan for a benefit gala with Rosie O'Donnell and some of her celebrity pals including; Clay Aiken, Jane Fonda, and Rachael Ray.

Rosie's pal Clay Aiken expressed his support for Rosie's show: "I think that really we're in a place in our country now where people need some excitement and some family fun and something to watch together to cheer them up," Clay says. "And I think there's no better person to do that than Rosie."

The "American Idol" alum also tells ET about his new son, saying, "He's doing well -- we're looking forward to our first Christmas together."

"Rosie's Gala, Building Dreams for Kids" will benefit children nation-wide from low-income families and will provide free musical theater programs to New York City's neediest public school students.
For more of Clay talking about Rosie's variety show and being a dad, link to this Access Hollywood video. Broadway World has posted a story on Rosie's Gala with several photos of Clay. Gala photos can also be viewed at Filmmagic.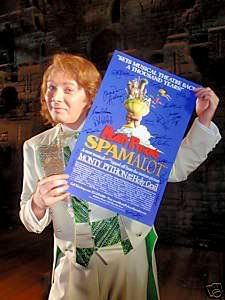 Personalized Poster, Playbill on eBay

Spamalot is pulling out all the stops for the current Broadway Cares/Equity Fights AIDS campaign. Two new Clay Aiken signed items -- a personalized 14" x 22" window card/poster and playbill -- were posted for bid on eBay Monday.

The spiel on eBay goes like this:


[Both items] came directly from the current cast at the Shubert Theatre on Broadway where new knights nightly continue to play to SRO audiences. The bonus is that this poster has only been signed by one of the most popular of the new Knights, American Idol star Clay Aiken who is recurring his role of Sir Robin, orginated by David Hyde Pierce.

Up for bid through 11:30 a.m. PST Monday, Dec. 1, both the poster and the playbill will contain only Clay's personalized signature for the winners. Happy bidding!

PHOTO INTERLUDE: Featured in this clickable collection are graphics by Amazing_CA, 1; cindilu2, 2; and Amazing_CA, photos by SmartyPantsSuz.



A Touch Pad on Wheels!

This week I am painfully attempting to learn Vista and accustom myself to a touch pad on wheels. Setting up a new laptop and writing its first blog entry have been a wild trip, to say the least.

My two-year resume with a touch pad computer aside, these have been the strangest three days of my Internet life -- highlighting gone awry, pages scooting across the screen at will, whizzing into new websites at will! Just looking at a block of type sometimes sends it into a tailspin. I wonder who's driving this train, LOL!

The new Toshiba Satellite arrived with many pluses, none the least of which are the speedy Intel core duo processor, 3 gigs of RAM, tons of storage, but no AOL, where I have long used "mail waiting to be sent" as my platform for storing info and composing blogs.

Techie Friend Provides Support

As she has long warned me of the evils of AOL, my good friend-computer guru Sally is celebrating Toshiba's obvious diss of the Internet giant. My frantic phone calls have leveled off somewhat since set-up began, but I have been reminded several times how hard-headed I am. Only Sally can get away with that, as she really could add "tech support" to her resume.

The blog-writing seems to have found a home in Gmail documents, but the confrontations with the touch pad continue. I have learned to "stomp" my finger and stop the crazy excursions across the screen.

Sunday night I bravely placed an online order, and nerve is building to resume paying bills online. I am determined to win this evolving battle with a mere machine.

However, my friendly guru has already emailed me a link for a cordless laser mouse.

Below is a clickable of Amazing_CA 's opening graphic: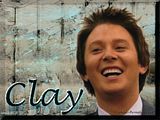 Have a very special Thanksgiving Week, Clay Nation!
Caro
TECHNORATI TAGS:
Clay Aiken
,
On My Way Here
,
Monty Python's Spamalot
,
Macy's Thanksgiving Day Parade
,
Rosie Live
,
Building Dreams for Kids
,
Rosie's Gala
,
Filmmagic
,
Broadway Cares/Equity Fights AIDS
,
personalized+poster
,
personalized playbill
,
new laptop
,
touch pad
,
Official Fan Club
,
Clay Nation