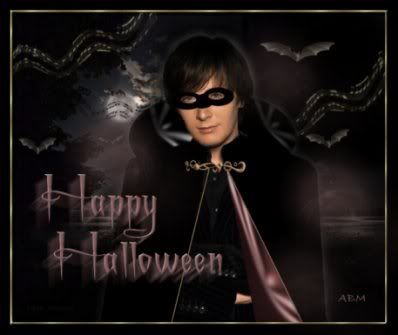 VINTAGE CLAY -- Bats and musical notation accompany "Count Clay" in this handsome Halloween graphic by ABeautifulMind, who also created the greeting at the end of this blog.
Halloween Greetings

Goblins Invade Clay Cyberspace
A brief tour of Clay Aiken blogs and fan websites reveals that ghosts and goblins are this Halloween Weekend possessing the Internet landscape as well as real life terrains.

The same talented graphic artists who treat fans to handsome designs year round have taken the lead in decorating Clay Cyberspace for Halloween 2008. Seasonal decor in Clay Land features creative banners, avatars, as well as graphic designs.
In my circle, music students have tried their hand at creating spooky compositions for their instrument. An excellent season for special effects, high tremolos abound in songs by violinists while pianists have utilized the lowest and highest ranges of the keyboard, minor modes, with generous helpings of the damper pedal.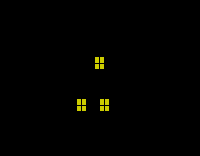 Origin of Holiday Customs Varied

Ever wonder where this October celebration originated? The word Halloween comes from a contracted corruption of All Hollows Eve (or "All Saints Day"), a Catholic day of observance in honor of saints. In 5th century BC Celtic Ireland, the holiday marking the official end of summer, Oct. 31, was called Samhain (sow-en), heralding the Celtic new year.

The Romans adopted Celtic practices as their own. In the first century AD, Samhain was assimilated into celebrations of other Roman traditions, among them their day honoring Pomona, Roman goddess of fruit and trees. The symbol of Pomona is the apple, which may be the precursor for the modern day Halloween tradition, bobbing for apples.

From Souling to Trick-Or-Treating

The custom of trick-or-treating is thought to have originated with a ninth-century European practice called souling. On Nov. 2, All Souls Day, early Christians walked from village to village begging for soul cakes. The more soul cakes the beggars received, the more prayers they would promise to say on behalf of the donors' dead relatives.



From Irish folklore comes our Jack-O-Lantern custom. Jack, an evil, fun-loving man, made a deal with Satan that backfired; and when he died, he was denied access to both Heaven and Hell. To light his way through the frigid darkness, Jack was given a single ember, which was placed inside a hollowed-out turnip.

Though some cults have adopted Halloween as their favorite holiday, it is important to remember the tradition did not come from evil practices. Today many churches sponsor Halloween parties, traditional pumpkin patches, as well as pumpkin-carving events and "haunted houses."

Halloween is as evil or as festive as we choose to make it.

HALLOWEEN CELEBRATIONS: Selected for their spooky themes, these clickable graphics are just in time for this weekend's ghosts and goblins. Featured are designs by Claystruck, 1; Ashes, 2; Clayquebec1, 3; Amazing_CA, 4 and 5, photo by Tasapio.
Ghost Stories a Carolina Tradition
As a North Carolinian, I would be remiss if I didn't mention the plethora of famous Tar Heel ghost stories. Just the titles are scary: Blackbeard's Queen Anne Revenge; A Colonial Apparition; Buried Alive; The Scull Hangs High; Bells, Books, and Rafters; The Headless Haunt; The Peg-Legged Ghost; The Greensboro Hitchhiker, The Devil's Tramping Ground.

For a Wilmington native, The Maco Light easily tops the list of favorite ghost tales. Visiting the Maco Light was the theme of many an autumn hayride of my youth. Maco is located in Brunswick County, 12 miles northwest of Wilmington and in the past was a stop along the Atlantic Coast Line Railroad.



Briefly, in 1867 conductor Joe Baldwin was riding the last car of his train when it somehow became uncoupled from the engine. As he watched another train fast approaching his slowing car, Joe wildly waved his lantern back and forth in warning; but his efforts were in vain. The oncoming train barreled into the car, and Joe was decapitated in the accident.

Just seconds before the crash, Joe's lantern was hurled away by a mighty, unseen force, landing in an upright position. Shortly after the horrible accident, the Maco Light began appearing along the tracks. To this day, Joe's ghost appears swinging his lantern and searching for his head.

Tar Heel ghost stories have their own websites. For example, see The Maco Light and The Devil's Tramping Ground. Listen to, view, or read Ghost Stories of North Carolina here. For further spooky reading, see John Harden's books on Amazon.
Wishing you and yours a ...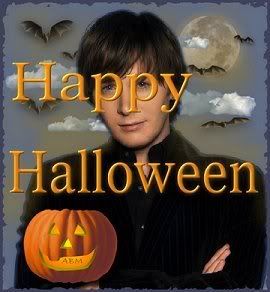 Have a wonderful weekend, Clay Nation!
Caro
TECHNORATI TAGS:
Clay Aiken
,
graphics
,
Halloween origins
,
Halloween customs
,
North Carolina
,
ghost stories
,
The Maco Light
,
Official Fan Club
,
Clay Nation