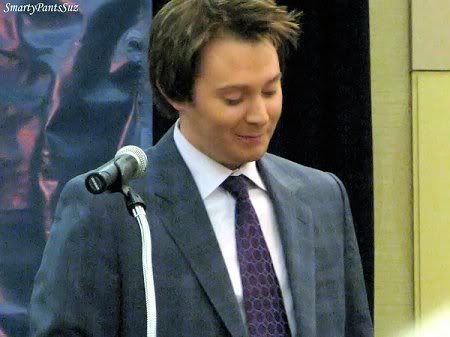 USING YOUR VOICE -- Clay Aiken, co-founder of The Bubel/Aiken Foundation, honored the 2008 Champions of Change, participated in a very successful fund-raising auction, and entertained supporters at Saturday's TBAF Gala in Raleigh. Photo by SmartyPantsSuz.
A Memorable Evening in Raleigh
Gala a Reunion for Aiken, Fans
In addition to raising record funds ($207,000 before the silent auction) that support The Bubel/Aiken Foundation's projects of inclusion, the 2008 Champions of Change Gala was a glorious reunion for Clay Aiken and fans both at Raleigh's Marriott City Center, as well as those who participated via cellstream around the globe.

During the past five years, close friendships have developed among CA fan community, and the weekend's love fest included an opportunity for many to be together again.

In their joint recap,

Flyingstarship

and

GrandmaJoan

summarized a popular sentiment:
This was our first Gala, but it won't be our last! So many friends we have made this weekend, so many folks we have been wanting to meet!
The evening included dinner, a VIP reception, silent and live auctions, and entertainment by Clay, about which fans have posted excellent recaps, videos, and audio files. Adhering to the no-flash rule in average lighting, fan photographers have provided visual capsules of the special evening. This report will include examples of all.
Speeches by emcee Linda Loveland of WRAL, as well as TBAF co-founders Diane Bubel and Clay, celebrated the foundation's achievements of the past five years. The 2008 Champions of Change award recipients -- Rich Donovan, CVS Caremark, Dan Habib and Betsy McNamara -- were honored.
What an incredible, incredible experience. I am so thrilled that there is audio and video. Since Clay joked that this was being broadcast all over the message boards, I'm sure he doesn't mind us sharing. I was so proud to be a BAF supporter tonight. What amazing work they have been able to accomplish in just a short five years! --

PermaSwooned
These clickables by

SmartyPantsSuz

provide snapshots from the opening ceremonies.
Clay in Tune with Message Boards
Even those listening via cellstream picked up on the fact that their favorite singer has been reading the message boards more than anyone knew.

He brought out the green Wango Tango shirt, saying, "I know y'all call this ugly. Well -- not ugly -- but something that rhymes with ugly."

Actually, a certain green sweater inspires the "fugly" adjective, not the Wango Tango shirt. [grin]

Recaps by those in attendance describe the auction segment best. These are from posts by Hippoga and Brightstar:

The auction was a hoot! Clay did everything he could to raise the bids. He tried on the leather jacket and even got it zipped up! He made the Sir Robin bear dance.

He wore the blue "Someone Else's Star" shirt and serenaded the winning bidder. That rendition was so amazing, such a pure, powerful voice. He put an extra autograph on the stool. So much fun! -- Hippoga

Clay is exactly the same. The same funny, snarky, beautiful, compassionate, bossy, loving, take-charge, talented guy. His references to cell phones and message boards and videos that would be up in 30 minutes were hilarious and showed that he is quite tuned in to his fans on the boards. -- Brightstar
Photos from the lively "live auction" show Clay with the Wango Tango shirt, Broadway Bear, Jimmy Kimmel bust, Jukebox Tour jacket, and the "Someone Else's Star" shirt he wore during American Idol. Clickable photos are by

Irishbookgal

, 1, 2, and 5; and

SmartyPantsSuz

, 3 and 4.
A silent auction paralled the live event on Saturday. No doubt GrandmomJoan spoke for many in her post:
Some of us are going home with some really great things from the silent auction. I'm thinking about how darn happy my hubby is going to be when he sees the 2 foot by 3 foot framed and signed poster of Clay holding the "all done darlin" baby from Afghanistan, LOL!

Clay Delights Fans with Mini-Concert

Fan recaps, which provide wonderful insight into the entertainment segment, will be interspersed with concert videos taped by LonelyNoMore44 -- Everything I Don't Need and Where I Draw the Line -- also posted at YouTube.

Special thanks to CA fans for the many audio files. This sampling can be downloaded via Sendspace at these links: Where I Draw the Line and Right Here Waiting, Farouche; and You Won't Succeed on Broadway and Where I See You Smile, Toni7babe.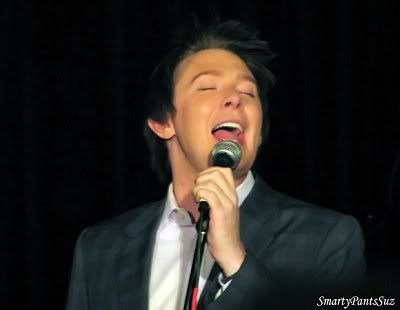 Clay performs at Champions of Change Gala.
Photo by SmartyPantsSuz
His British accent easily in tow, Clay opened with a bit of "You Won't Succeed on Broadway" from Spamalot and a geography lesson. The mini-concert then proceeded through several fan favorites.
HIPPOGA: Clay killed time while the musicians got ready by finding out which fan had come the farthest. [Azerbaijan or The Philippines] After singing "You Won't Succeed On Broadway" to us -- in accent! -- he segued into "When I See You Smile." [I hope he could see the smiles on our faces] and "Where I Draw the Line."
Hearing On My Way Here songs in person! Clay is always so much better in person than his albums. "Everything I Don't Need" just about did us in. "On My Way Here" was so poignant with recent events. The crowd clapped a bit for "faith has conquered fear," and he had us sing that to him at the end.


Everything I Don't Need
CLANIAC24

: Clay's singing was overwhelmingly phenomenal. Gorgeous! And he was so adorable all night. Every face in the room was smiling throughout his time on the stage until the last song, "Right Here Waiting." Then quite a few gals wound up crying.


It was such a touching version of the song. He told us that Jaymes suggested he add it. I felt strongly that he was talking to the fans who have left, that he was right here waiting for them to return. If they could have been there tonight, they couldn't have resisted returning.



FLYINGSTARSHIP/GRANDMAJOAN

: The mini-concert was moving, exciting and a perfect way to end the evening. "Right Here Waiting" seemed like a lullaby to "us," so gentle and so emotional. You could feel the love in the audience and the feeling of "old times" again. I hope Clay misses being in concert as much as we miss him.
The Gala was well organized, and it reminded you of a ClayMate convention. We are so blessed to have Clay in our lives. We are so blessed to have each other, too.

Where I Draw the Line
BRIGHTSTAR: It felt so good to hear Clay sing again. Singing "his" songs live. His voice, after all these years, still blows me away. And what a perfectly perfect choice of songs to end the night, "Right Here Waiting."
It was very softly and intimately sung, so personal, so beautiful. It seemed as if he were singing to each of us individually—his heart wide open, singing to many whose hearts were also wide open, but also to those who may have closed themselves off to him just lately.

He was not only telling us how much he loved and appreciated us, but also seemed to be sending the reassurance that he would be there waiting for those who had "left" if they ever wanted to come back. I honestly don't know of another man so generous and so loving. What an honor to be there! What a joy to be his fan!
Final word goes to my good friend

xxx4clay

:

This has been one of the best days of my life. I will never forget it. Ever. It will always make me smile. Big time.
Have a wonderful week, Clay Nation!

Caro
TECHNORATI TAGS:
Clay Aiken
,
On My Way Here
,
Monty Python's Spamalot
,
The Bubel/Aiken Foundation
,
Champions of Change Gala
,
Raleigh, NC
,
inclusion
,
auction
,
Everything I Don't Need
,
Where I Draw the Line
,
Right Here Waiting
,
Official Fan Club
,
Clay Nation