THE VOICE -- Clay Aiken thrilled his fans with several songs at Saturday's Bubel/Aiken Foundation Gala. Graphic by Amazing_CA.
Lopez Pens Clay's Playbill Bio
Fan Boards Replay Aiken Gala
Fresh from last weekend's very successful Champions of Change Gala in Raleigh, Clay Aiken returned to the Great White Way as Sir Robin on the Spamalot stage Tuesday evening.

Like most memorable celebrations, the sixth annual Bubel/Aiken Foundation event remains in continuous replay on fan message boards via recaps and downloaded video/audio clack.

Tuesday
Broadway World
posted an article about the winning fan biographer for Clay's blurb in the Spamalot Playbill. The story has been picked up by several other outlets, including
People
and
Access Hollywood
.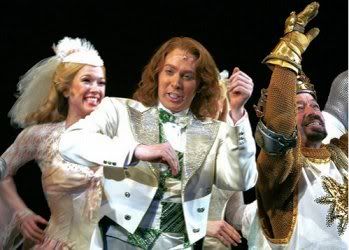 Clay Aiken as Sir Robin in Spamalot.
Clay Aiken, currently starring in Monty Python's SPAMALOT, has announced the "Write Clay's Playbill Biography Contest" winner. The contest offered members of his fan club the chance to write his official Playbill biography.

The contest winner is Jo-Anne Lopez [Claybella] of Carlsbad, CA. Her bio is currently appearing in the SPAMALOT Playbill at Broadway's Shubert Theatre (225 West 44th Street). Jo-Anne's winning bio is below:

Clay Aiken was born southwest of Finland, in Raleigh, NC, a little more than 29 years ago. Although his younger years were spent belting out tunes from atop piles of Sears carpet samples, his mature teenage years saw him cast in musical theater roles such as Singer #2 in his high school production of The Music Man which was met with enough success not to get him cast in his final high school production.

His ego thus bolstered, he had more than enough incentive to audition for "American Idol" Season 2, the outcome of which (in the prophetic #2 spot) has made him arguably the most beloved and successful contestant ever to have irritated Simon Cowell.

A best-selling book, UNICEF Ambassadorship and multiple platinum recordings later, six or seven sold-out nationwide tours notwithstanding, and after a first very successful run in Spamalot early this year, Clay is currently finding his second grail, on Broadway, right here at the Shubert. For his next project, he plans to teach a modern Torah class.
LALATE: Sir Robin for Halloween!
Still don't have a Halloween costume? See LALATE for the necessary items to party as Sir Robin on Oct. 31. Complete with detail photos, the article starts like this:


Clay Aiken delivers an amazing Halloween idea for Spamalot fans. The Clay Aiken Halloween costume idea is relatively economical and funny.

You Need:

1. Hair
2. Glove
3. Rope
4. Belt
5. Rooster and makeup
Read the complete story here: Clay Aiken Halloween Costume.

PHOTO INTERLUDE: This clickable interlude features graphics by Amazing_CA recalling the Champions of Change Gala and Shubert Alley autograph sessions following Clay's Spamalot performances. Photographers include Toni7babe, 1; Dancerdad, 2; PA4clay, 4; and RhonnaR, 5.

Gala Recaps in Heavy Rotation
Whether tour concerts, Spamalot performances, TV shows, or other appearances, CA message boards thrive on recaps long after an actual event. Saturday's gala, therefore, remains in heavy rotation throughout Clay Cyberspace.

Karma4Clay, who decided to attend the gala two weeks prior to the event, penned a very special report that transports readers to the Saturday's session at the Marriott in Raleigh. Slightly edited, here is the performance part of her recap:
The speeches were incredibly moving, the auction was hilarious and fun, and the blackout and chatter during the reboot was priceless. There were so many great moments already at that point, and then Clay began to sing.

You can't hear it on the clack, or see it. But the minute he started singing "When I See You Smile," some of us had tears streaming down our faces.

It was OUR Clay, singing to us again. The room seemed to expand with love and emotion in that moment and it never stopped until the last note.

If Clay ever had any doubt that his "reveal" would change our reactions to him, we vanquished that with the first growl of "well now" and the squeals that ensued. He was so ON ... so sexay!

The moments in "On My Way Here" were very emotional and of course by the time he had finished "Right Here Waiting" (the song whose status changed drastically for a lot of us), we were both exuberant and drained and oh so incredibly grateful.

I remember thinking over and over how fortunate I was to be there and literally said to myself after every song that that one alone had been worth the ticket price.

Special Meeting with Faye

The icing came for me when I realized that I'd left my jacket on my chair some good time later (nearly an hour or more I think—but it's a bit fuzzy) and went back to retrieve it.

I ran into Faye coming out from somewhere, carrying some things and just started talking to her about the evening and how special it was. She then said to me:

"Y'all make him feel so special."

I said something to the effect that I hoped so and something about all the emotion in the room and how fortunate I felt to have been there.

She talked about all the tears she'd seen (she looked a bit like she might have had a moment or two herself).

I verified that I'd experienced the same and then we smiled at each other for a second and said good night. It was the perfect thing to hear at the end of this incredible evening. "Y'all make him feel so special.

I hope so with all my heart. Because he is special, after all. So very special.


Miracle of the Moment - LovesClaysVoice
Link to the montage on YouTube
here
, and download
Miracle of the Moment
by

LovesClaysVoice

with this Sendspace.

Below is a clickable of

Amazing_CA

's opening graphic: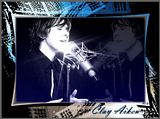 Have a great week, Clay Nation!

Caro
TECHNORATI TAGS:
Clay Aiken
,
On My Way Here
,
Monty Python's Spamalot
,
The Bubel/Aiken Foundation
,
Champions of Change Gala
,
Raleigh, NC
,
Right Here Waiting
,
Broadway World
,
Playbill
,
biography
,
LALATE
,
Halloween costume
,
montage
,
Official Fan Club
,
Clay Nation