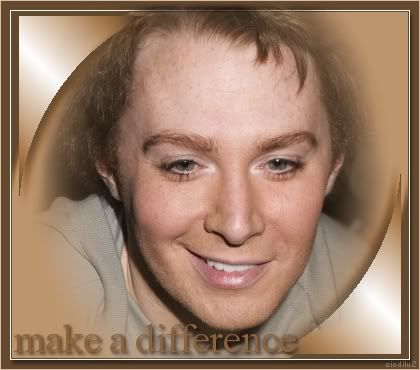 MAKING A DIFFERENCE -- Clay Aiken and hundereds of his fans will gather in Raleigh Oct. 18 for The Bubel/Aiken Foundation's 2008 Champions of Change Gala. Graphic by cindilu2.
Champions of Change Gala
Aiken, Fans Celebrate Inclusion

The place to be next weekend is Raleigh, NC, as hundreds of Clay Aiken fans gather to celebrate the inclusion of people of all abilities at The Bubel/Aiken Foundation's 2008 Champions of Change Gala on Saturday, Oct. 18.

The 5th annual TBAF Gala at the Raleigh Marriott City Center will include dinner, silent/live auctions, and a program that will recognize this year's Champions of Change honorees and feature a special performance by Clay.

The evening will promote awareness of the benefits of inclusion and support The Bubel/Aiken Foundation's programs which give children with disabilities the opportunity to experience life with their typical peers.
TBAF 2008 Champions of Change honorees include CVS Caremark, Dan Habib and Betsy McNamara, and Rich Donovan. Their contributions to inclusion are outlined at the Foundation's website.

Auction items, as well as guidelines for online bidding, are previewed at this TBAF link.

Montage Accents Stage Door Meets
Because of the gala, Clay's understudy will handle Spamalot performances Oct. 18-19. Otherwise, huge crowds of longtime and new fans continue meeting the singer in Shubert Alley for autograph sessions following each show's final curtain.

What could be better than the late Eva Cassidy singing "Songbird" with video of these stage door gatherings? Here is a special stage door montage by LovesClaysVoice:

Songbird by LovesClaysVoice
WIDTL Leads Top 11 Countdown

"Where I Draw the Line" is currently the #1 video in the AOL Top 11 Countdown. Streaming the five On My Way Here Sessions performances is still in vogue with many Clay fans. If you would like to join, begin with Ashes and continue through "Everything I Don't Need," "WIDTL," "OMWH, and "Something About Us."

Don't forget the Q&A portion, one of which has been featured on AOL's front page and is on the video countdown, too. Check out What is the difference between performing theatrically as opposed to performing in concert?

On My Way Here is the second most played song at AOL Music.
Kai Trains for Bottle Dance
In the Carolina and OFC blogs, my one-year-old grandson's "fan mail" has been running neck in neck with Clay's comments. We aim to please, so this section is for Kai's fans. Spoken like a grandmother, right?

As CA supporters know, one of the most strenuous aspects of Sir Robin's Spamalot role comes in the famous "Bottle Dance" scene.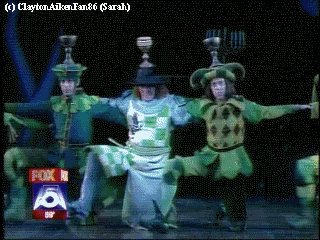 Animation by ClaytonAikenFan86
Grandson Kai celebrated his first birthday on Sept. 17, and one of his favorite gifts was a LeapFrog Learn & Groove Musical Table sent to him by his "fairy godmother" Sally.
Although his practice threads are a bit skimpy, Kai has been working on his own dance steps and just might be ready to sub for Sir Robin soon.

Kai's Bottle Dance Routine
For now, a birthday hat and snazzy red trousers make up his Bottle Dance wardrobe.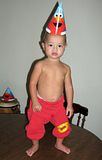 As shown in these clickables, Kai is still full of mischief, mugging for the birthday camera and climbing up on the dishwasher door to help his mother put up the dishes. LOL, so he says!
Have a wonderful week, Clay Nation!
Caro
TECHNORATI TAGS: Clay Aiken, On My Way Here, Where I Draw the Line, The Bubel/Aiken Foundation, Champions of Change Gala, inclusion,Monty Python's Spamalot, Broadway, montage, stage door, Songbird, Eva Cassidy, AOL Top 11 Countdown, bottle dance, grandson, Official Fan Club, Clay Nation