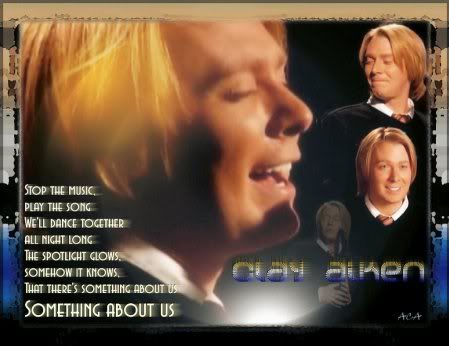 MUSIC FOR A MONTAGE -- "Something About Us" from Clay Aiken's latest album, On My Way Here, is a popular accompaniment for fan montages. Graphic by Amazing_CA.
Campaign for Computer Space
Clay Aiken, Politics Face Off

Music is all around us. All you have to do is listen.
What an awesome thrill to cast my vote for a new president this past Friday evening!

Following an afternoon of teaching music lessons in a neighboring city, I chose a route home that would take me by an election center. To my surprise, there was a very short line of voters. From start to finish, I proceeded through check-in and seven pages of presidential, state, and local candidates in 15 minutes. I can't remember when I have been so elated.

You would think I could now turn off the non-stop news programs and battleground state TV ads. Political websites still beckon even as I begin to rebuild my CLAY AIKEN ONLY desktop.
As I write this blog, the windows in my laptop tray are evenly divided between Clay and the elections. Meanwhile, my television set has "met the press" and "faced the nation" almost every weekend in recent memory.

In honor of the Nov. 4 presidential candidates, Barack Obama and John McCain, here are montages set to songs from Clay's On My Way Here CD, "Something About Us" and "Ashes."
The blog will wend its way back to an all-Clay montage, "August's Rhapsody" by Aspiegirl. Perhaps my life will soon follow suit. Meanwhile, I have apparently become a news junkie like my favorite singer, LOL!


An Obama Love Story - Hotshortie
Since

Hotshortie

posted
An Obama Love Story
on YouTube on June 6, the montage has received 326,014 views and 357 comments. Here are three samples:
This is a beautiful song. Clay his a most unique voice, just beautiful. The words, pictures, the family, everything, we can't go wrong. This is real love.

Beautiful, just simply beautiful. Clay you've done it man.

"Honorary Soul Award," with love and respect. Thanks Clay. From a 70-year old Black man.


John McCain Tribute - Lacy704
Uploaded on July 9 by

Lacy704

, the montage
John McCain Tribute: Rising from the Ashes
has received 7,640 hits and 60 comments at YouTube, three of which are posted below. Lacy has also provided an mpg Sendspace download.
Thank you for your service to this country Senator McCain! Glad you were strong enough to rise up from those Ashes!

Very nice montage. It was great to see McCain's story in pictures. Very nicely done -- and I enjoyed the song very much. It fit the subject perfectly. Thanks for making it. Great job!

Wonderful montage, shows so much of the life of John McCain. The song Ashes sung by Clay Aiken is terrific and fits the montage so well. Great job.
Finding My Way Back
In the past two months, I have viewed enough political programs via TV or online stream that I could literally give all four major stump speeches.
An intervention won't be necessary, as a "mostly Clay" computer conversion is underway. Throughout all the campaign promises and pundit commentary, I have followed stage door recaps and saved photos. Good fan that I am, I even know Clay missed some shows due to an injury; but he returned in fine form Saturday night.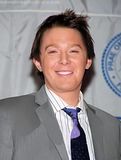 Clickble Clay at Roast
(Hamaraphotos)
On Friday, the singer joined a star-studded gathering for The Friar's Club Roast of Matt Lauer in The New York Hilton.
Among those present besides the honoree and Clay were Katie Couric, Meredith Vieira, Diane Sawyer, Joy Behar, Bob Saget, Michael Douglas and Catherine Zeta-Jones, Vanessa Williams, Aretha Franklin, Eric McCormack, Tony Shaloub, Tiki Barber, Jerry Stiller, and Mario Lopez.

To view more pictures, see the Jamd and Hamaraphoto sites -- thumbnails and photos.

PHOTO INTERLUDE: These clickable graphics by Amazing_CA feature photos from the recent Champions of Change Gala, as well as her opening "Something About Us" blend. Photographers include KarenEh and Thankful4Clay, 1, and PermaSwooned, 3.
Rhapsody Traces Clay's Story

As a musician and a CA fan, I can't think of a more beautiful montage to close with than August's Rhapsody by Aspiegirl. Adapted from the movie, August Rush, the exquisite, artistist montage lives up to the definition of a rhapsody -- a dramatic, improvisatory musical composition.

You can view the video at YouTube and download August's Rhapsody with this Sendspace. The file is 99 MBs but well worth the wait.
Music is all around us. All you have to do is listen.


August's Rhapsody - Aspiegirl
Have an awesome week, Clay Nation -- and be sure to VOTE!

Caro
TECHNORATI TAGS:
Clay Aiken
,
On My Way Here
,
Monty Python's Spamalot
,
Champions of Change Gala
,
montage
,
presidential elections
,
Something About Us
,
Ashes
,
Barack Obama
,
John McCain
,
The Friar's Roast of Matt Lauer
,
Rhapsody
,
Official Fan Club
,
Clay Nation