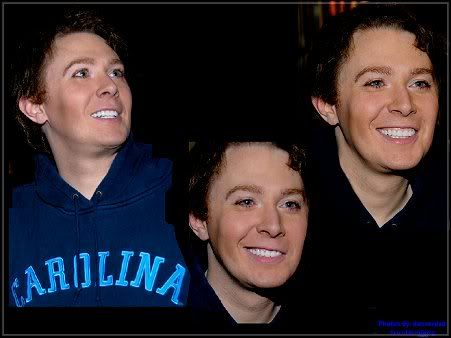 STAGE DOOR CHEER -- Clay Aiken's stage door appearances in Carolina sweatshirts seem to be having a positive effect on Tar Heel collegiate and professional football teams. Graphic by Fountaindawg features photos by Dancerdad.
Fans Host Baby Showers
Aiken Inspires Aid for Children
Did you know that approximately 25,000 children die each day before their fifth birthday, largely due to preventable causes?

Thanks to organizations like UNICEF this number is getting smaller every day. Last year, the number of child deaths worldwide declined to about 9.2 million. In 1990, that number was 12.7 million. That's definite progress, but that number should be zero.
In a
UNICEF Field Notes
blog Tuesday, Clay Aiken asked supporters to join him in making a monthly pledge to help save the world's children from diseases like malaria, measles, and tetanus. As little as $5 a month (15 cents per day) would ensure that five children are protected from measles.

Supporters can join the UNICEF ambassador in making a tax-deductible donation at
Join With Clay
on the organization's website.

Despite the current economic crisis, one of the best appeals to help save the world's children can be read in a comment at the Field Notes blog:


The economy could hardly be more uncertain for many of those of us here in the United States, but I have never been without food, shelter, education, safe water and medicine to avoid the catastrophic preventable illnesses.

In these troubled times, I appreciate the reminder that because of lack of access to these simple necessities, children die.

I am humbled to join with Clay Aiken and UNICEF to do my small part to reach ZERO, making sure that no child dies of preventable illness.
Clay's advocacy for children around the world is catching. Together, we will make a difference!



Trick-or-Treat Moves into 21st Century



While at the UNICEF site, I took a Halloween detour to
Trick or Treat for UNICEF
, a project Clay has chaired in previous years. The digital initiatives and new fundraising techniques being incorporated with traditional door-to-door collections are truly amazing:


This October, Trick–or–Treat for UNICEF expands into the 21st century with digital initiatives, new technology–backed fundraising techniques and a college campus challenge.

What started 58 years ago as a simple door–to–door coin collection by a youth group in Philadelphia, has evolved to incorporate social media, mobile giving, partnerships with MLS W.O.R.K.S. and more.

Raising over $140 million to date, Trick–or–Treat for UNICEF continues to make Halloween by teaching children across the United States about the world beyond their backyards and the importance of global citizenship.
Check it out -- the options are extraordinary!
PHOTO INTERLUDE: Featured in this clickable interlude are graphics/photos of Clay visiting with fans in Shubert Alley after "Spamalot" performances. They include Amazing_CA, photos by Toni7babe, 1 and 2; Fountaindawg, photos by AustenFan, Dianagreeneyes, and dancerdad, 3; Amazing_CA, photos by dancerdad, 4 and 5.


Baby Showers Benefit Others

Young Parker Foster Aiken has already inspired generosity among his father's fans with numerous baby showers in his honor but which are benefiting those in need.

According to Clayversity member

dksfriend

, a group of New England fans wanted to do something in honor of Parker's birth. "We figured he probably didn't need any booties or onesies, so we decided to have a baby shower in his honor and donate all the presents to a local program for pregnant teens, 15 - 20 years old."

Gifts were contributed by those attending the Oct. 5 party, as well as many who forwarded items.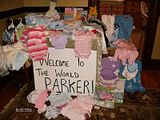 Boston Baby Shower
Clickable by Sandy
"We had a great time watching clack, playing baby shower games, and then opening all the gifts. We collected over 70 items, mostly clothing but other baby accessories as well. I will deliver everything to the GED/counseling program next week," she added.

A Sept. 27 shower in Parker's honor provided an assortment of baby gifts that have been donated to the Maine Children's Home for Little Wanderers.

Back on Schedule - Finally!

It's great to be resuming a three-day blogging schedule. Last week's pesky income tax records were completed and mailed Monday, collegiate and professional Carolina football teams are on a roll, and life is back to normal -- juggling music lessons while keeping up with family, sports, and the US political scene.

One of those memorable moments that inspires teachers like nothing else occurred for me last Friday when a mother told me her son had declared he "would rather play the piano than be the ruler of the world."
After practicing a few minutes, he sought out his mother again with this addendum: "Besides, we already have a ruler of the world -- God!"

A wise young man of nine!

Below is a clickable of Fountaindawg's opening graphic: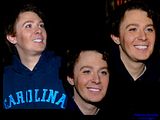 Have a wonderful week, Clay Nation!

Caro
TECHNORATI TAGS:
Clay Aiken
,
On My Way Here
,
Monty Python's Spamalot
,
Broadway
,
UNICEF
,
childhood death
,
Join With Clay
,
donation
,
Trick or Treat for UNICEF
,
Parker Foster Aiken
,
baby shower
,
Official Fan Club
,
Clay Nation