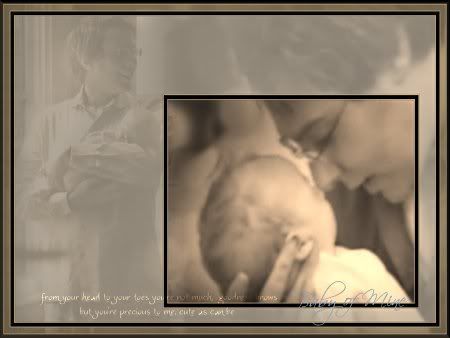 BABY OF MINE -- Cindilu2 included the words to the lullaby "Baby of Mine" in her graphic of Clay and his son Parker.
New Beginnings

October Honors Clay, Parker

Traditionally, my friend Cindy and I begin communicating about a new Clay Aiken calendar for this blog a few days before the next month commences. Still crunching income tax numbers, I flipped to the current new month without once thinking about our regular ritual.

Just back from seeing Clay perform in Spamalot and also busy with real life, cindilu2, one of the CA fandom's many talented graphic artists, still found time to create two handsome calendars for the singer's fans.

Below are wide screen and regular-sized October wallpapers. A version without dates leads the blog. Current and previous calendar editions can be viewed at the artist's Yuku page.
Many thnx, cindilu2! Enjoy, Clay Nation!
Wallpaper Traces Clay's Journey

Fountaindawg's new wallpaper -- Just Who Is This Clay Aiken? -- traces Clay's journey from the talented unknown to the present. Literally a graphic of the past five years, she included information and photos about Clay, the philanthropist, the educator, the international activist, the author, the touring artist, the recording artist, the TV star, the Broadway star, the father, and the man.

Other graphics about various aspects of Clay's life, career, and charities can be seen at Clay Aiken Kids. The featured graphic is located in Year At a Glance 2008 CAK Papers.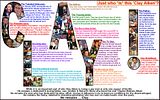 Clay Again #1 on Lycos50
In his 459th consecutive week on the
Lycos50
, Clay Aiken is again the most searched person on the planet. Other sites his fans are frequenting are Hey! Nielsen! and the Love Songs Poll.

At
H! N!
, one can write a positive opinion, leave a comment on opinions and/or other comments, as well as react (disagree or agree) with a statement. Bookmark the site and add to Clay's Nielsen rating.

In the
Love Songs Poll
, supporters are voting for "Everything I Don't Need" as their Favorite Song Not on Radio, "On My Way Here" as their current Favorite Love Song. Write in Clay Aiken for All-Time Favorite Artist, and check his circle for Current Favorite Artist.

Below is a clickable of

cindilu2

's lead graphic: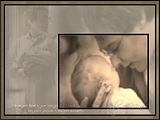 Back to the numbers. Have a wonderful weekend, Clay Nation!

Caro
TECHNORATI TAGS:
Clay Aiken
,
On My Way Here
,
Monty Python's Spamalot
,
Broadway
,
Parker Foster Aiken
,
cindilu2
,
October
,
calendar
,
Clay Aiken Kids
,
Lycos50
,
Hey! Nielsen
,
Love Songs Poll
,
Official Fan Club
,
Clay Nation