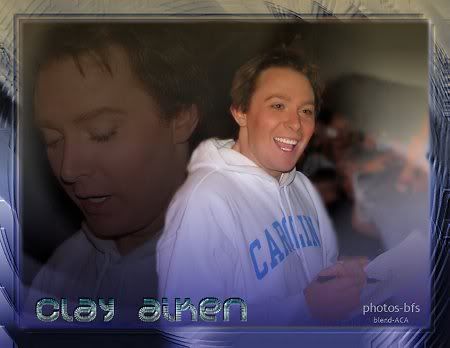 AIKEN GREETS FANS -- Clay Aiken signs autographs and visits with fans following Spamalot performances. Graphic by Amazing_CA, photos by Butterflyshine.
Stage Door Photos Shared
Parker Stars in New Montage

The "queen of procrastination," I am knee deep in income tax preparation while keeping up with the American political scene, college and NFL football, as well as the latest Clay Aiken news.
So maybe there's no royal title, but I am definitely an authority on putting any and everything off until the last minute. Of all the items on my crowded TODO list, the most frustrating is my habit of waiting until the final deadline to compile tax info.

For CA fans who may have wondered what happened to my normal three-day -- literally "set-your-clock-by" -- blogging routine, that's it in a nutshell.
Procrastination on hold, Good Morning America screen caps and Shubert Alley photos following weekend "Spamalot" performances have been added to bulging coffers of clack; mine is no different. As usual, must-have montages are not far behind.
This entry celebrates excellent versions of the latest CA visuals, no doubt headed for external drives throughout the fandom.
ATD Accompanies Parker's Intro
SueRue's latest montage, A Thousand Days, features images from the Thursday-Friday GMA interviews during which Clay and Jaymes Foster introduced their son Parker. In addition to the video on YouTube, here is a Sendspace download for the montage: ATD.

A Thousand Days by SueReu
PHOTO INTERLUDE
: Included in this two-part clickable interlude are GMA caps of Clay, Jaymes, and Parker by Gerwhisp

, 1, 2

, 3; with stage door photos by

Dianagreeneyes

, 4, 6; and

Dancerdad

, 5. During the GMA appearance, Clay sang
Baby of Mine
to his son. The mp3 excerpt provided by Gerwhisp

can be downloaded here.
Younger Set Opens New Board
New "kid" on the Clay Cyberspace block is
The Young Claynation
, a message board for older teens and 20-somethings.


Administered by Aiken4ClayinSeattleWA, the board invites younger CA fans to join the fun at their Cyber corner. If you fit the parameters, check out the board. I cruised through the site as a visitor, and it is very well-organized with forums/threads for pictures, videos, YouTube, news, Spamalot, TV appearances, music.

The welcome thread is open for those who qualify. The older crowd can stop by to visit anytime.
Below is a clickable of

Amazing_CA

's opening graphic:


Back to crunching numbers ...
Happy Rosh Hashanah! Have an awesome week, Clay Nation!

Caro

TECHNORATI TAGS: Clay Aiken, On My Way Here, Monty Python's Spamalot, Broadway, Jaymes Foster, Parker Foster Aiken, Good Morning, America, A Thousand Days, The Young Claynation, montage, procrastination, Official Fan Club, Clay Nation