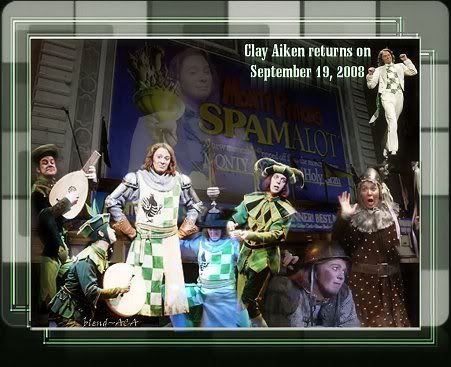 SPAMALOT REPRISE -- Clay Aiken will reprise his Sir Robin role in "Spamalot" on Broadway Friday, Sept. 19. Graphic by Amazing_CA.
Ike Triggers F-5 Tornado Trials
Aiken Heads Back to Broadway
Clay Aiken's highly anticipated reprise as Sir Robin in "Spamalot" Sept. 19 - Jan. 4 is less than a week away, and celebrations among fans, Broadway backers, and the man himself have escalated to epic dimensions.
The music superstar and best-selling author recently said, "Since leaving SPAMALOT in May, jokes have just not been funny. Food has lost its taste. The grass is no longer green – the sky no longer blue. And, babies WON'T stop crying!! I'm so excited about coming back to the funniest show in the world!"

Directed by Tony Award winner Mike Nichols, with a book by Eric Idle and music and lyrics by Mr. Idle and John Du Prez, SPAMALOT tells the tale of King Arthur and his Knights of the Round Table as they embark on their hilarious quest for the Holy Grail.

Flying cows, killer rabbits, and taunting Frenchmen are just a few reasons why audiences everywhere are eating up SPAMALOT, the funniest show in the world.

New York Times Ad
During his four-month run as Sir Robin last fall, Clay proved a natural in the "Spamalot" production, wrote
Broadway World
.
When he made his Broadway debut in SPAMALOT at the beginning of this year, Newsday said "Aiken is a charmer" and the Associated Press said that "Clay Aiken deftly handles supremely silly."
According to
Variety
, Clay's May departure from "Spamalot," had a noticeable effect on the box office.
Weekly sales for the tuner surged the week Aiken joined the cast and took a steep tumble the frame after he departed.
Ticket discounts for performances through Nov. 14, excluding Saturday evenings, are available at Broadway Offers. Use the code SIRROBIN to order online. For additional information, see Thursday's blog at Clay's My Space: Fan Discount Offer for Spamalot.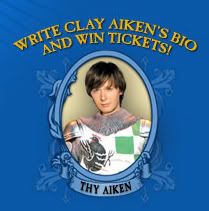 Photo links to 'Spamalot' Site

Clay Fans Pen Playbill Bio

With his return to Broadway, Clay launched a new Fan Club contest in which fans have the opportunity to write his official Playbill biography. According to Broadway World, this is the first time a Broadway actor has held a contest allowing fans to write their official Playbill biography.

The contest is open to members of the singer's Official Fan Club. The winning entry will appear in Playbill, and the writer will win two tickets to Spamalot and a backstage tour hosted by Clay. Entries must be received by Sept. 19.

Friday Clay blogged that he is really impressed by the entries so far. "Some of my favorites so far have been irreverent and silly, much like Spamalot itself!" He also sent kudos to the person who wrote one entirely in French.

Sept. 19 is most definitely a red letter day on calendars throughout Spamalot Land!

PHOTO INTERLUDE: This clickable graphic interlude heralds this week's Sir Robin reprise, recalling Clay's debut run with scenes from the stage, as well as Shubert Alley. Visual artists include Amazing_CA, photos by Joan Marcus and Toni7babe, 1; Amazing_CA, photo by Catsmommy, 2; cindilu2, photos by Scrpkym and Toni7babe, 3; BettyJean, 4; and Ambassador of Love, photo by Joan Marcus, 5.


Storms Stir F-5 Tornado Memories

For me, this season's disastrous hurricane rampages of the Gulf and East Coasts have triggered recollections of my close call with a deadly F-5 tornado years ago. Growing up in Wilmington, NC, I survived many hurricanes, the worst being Hazel in my youth; so I was not unaccustomed to the devastating ways of Mother Nature.

In the spring of 1970, my fifth year as a Texan, I was working as a reporter-feature writer for the Lubbock Avalanche-Journal. Midway to his Music Ed degree at Texas Tech University, my husband worked part-time as a maitre d' at the Lubbock Club, located on the 13th floor of the Pioneer Natural Gas building, then the tallest in town.

On May 11, 1970, for the first time in Lubbock's history, the city was hit full force by a tornado, later determined to be in the most dangerous F-5 category. Roaring through a narrow but devastating swath in the center of the city before darting northward, the full wrath of the storm encountered the natural gas building where my husband worked, the newspaper offices, and our mobile home.
Lubbock sits at the southern edge of what's commonly referred to as Tornado Alley, the world's biggest breeding ground for twisters. According to a report from Texas Tech's Atmospheric Science Group, the only area on Earth that rivals Tornado Alley is the South Asian nation of Bangladesh.



Photo courtesy of Lubbock Avalanche-Journal.
Tornado Leads to F-Scale Rating
Afterwards, the damage swath was investigated by the world's most renowned tornado researcher, Dr. Ted Fujita of the University of Chicago. This led in part to his formulation of the Fujita scale, which today is widely used to rate tornado intensities.

The storm system, which Dr. Fujita suspected included two tornadoes, was in the F-5 category of twisting winds that can range from 261 to 318 mph. In addition, the storm was accompanied by baseball-size hail.

The Lubbock Tornado killed 26 people and injured more than 1,500. It destroyed 1,040 family units and damaged 8,876 more. Property damage was estimated at more than $125 million.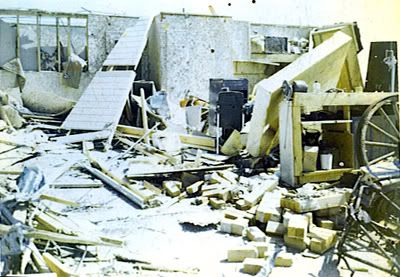 Photo courtesy of Lubbock Avalanche-Journal.
At 6:55 p.m., Lubbock radar detected a moderate thunderstorm 15 miles south of the airport, and a warning was issued at 8:15. By 9:49 p.m., the Lubbock Weather Bureau had lost all communication. At 9:55 p.m., LWB personnel abandoned the area to take cover for the approaching tornado.

Storm Cellar Warnings Unheeded

Atop the glass natural gas building, Mr. Caro, a West Texan by birth, could see the swirling storm as it gathered strength. He called home several times urging me to go to our trailer park's storm cellar. By then, a veteran of many hurricanes and several tornados, I stubbornly thought I could ride this one out.

Finally convinced this storm was for real, I realized the winds were too strong for me to make my way to the cellar; so I spent the most harrowing 20 minutes of my life clutching a pillow on a bed that was hurled from one side of the room to the other as the storm rocked our trailer back and forth.
Throughout, I was besieged with the tornado's horrific "freight train" noise and the baseball-size hail pounding trailers in our park. Never again will I ride out an F-5 tornado in a mobile home!

Aftermath Yields Alarming Discovery

There is nothing like the eerie calm that follows a storm like this. I remember counting my blessings as I tentatively opened the door to assess the immediate surroundings. Each trailer was allotted one small tree, and ours was leaning towards my car. I grabbed the keys to back my vehicle away from this minor threat and access damage in our immediate area.

Not the trailer next to us, but the next one down was totally flattened. Fortunately, the occupants weren't home that night. Our trailer park was located adjacent to a trailer sales lot, and none of those homes were as permanently secured as the occupied residences.
In an F-5 tornado, automobile-sized missiles can fly through the air in excess of 109 yards. There is no telling how much flying debris traveled over my head during the tornado.

Because our home and work places were located in the ravaged area, we were given passes to freely come and go in this warlike zone. At the newspaper, our staff first worked with a few typewriters downstairs only. Copy for initial editions was sent to Amarillo, printed by the paper there, and returned to Lubbock for distribution.
In the days that followed, we A-J reporters walked through the tornado rubble talking with residents as they sifted through the remains of their homes, locating a family Bible here, a treasured memory there.
The tornado's path was so slim that we often confronted the bizarre scene of families in the impact zone searching for traces of their life on one side of the street while a few yards away, other children tossed balls, delighted they had a school vacation day.

Fake Book Miraculously Survives

Betty, keyboardist in a duo performing at the Lubbock Club, was using a wonderful old fake book that my husband had discovered in a long-forgotten pile backstage at a symphony rehearsal hall. Patrons and employees alike had evacuated the Lubbock Club in haste the night of the tornado.

A month later when the musicians returned for the club's reopening, Betty apologized for just leaving that wonderful old book of tunes on the organ. She was flabbergasted when Mr. Caro explained that the tornado had apparently closed the book and placed it safely beside the organ pedals.

Obviously, several generations of computer forecast programs and architectural schemes have succeeded the ones in place in 1970. The Lubbock Memorial Civic Center was built in honor of those whose lives were lost that night.

For me, time has not erased May 11, 1970. The vicious warpath of Katrina three years ago and Ike this weekend have only brought memories of the Lubbock Tornado to the forefront. These paragraphs appeared in an A-J editorial on May 11, 2005:
A city can remove the rubble after a disaster and, in so doing, resurrect itself in bricks and mortar. But it takes neighborhoods full of special people to come together, join hands and work side by side to lift the community's spirits in the aftermath of such a deadly and destructive storm.

Those who were here that day in 1970 never will feel that carefree again. We always will be on guard as we scan the darkening skies during times of turbulent weather. And we will always remember. Life is precious, never to be taken for granted.
Below is a clickable of

Amazing_CA

's opening graphic:
Have a great weekend, Clay Nation!

Caro
TECHNORATI TAGS: Clay Aiken, On My Way Here, Monty Python's Spamalot, Broadway, discount tickets, Playbill biography, Lubbock Tornado, F-5 category, Fujita Scale, Lubbock Avalanche-Journal, Official Fan Club, Clay Nation